BRITS DRANK MORE AUSSIE WINE DURING PANDEMIC, UNLIKE CHINA
British consumers reached for more Australian wine during Covid-19 lockdowns, with exports (by value) to the UK increasing by 33% to $360 million (AUD 461 million). The high demand pushed the UK past the US to rank second among export markets behind China (including Hong Kong and Macau).
The UK maintained its position as the leading market for Australian wine exports by volume, while the average value increased by 10% to $1.75 per litre, the highest it has been in a decade.
While British glasses were clinking, China saw a big value decline of 18% to $790 million (AUD 1.02 billion) due to trade friction between China and Australia. This resulted in the imposition of high anti-dumping duties from China at the end of November – which were then raised slightly on 28 March this year and will remain in place for a period of five years.
The export data from Wine Australia – a government statutory authority funded by grape growers and winemakers through levies, 'user-pays' charges and taxes – was released on 29 April and applies to the 12 months to March 2021.
The past year has been highly turbulent for Australian wine exporters, with a shift from east to west taking place among the leading markets – and accelerating in 2021.
Moving westwards
As well as the big declines in China, exports to other Asian countries in the top 10 – Singapore, Japan and Malaysia – contracted by 17%, 13% and 4% respectively. Meanwhile, apart from the UK surge, exports to Germany were up by 19%, to Canada by 9% and the US by 4%.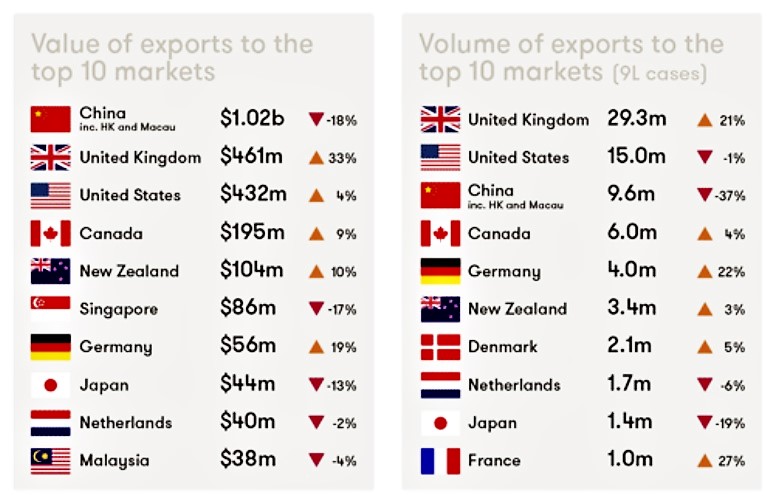 In the US, volumes declined 1%, which means that Americans were trading up and drinking less but better, just as in the UK. According to Wine Australia, the main driver of growth was the segment between $2.50–$4.99 per litre and evenly split between red and white still wines, up by 10% and 11% respectively. There was also "very strong growth" of products costing $20–$29.99 per litre where more than 90% of shipments were red wines.
These changes are important as exports account for 60% of all wine produced in Australia. Overall, the country's wine exports declined by 4% in value to $2.15 billion (AUD 2.77 billion) versus the same period in the previous corresponding 12 months.
Dual Hit: Supply Constraints & Tariffs
Commenting on the steep decline of exports to mainland China, as well as the cumulative effects of three consecutive lower vintage in Australia leading to less volume available to export, Wine Australia's CEO Andreas Clark said: 'Notwithstanding the impact of China's tariffs, we were still looking at a potential downturn in exports over this period simply due to the supply situation."
However he noted the seriousness of the Chinese tariffs which apply to product in bottles under two litres and therefore mainly affect bottled exports. He said that exports to China between December 2020 to March 2021 reached just AUD 12 million, a tiny fraction of the AUD 325 million shipped in the same period a year ago.
By region, Europe was the outright leader in Australian wine demand. Exports to Europe, including the UK, rose 23% to AUD 710 million, the highest value in a decade. "There was also growth to North America, up 5% to AUD 628 million, and to Oceania, up 7% to AUD 112 million," Clark said.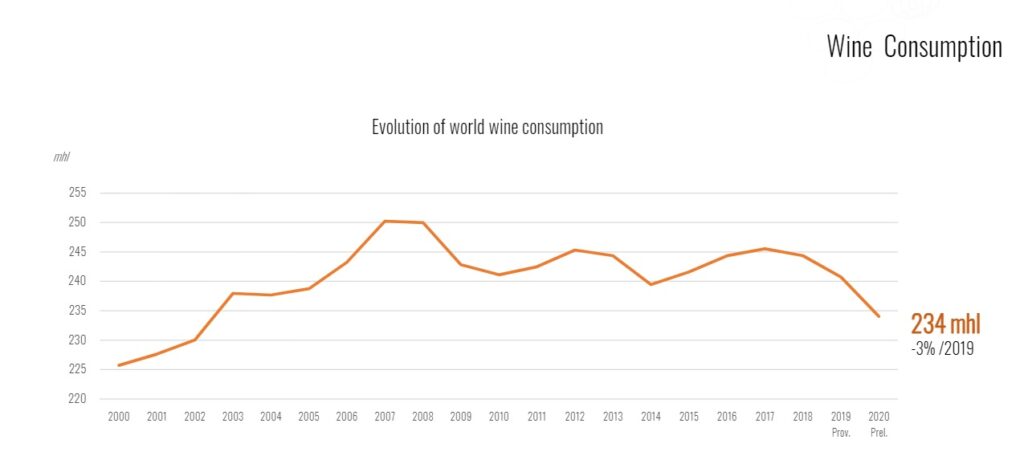 Taking out exports to mainland China in the past 12 months there would have been a positive export story to tell, with value sales rising by 10% and volume sales by 8%.
That paints a very good picture in light of global wine sales during the pandemic. According to data released last month from the Paris-based International Organisation of Vine and Wine (OIV) global wine consumption fell to its lowest level since 2002 due to lockdowns and the closure of bars and restaurants across so many countries.
Consumption is estimated by OIV to have been about 234 million hectolitres last year, a 3% decrease compared to 2019. Consumption has been on a downward trend since 2017.
---
Join us at SIAL Paris as exhibitor Join us at SIAL Paris as visitor