BOOMING KOMBUCHA MARKET TO GROW $3.6 BILLION IN VALUE BY 2026
A new report on the fast-expanding kombucha market says that from 2021 to 2026 its value will increase by $3.56 billion and that a third of the rise will come from North America, primarily the United States.
The analysis from Technavio says the compound annual growth rate during this period will be over 19% which it puts down to an increasing awareness of the health benefits of the drink.
Kombucha – traditionally a fermented, lightly effervescent, sweetened black or green tea drink with juice, spices, or fruit often added – is seeing widening interest from retailers as producers diversify their flavours and products. It is also increasingly gaining awareness from consumers as a 'functional' beverage with various health benefits.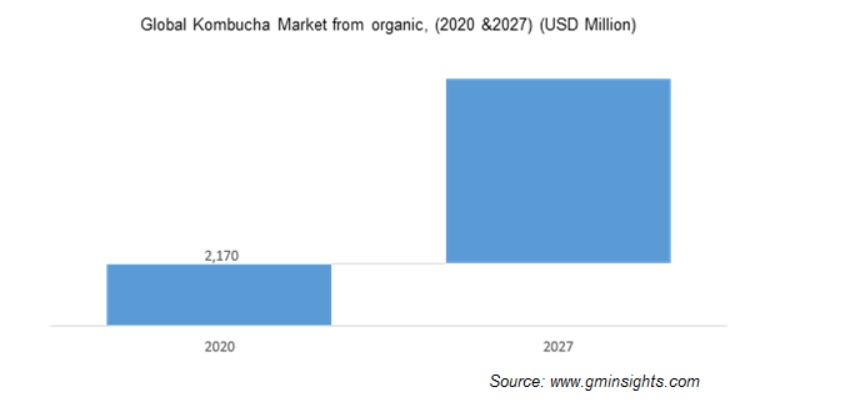 According to Global Market Insights, the kombucha market surpassed $2.65 billion in 2020 and the research house puts a CAGR on the market at over 17% between 2021 and 2027, not far off Technavio's estimate.
Global interest in kombucha
Kombucha is making rapid progress around the world as a category in its own right. In Berlin, the startup Kombuchery recently landed a seven-figure sum in a financing round from 15 international investors and business angels according to Startbase.com. The company plans to spend the money on expanding its team and introducing new product lines, with an eye on distribution in more retail outlets – and US expansion too.
Meanwhile in the UK, Remedy, the leading British kombucha brand, has gone more mainstream by being included in grocery chain Tesco's 'Meal Deal' offer from late May, in 220 stores to start with. The inclusion among the range of drinks offered in the deal gives shoppers a healthier choice at the UK's biggest supermarket chain.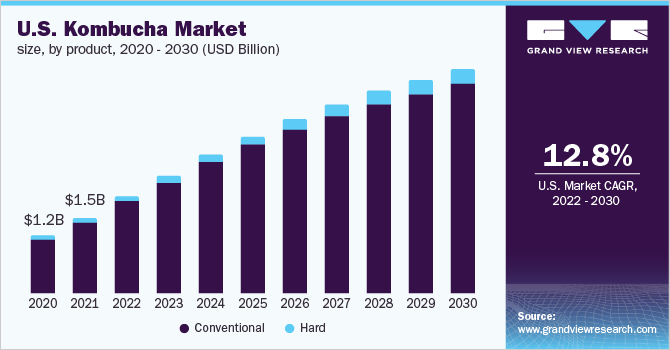 The move comes in advance of expected new curbs from the UK government on HFSS (high in fat, salt and sugar) foods. Research carried out by Remedy indicates that 76% of grocery shoppers are looking to reduce or avoid sugar. Anna Dominey, UK general manager at Remedy Drinks UK, said: "By including Remedy in their meal deal, Tesco is offering shoppers a natural alternative to high sugar or artificially sweetened drinks."
The company's formulation is sugar-free (it uses natural Stevia instead) and it claims to be the fastest growing major brand in the UK kombucha grocery market. Year-on-year sales of 60% over the past six months have enabled it to claim 42% of total category growth. For comparison, the UK kombucha grocery market is worth £13.5 million and is growing at 37% year-on-year.
As well as the Tesco deal, Remedy – a brand created on a kitchen counter by founders Emmet and Sarah Condon – has also expanded in another supermarket chain, Morrisons; online with Ocado; while health foods retailer Holland & Barrett is extending its existing 700ml bottle range to include seven flavour variants.
Health and environment go hand in hand
In the US, the market is already worth more than $1.5 billion, according to Grand View Research. The company says: "Consumers in the US and Canada are seeking an ethical, sustainable, and low-sugar lifestyle, which has spurred demand. Furthermore, the USDA has certified certain ingredients used in organic kombuchas making them safer for consumers, hence driving the uptake of organic kombuchas among consumers."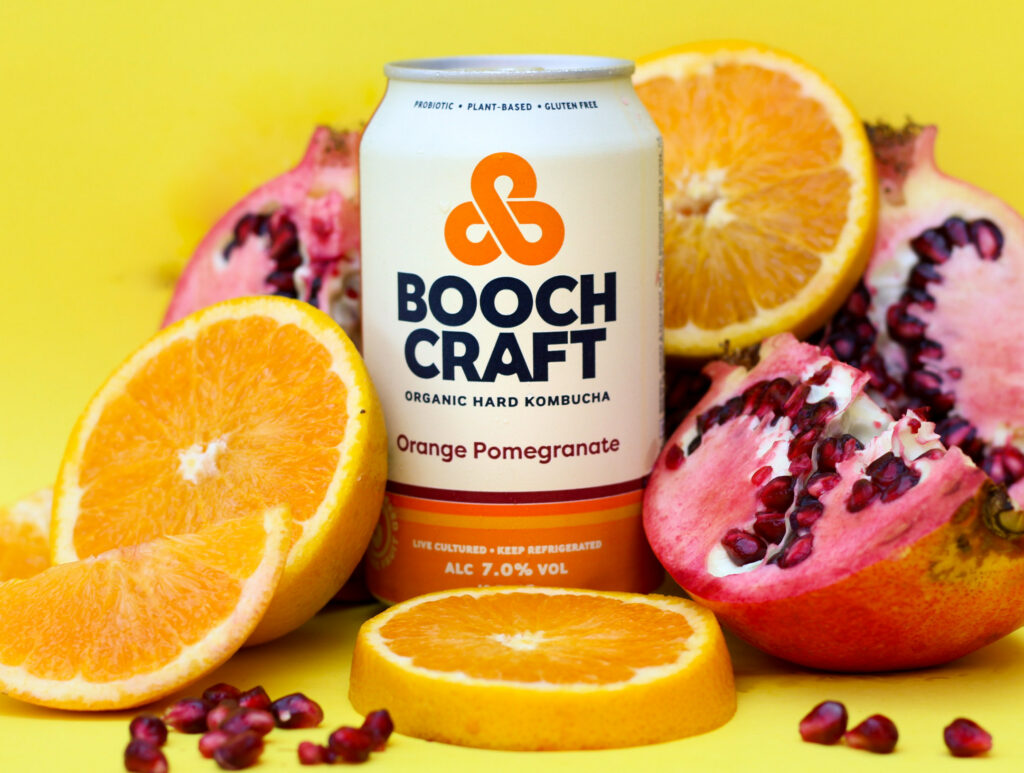 In that direction, Boochcraft has become the first 'hard' kombucha brand in the world to achieve coveted B-Corp certification, aimed at building more inclusive and sustainable economies. Hard means it has an alcohol content of 0.5% or more by volume. Boochcraft, a plant-based, organic kombucha maker founded in 2016, joins more than 4,000 certified corporations in over 70 countries and 150 industries.
Boochcraft co-founder, Adam Hiner, said: "Many things have changed since the early days, but one thing remains true: our commitment to doing better for the planet, giving back to the community and doing business in a sustainable way."
This is the way many consumers see kombucha producers: smaller businesses (though this is not always true) that look to balance profit with purpose and they are prepared to support them on that level as well as for the health benefits.
In Boochcraft's case it composts 100% of its fruit scraps to produce almost 500,000 kg of compost annually; uses a water-recapture loop to save fresh water; and it has implemented an environmental-management system with the aim of continuing to reduce waste streams. Other kombucha players are likely to follow in Boochcraft's steps and become B-Corp certified.
---
Join us at SIAL Paris as exhibitor Join us at SIAL Paris as visitor