ORGANIC AND HEALTHY FOODS ARE SEEING THE BUTTERFLY EFFECT AGAIN
Los Angeles-based private equity firm Butterfly Equity has stepped up its investment focus on the food sector again this year following a string of pre-pandemic acquisitions spanning the entire food value chain from 'seed to fork'.
The latest deal, announced last week, is the acquisition of a majority stake in Pete and Gerry's Organics, a leading supplier of organic, free-range and pasture-raised eggs produced under the brands: Pete and Gerry's Organic, Nellie's Free Range, and Consider Pastures. The terms of the transaction were not disclosed.
Before the Covid-19 pandemic hit, Butterfly had been actively acquiring by targeting four verticals:
agriculture and aquaculture
food and beverage products
food distribution
foodservice.
In November 2019, the firm announced plans to take a majority stake in California-based Orgain, a producer of organic and clean nutrition products such as meal replacement shakes, protein powders and snack bars that are mostly certified organic. The company was founded by physician and cancer survivor Dr. Andrew Abraham and customers include professional athletes, wellness enthusiasts and cancer patients.
In summer that same year, Butterfly acquired Bolthouse Farms from the Campbell Soup Company for $510 million (€420m). Based in Bakersfield, California, Bolthouse Farms is a vertically-integrated food and beverage company that makes and markets natural products and is a leading player in fresh carrots, chilled beverages and refrigerated salad dressings.
For that large acquisition, Butterfly parachuted in its operating partner Jeff Dunn to assume the role of CEO as he was familiar with the business. He had previously served as president and CEO of Bolthouse Farms from 2008 to 2012, when the company was acquired by Campbell Soups. He continued to lead the business until his departure from the company in 2016.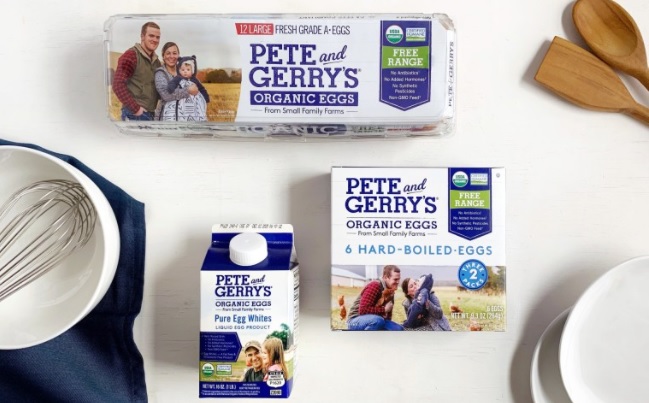 With Pete and Gerry's Organics – based on Monroe, New Hampshire – Butterfly is back on the acquisition trail. The CEO Jesse Laflamme will continue to retain an ownership position "and help move the business forward" said the private equity firm. British Columbia Investment Management Corporation – one of Canada's largest institutional investors with $141 billion of assets under management – will become a new minority investor alongside Butterfly and Laflamme.
Butterfly co-founder and co-CEO Adam Waglay commented: "We believe the future for Pete and Gerry's Organics is incredibly bright as the market leader in the premium egg category."

Overall per capita egg consumption in the US is expected to increase this year versus 2020, according to Department of Agriculture data, although consumption will be slightly below 2019. However demand at the organic, premium level is expected to increase.
Pete and Gerry's partners with over 130 small family farms across the US and its Pete and Gerry's Organic and Nellie's Free Range brands are claimed to be number one in their respective segments.
CEO Laflamme said: "Pete and Gerry's has achieved a position in the market where we are poised to accelerate growth." He believes that Butterfly's values and mission align with those of his family business, making the firm a viable partner for expansion.
To date, Butterfly has been involved in investing more than $10 billion of equity capital in companies ranging from growth-stage to Fortune 500 enterprises. Other companies in its health, wellbeing and nutrition-based portfolio include Pacifico Aquaculture and Modern Restaurant Concepts.
Butterfly's commitment to food justice values is underlined by its foundation which is currently focusing its giving on organisations that provide hunger relief and specifically prioritising support for its hometown community of Los Angeles.
In a statement it said: "Covid-19 has worsened an already staggering food insecurity problem. Even before the pandemic began, Los Angeles County was home to two million food insecure individuals, making it the most food insecure county in the entire country." A recent study by USC Dornsife's Public Exchange, says that more than a quarter of households in Los Angeles County have struggled to afford food during the pandemic.
---
Join us at SIAL Paris as exhibitor Join us at SIAL Paris as visitor