CONSTELLATION BRANDS SEES BEER SALES RISE BY 11% in Q1
International drinks producer and marketer, Constellation Brands, has witnessed strong growth in its beer business which posted an 11% net sales increase in the first fiscal quarter of 2024 ending 31 May. The rise was driven by an uplift in shipments of 7.5%.
Beer revenue of $2.1 billion in the quarter reflected strong growth across a series of brands including Modelo Especial, the Modelo Chelada brands, Corona Extra, Pacifico, and the successful launch of Modelo Oro. By comparison, the company's overall growth was roughly half at 6%, hitting $2.5 billion. The lag was due to the wine and spirits business seeing a contraction, falling by 10% to $416 million.
Constellation Brands claims that, in Circana-defined channels (Circana is the new name for analysts IRI and NPD), its beer business continued to outpace the entire segment, especially high-end categories, in both dollar sales growth and volume growth.
The company was the number one share gainer in dollar terms for an eighth consecutive quarter, adding 1.5 points in the beer category and 2.2 points at the high-end. Constellation now has six of the top 15 share-gaining, high-end brands in its portfolio. In that segment, Modelo Especial retained its position as the top brand. It is also said to have made the biggest share gain in the entire United States beer category when measured by Circana dollar sales.
Powerful position in chelada
Meanwhile, Modelo Chelada brands (made in the Mexican michelada-style of beer with savoury flavours like tomato, salt, and lime) continued to rank as the top chelada in the American beer market, holding 65% market share of the entire chelada segment.
Corona Extra, a more familiar brand globally, was ranked third in the high-end segment across Circana channels, while Pacifico rose to the become the number seven share gainer in the same segment.
"Our beer business delivered double-digit net sales growth and continued to outperform the market," said Constellation's president and CEO Bill Newlands. "Meanwhile, our higher-end wine and spirits outperformed the higher-end of the US wine category and gained share in that segment."
Wine and spirits suffer
While Newlands focused on the top end of Constellation's wine and spirits portfolio, the rest of it did not perform well (see details above) and the company admitted that this part of the business overall would see "organic net sales decline of 0.5% to growth of 0.5% and operating income growth of 2-4% for fiscal 2024. In other words a flat sales market. In contrast, the beer business is expected to see net sales growth of 7-9% and a rise on operating income of 5-7% during fiscal 2024.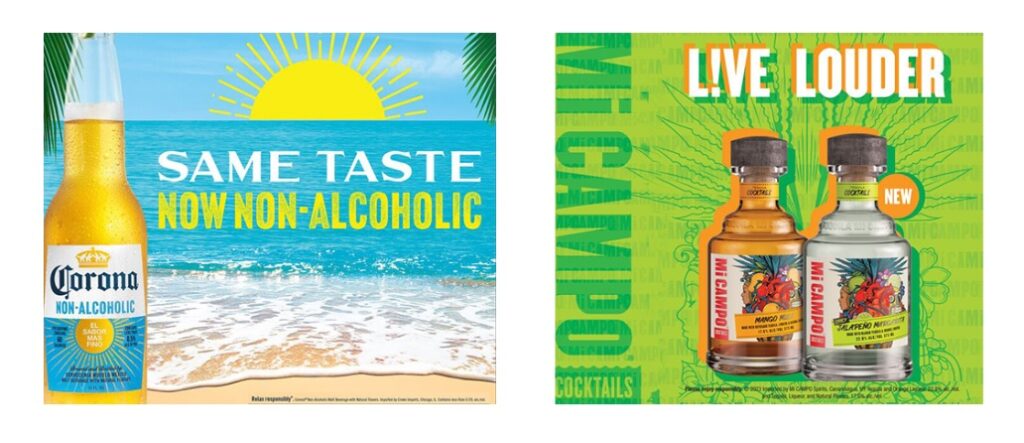 Brands in wine and spirits portfolio include fine wine and craft spirits including The Prisoner Wine Company, Robert Mondavi Winery, Casa Noble Tequila, and High West Whiskey; plus premium wine brands such as Kim Crawford and Meiomi.
CFO Garth Hankinson said:"We expect our wine and spirits business to accelerate toward its fiscal 2024 outlook throughout the rest of the year. We are also now closer to our net leverage ratio goal while continuing to return cash to shareholders in-line with our dividend payout ratio target."
Fortunately, the beer business constitutes the vast bulk of Constellation's revenue and investor confidence pushed up the share price after the company announced its quarterly results. It moved from from $246 to $253 (at the time of writing). The company's stock has been on an upward trajectory this year, up almost 10% year-to-date.
Hankinson said: "The solid top-line performance of our beer business has reaffirmed our confidence in our annual plans and objectives." Newlands added: "Looking ahead, we remain focused on continuing to advance our fiscal 2024 outlook and strategic initiatives."
Mexican focus
Among those strategic initiatives will be to invest in extra capacity in Mexico to provide the long-term flexibility needed to support the expected future growth of the company's high-end Mexican beer portfolio. Total capital expenditure for the beer business is expected to be up to $4.5 billion from fiscal 2024 to fiscal 2026.
The investment will support the addition of up to 30 million hectolitres of modular capacity and includes the construction of a new brewery in Southeast Mexico in the state of Veracruz, as well as continued modular capacity expansion, optimisation, and/or construction activities at the company's existing sites in Nava and Obregon.
Constellation Brands has operations in the US, Mexico, New Zealand, and Italy and the company has been one of the fastest-growing, large consumer packaged goods in the US at retail.
---
Join us at SIAL Paris as exhibitor Join us at SIAL Paris as visitor