CONSTELLATION BRANDS HIT BY 4% NET DECLINE IN WINE AND SPIRITS SALES
Constellation Brands – a leading international producer and marketer of beer, wine, and spirits with operations in the U.S., Mexico, New Zealand, and Italy – has reported a revenue uplift for fiscal 2023 (ending February) of 7% to $9.5 billion, but a fall in wine and spirits sales.
The main driver was better-than-expected beer net sales at 11% to reach $7.47 billion though they lost their froth in the final quarter which was negative by 2%. The wines and spirits business declined by 4% in FY2023 to $2 billion net, with Q4 down by 14% which could be an indicator of consumer sentiment for the rest of the year.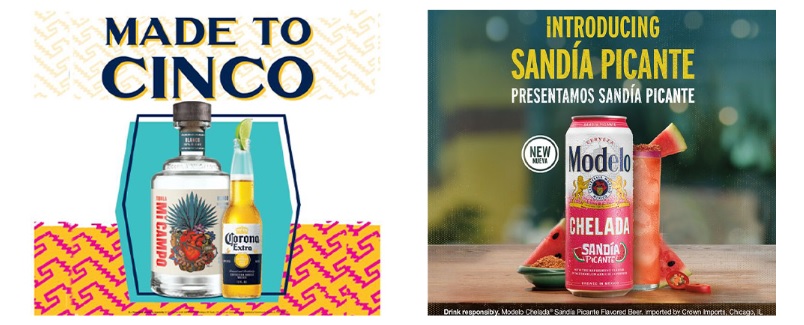 Constellation said there had been "exceptional momentum" overall for its lead beer brands, Modelo Especial and Corona Extra, over the year, and also for its so-called 'next wave' brands, Pacifico and the Modelo Chelada. In a conference call last Thursday, president and CEO, Bill Newlands said: "We remain excited about the ongoing opportunities we see for these brands as well as for our beer business innovations in fiscal 2024."
High end wines do well
In wine and spirits, the company's Aspira portfolio (consisting of fine wine and craft spirits brands) yielded double-digit shipment growth, with The Prisoner Wine Co, the company's largest fine wine brand, and High West, its largest craft spirits brand, posting high single-digit and low double-digit growth, respectively.
In the Ignite portfolio (consisting of premium and mainstream brands), the company's largest premium brands, Kim Crawford and Meiomi, both posted mid single-digit growth. However, overall wine and spirits shipments fell sharply by over 9% for the year, and by 22% in the final quarter.

Constellation has been divesting its more mainstream portfolio over recent years to capitalise on the premiumisation trend, particularly in the United States, and stick with the high-end segment. Chief financial officer, Garth Hankinson, commented: "Our wine and spirits business expanded its operating margins as it further advanced its strategy. We expect to continue to deliver on our momentum."
How that momentum shapes up for the rest of this year is far from clear. In an outlook statement the company said it expected beer to show net sales growth of between 7-9% in FY2024 with operating income growth of 5-7%. Meanwhile, organic net sales of wine and spirits are expected to land somewhere between -0.5% to +0.5% in FY2024, in other words a stagnant market, though operating income is set to grow between 2-4%.
Streaming content
One positive might come from Constellation's new multi-year, multi-million dollar partnership with media company Tastemade to create and distribute social and streaming content to drive consumer engagement globally for Constellation's wine and spirits.
'Constellation + Tastemade Studios' will use "elevated storytelling" to engage a new generation of legal drinking age consumers to the wine and spirits categories, with a focus on Robert Mondavi Winery, The Prisoner Wine Company, High West Whiskey, Kim Crawford, SIMI, Schrader Cellars, Double Diamond, To Kalon Vineyard Company, Ruffino Estates, Lingua Franca and others.
The partnership will aim to cut through with all these brands by advancing wine and spirits culture with innovative storytelling formats spanning native social video and streaming television, as well as brand experiences. The first streaming show resulting from the partnership will be Street Somm, an on-the-go travel series that sends a curious, outgoing sommelier travelling around the country with one goal in mind: to explore mouthwatering eats, learn the story behind them, and find unexpected wine pairings at every turn.
Robert Hanson, executive vice president and president, Constellation Brands' wine and spirits division commented: "We believe this bold partnership with Tastemade will bring new and diverse consumers into the category. Consumers today are in the driver's seat and choose to engage with brands that not only deliver high quality, great tasting wines and spirits, but exciting and engaging experiences across modern channels."
The venture will be nimble and at massive scale due to Constellation Brands portfolio reach, and Tastemade's existing global platforms which have more than 300 million monthly viewers. Programming will include original content for Tastemade's streaming channels plus original social content, talent partnerships, media, and experiential partnerships.
This novel partnership could be a game-changer for Constellation in further reshaping the positioning of its wine and spirits portfolio to become a global premium, fine wine and craft spirits house that aligns better with consumer preferences.
---
Join us at SIAL Paris as exhibitor Join us at SIAL Paris as visitor