North America food bags market surpasses €1,316M mark
The food bags market has a key role in protecting and transporting food products while maintaining their taste, quality, and integrity
The North America Food Bags market has witnessed remarkable growth, exceeding the €1,316 million mark, with a robust compound annual growth rate (CAGR) of 4.5% projected by 2030.

This article provides a comprehensive analysis of the market's share, prevailing trends, growth strategies, and competitive landscape, offering valuable insights for businesses aiming to capitalise on this flourishing sector.
Unveiling Market Dynamics
The North America Food Bags market report delves into the present state of the industry, highlighting critical aspects such as market size, market share, revenue generation, and future product enhancements.

Meticulously prepared by a team of skilled analysts, statisticians, research experts, forecasters, and economists, this report caters to the specific requirements and growth prospects of businesses.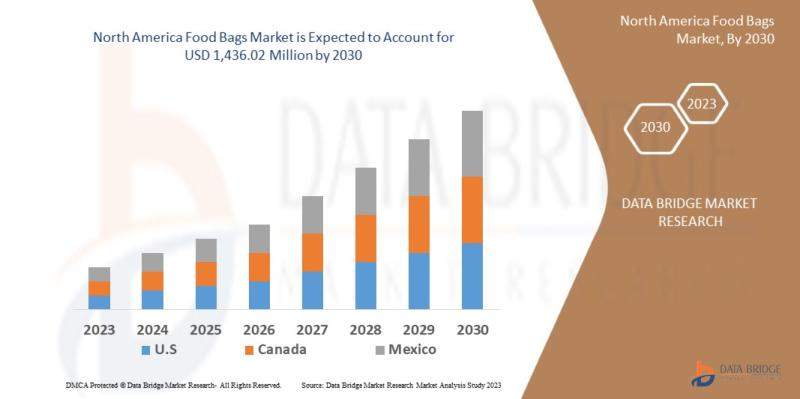 The Significance of Food Bags
Food bags play a crucial role in protecting and transporting food products, safeguarding their taste, quality, and integrity.

These bags are said to effectively shield products from moisture, toxins, spillage, tampering, and maintain their shape and quality.

Additionally, food bags can serve as a marketing medium for retailers, communicating essential product information to consumers, including price, nutritional content, expiry date, and origin.
Driving Factors and Growth Strategies
Several factors contribute to the remarkable growth of the North America Food Bags market. The rising demand for convenient, on-the-go food products, increasing concerns about food safety and hygiene, and the need for sustainable packaging solutions propel market expansion. Furthermore, the surge in food delivery services and online grocery shopping platforms fuels the demand for food bags.
To harness the burgeoning market opportunities, companies employ various growth strategies. These include product innovation, expansion of production capacities, strategic collaborations, mergers and acquisitions, and investments in research and development.

By focusing on these strategies, businesses can cater to evolving consumer needs and gain a competitive edge in the market, according to the report.
Read also : Food colour: Europe emerges as second largest market with £3.5Bn valuation
---
Join us at SIAL Paris as exhibitor Join us at SIAL Paris as visitor