PERNOD RICARD SETS NEW RECORD WITH OVER €10 BILLION IN ANNUAL SALES
The world's second biggest producer of wines and spirits, Pernod Ricard, generated record sales of €10.7 billion in its fiscal year 2022, ending in June, with all regions contributing to growth.
The French company – whose portfolio includes some iconic brands like Absolut Vodka, Beefeater Gin, Chivas Regal Scotch, and Martell Cognac – saw organic sales growth of 17% in FY22, driven by Europe at 19%, and Asia/Rest of the World also at 19%, while the Americas just made double digits at 12%.

There was also a very strong rebound in travel retail (mainly the airport channel) of 48% following two dismal years of pandemic-induced non-travel. Travel retail, designated as a must-win channel for Pernod Ricard, had an "exceptionally strong" recovery in Europe and the Americas as air passenger numbers increased in the first half of this year.
Europe's gains were led by Italy at 42% growth, Spain with 36%, Germany, Poland, and the UK, while Asia had some excellent growth led by India at 26%, Turkey, China and sub-Saharan Africa. Pernod Ricard also described performances in Korea and Japan as "very strong". Even the relatively weaker growth in the Americas was welcomed, and it was particularly dynamic in Latin markets, where Brazil for example surged by over 50%.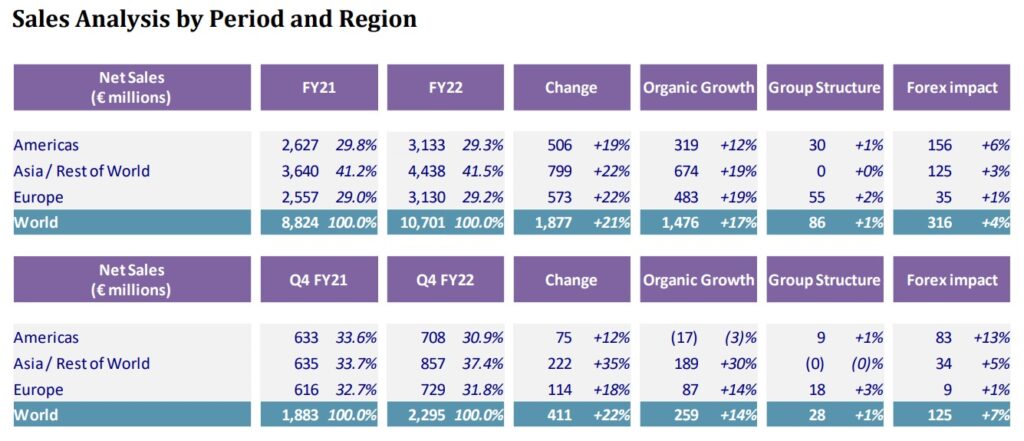 "Record, balanced and sustainable"
Alexandre Ricard, chairman and CEO of Pernod Ricard, described the performance in FY22 in three words: "record, balanced and sustainable". He said: "FY22 was a record in many respects. Our sales broke the symbolic milestone of €10 billion with our fastest growth rate in over 30 years." The year also delivered a record €3 billion profit from recurring operations at a record operating margin of over 28%.
As for balance, the CEO pointed to the regional growth figures, as well as strength across key categories, price points and channels, with a comparable contribution from both mature and emerging markets.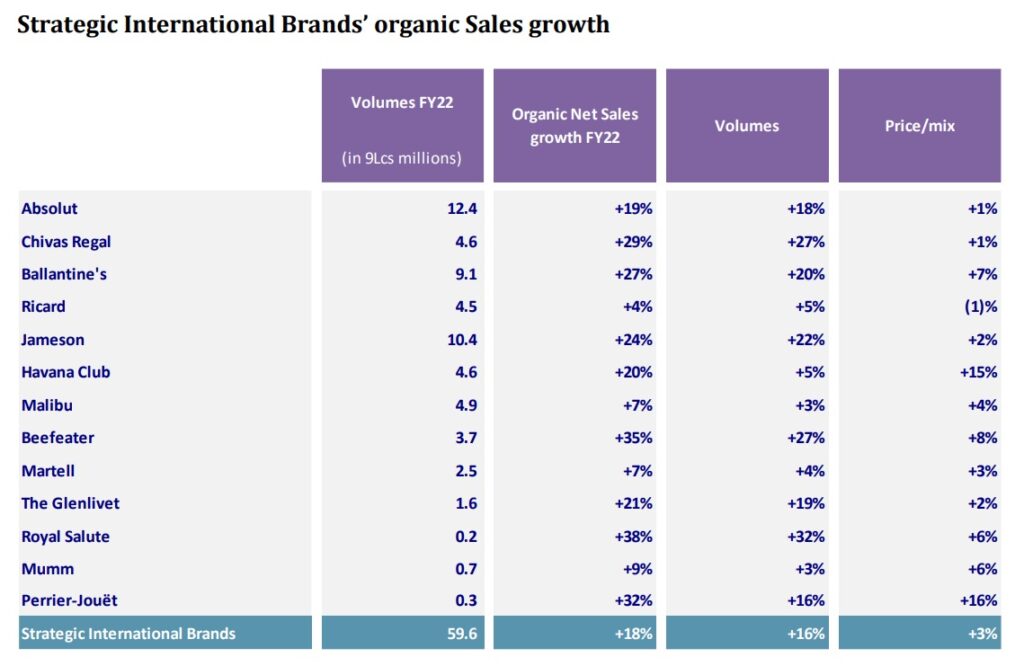 Among spirits categories, which Pernod Ricard divides into four, three excelled as outlined below:
• Strategic International Brands: Up by 18%, with growth across all regions led by Jameson Irish Whisky, Chivas Regal, Ballantine's, Absolut and Martell among the 13 brands in this elite group. Together, these labels account for 63% of the company's net sales.
• Strategic Local Brands: Also up 18%, led by Seagram's Indian whiskies, Kahlua, Olmeca and Seagram's Gin. These brands make up 18% of sales.
• Speciality Brands: Grew the most at 24%, as American whiskies, gins and agave-based brands continued very rapid development. Speciality brands have doubled their weight in sales versus FY19.
• Strategic Wines: This segment was the only one to see a contraction of 4% due to an overall soft performance, in particular as a result of New Zealand's lower harvest.
Market share gains and conviviality
Based on the record results, Pernod Ricard said that it had achieved share gains in most markets. At the same time the company achieved price increases (mid-single digit on average) across all markets which is a hard combination to pull off successfully.
In a statement, the company said: "Sales were driven by strong recovery of the on-trade (pubs, bars and restaurants), resilience in the off-trade (supermarkets and drinks retailers) and a rapid rebound in travel retail, albeit with passenger traffic still subdued in China."
Ricard added: "Most importantly, our performance was sustainable thanks to the real progress we've made on delivering our strategic roadmap 'Good Times from a Good Place'. There has definitely been a newfound appreciation for conviviality since the Covid outbreak. While we are faced with a challenging and volatile environment, I am confident that our competitive advantages and the rapid deployment of our digital transformation will enable us to deliver our FY23 to FY25 medium-term financial framework."
As the company moves into the second month of its new fiscal year FY23, it says it has "very healthy" trade inventory levels across regions and is generating sales that are described as "a good start to Q1". Economic conditions have changed, but Pernod Ricard remains focused on revenue growth management and operational efficiencies in a high inflationary environment, and will push for better returns on investment (ROI) through the year.
---
Join us at SIAL Paris as exhibitor Join us at SIAL Paris as visitor