PROTIUM AND BUDWEISER HYDROGEN PROJECT TO SAVE 11,000 TONNES OF CO2 ANNUALLY
A brewery in the UK, operated by Budweiser Brewing Group is partnering with Protium, a developer of renewables and green hydrogen infrastructure, to cut carbon emissions at the site using hydrogen production.
By developing a green hydrogen energy production facility in Samlesbury in Lancashire, Budweiser will also support the wider net zero ambitions of two local authorities – South Ribble Borough Council and Lancashire County Council – which aim to be carbon neutral by 2030.
The brewery produced its first beer in March 1972 and now employs around 350 staff and has the capacity to brew almost 300 million pints per year, It makes some of the UK's most recognised beers including Budweiser, Stella Artois, and Corona.
The Protium initiative – when operational in 2025 – will lead to cleaner air and reduced noise, with heavy goods vehicles also being powered by hydrogen. It will save up to 11,000 tonnes of carbon dioxide each year, the equivalent of taking 5,800 cars off the road; offsetting the emissions of more than 11,000 London to New York return flights; or planting 440,000 trees.
Samlesbury brewery has been in operation for over 50 years and the new facility (an electrolyser, associated plant and refuelling station) will be built next to the existing unit. It will cover an area similar in size to one-and-a-half full-size football pitches.
Helping government targets
Protium will fund, build, and operate the site for the brewery. A planning application for the project will be submitted shortly following consultation with neighbours, the community, and other local stakeholders. A project like this will also help the government meet its net zero targets, in particular the green hydrogen target of 5GW by 2030.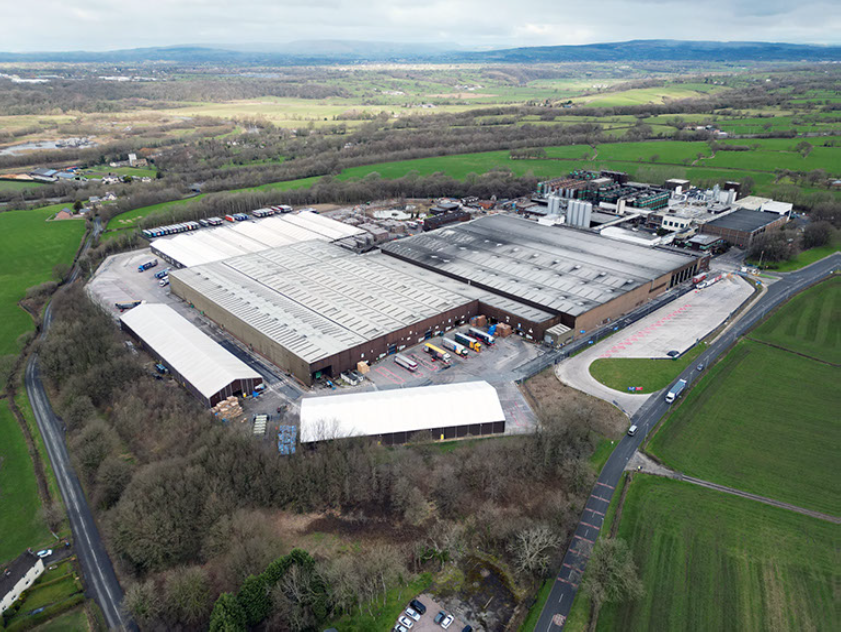 The company says "decarbonisation is a collective effort" and that the gaps between technology, policy and businesses need to be bridged to make adoption of hydrogen better, faster and more widespread.
This will be Protium's third such site in the UK and second with Budweiser. Last year, Protium announced its first site in partnership with the group at its Magor brewery in South Wales.
Minister for Investment, Lord Johnson, said: "The government is committed to maximising the opportunities a shift to net-zero can bring to the UK, something that's been echoed in the British Energy Strategy," said Johnson.
Luiz Brandao, head of procurement and sustainability at Budweiser Brewing Group commented: "Sustainability is core to our business as we work towards net zero. Innovative solutions like hydrogen have huge potential for reducing our carbon footprint and moving us towards our ambitious sustainability goals."
Hydrogen cars
As part of the project, Budweiser will also make the change to hydrogen-fuel-cell electric vehicles which have the potential to improve local air quality and cut noise. Chris Jackson, CEO of Protium, said: "Samlesbury Net Zero is an investment in our future. Working with the local community will be at the heart of this project. We want to use the local supply chain where possible and engage with the education and business communities to provide upskilling opportunities in green hydrogen energy production."

The CEO added: "Removing carbon emissions from sectors like manufacturing is one of the biggest challenges we face in reaching net zero. Green hydrogen is the next step in the global energy transition (to) future-proof our vital industries."

Protium plans to hold a series of consultation events with the community over the coming weeks and has created a dedicated website with key dates and information at www.samlesburynetzero.co.uk.
Green hydrogen is created through a process called electrolysis, where electricity from renewable sources is used to split water into hydrogen and oxygen. There are no carbon emissions released during this process.
Once produced, the hydrogen can be fed directly into hydrogen-ready boilers allowing the brewery to meet the thermal demand of its brewing processes, as well as other heating requirements. It would also supply a hydrogen refuelling station for use by hydrogen-ready heavy-goods vehicles. These fuel-cell electric vehicles (FCEVs) only emit water vapour while filtering particulates out of the air as they move. The heat from the hydrogen facility will also be recovered and used in Budweiser's bottling process.
Globally, Budweiser parent AB InBev, based in Belgium, has ambitious sustainability goals which include 100% of its electricity coming from renewable sources and achieving net zero across its value chain by 2040. It has also removed all plastic rings from its beers and decreased its use of plastic shrink wrapping, removing 850 tonnes of plastic waste from its supply chain. AB InBev's 2022 ESG report is available here.
---
Join us at SIAL Paris as exhibitor Join us at SIAL Paris as visitor