SCOTCH WHISKY EXPORTS REACH NEW HEIGHTS, TOPPING £6 BILLION IN 2022
Post-pandemic restocking, the return of global travel retail and premiumisation all helped global exports of Scotch whisky to grow to more than £6 billion (€6.8 billion) for the first time in 2022.
Figures from the Scotch Whisky Association (SWA) showed that value exports of Scotch Whisky rose 37% to £6.2 billion, much faster than the volume growth of 21% to 1.67 billion bottles (based on 70cl bottles exported).
Regionally, Asia-Pacific overtook the EU as the largest geographical market. India and Singapore led the year-on-year value growth at 93% and 50% respectively as the post-Covid recovery continued. India also toppled France as the largest Scotch whisky market by volume, with plenty of potential left.
The SWA says that Scotch Whisky is still only 2% of the Indian whisky market. Its analysis shows that a UK-India free trade agreement easing the 150% tariff burden on the product in India would boost market access for Scotland's whisky companies and land an additional £1 billion over the next five years.
United States back on form
Established EU markets such as France, Germany and Spain also saw a strong post-pandemic bounce-back, but only France is in the top five countries worldwide by value. Germany is 8th and Spain is 10th.
In North America, the United States turned a corner, following the impacts of tariffs on single malt Scotch, to again become the industry's only market with exports valued over £1 billion. Both Mexico and Canada also saw growth, which the SWA says "underlines the importance of securing market access wins through the renegotiation of the UK's free trade agreements with both countries".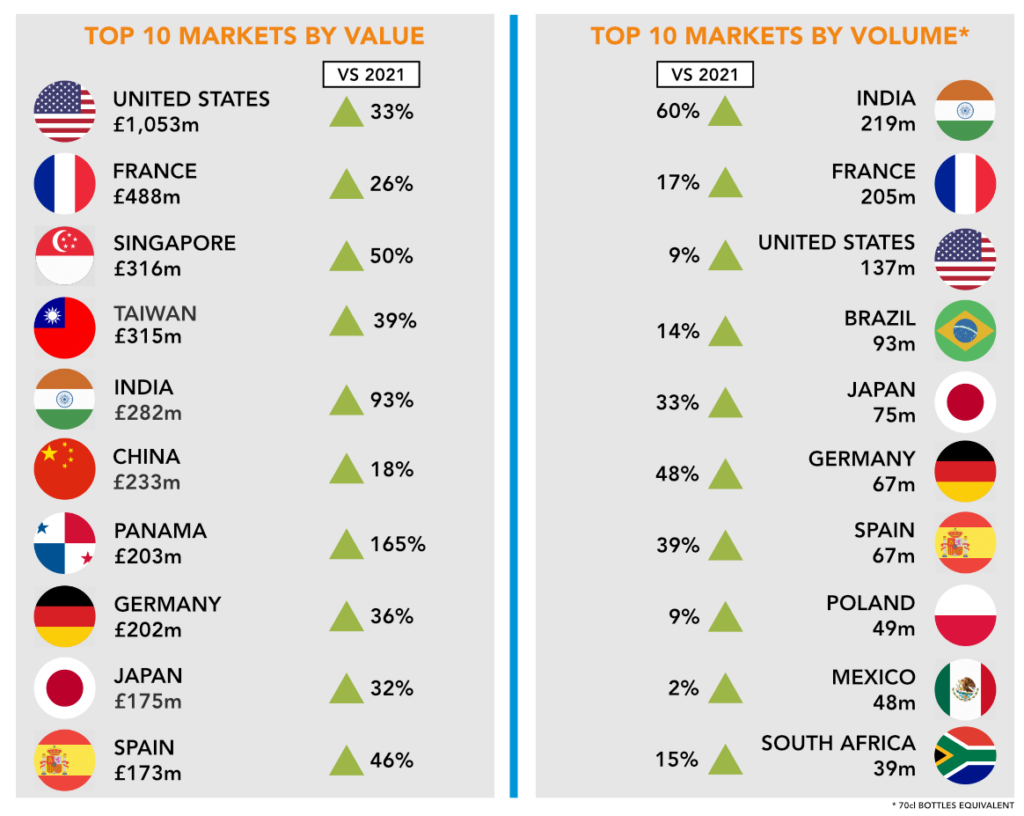 The SWA's CEO Mark Kent commented: "During a year of significant economic headwinds and global supply chain disruption, the Scotch continued to be an anchor of growth. Passing £6 billion in export value for the first time is a milestone, and testament to the work of our member companies and the tens of thousands of employees across Scotland and the UK supply chain."
He added: "In 2022, the industry benefited from the full re-opening of hospitality businesses in key global markets, as well as the return of global travel retail which opens such an important window for Scotch Whisky to business and leisure travellers. Exports were also boosted by the continued premiumisation trend, with consumers now often enjoying Scotch in longer serves as well as the more traditional dram."
Mixed messages from Scottish government
The UK government's business and trade minister Nigel Huddleston said: "Scotch whisky is one of the UK's great exporting success stories, contributing billions of pounds to the economy and supporting thousands of jobs. It's essential we continue to support the industry as it expands into new markets thanks to new trade agreements around the world such as CPTPP and in India." Huddleston said he was focused on achieving £1 trillion in exports by 2030.
Scottish government cabinet secretary Mairi Gougeon said: "Scotch whisky is a world-renowned brand and its value to the Scottish economy is evidenced by the large share of the UK's food and drink export market it commands. Food and drink is one of our priority export sectors and we will continue to engage with and listen to the whisky industry to understand how we can improve export opportunities and remove barriers to trade."
In the meantime, the Scottish government is pushing ahead with a consultation related to possible legislation restricting alcohol ads, driven by the World Health Organization's recommendation that this is one of the most cost-effective measures to reduce alcohol-related harm. The government said: "Many of our European neighbours have already taken action to restrict alcohol marketing including Ireland, France and Norway. This consultation sets out a potential approach for Scotland," the government said. The consultation process is underway and closes on 9 March.
Looking ahead, the SWA's Kent noted that the industry still had to navigate economic headwinds, including global inflationary pressures, domestic energy and business costs, and reduced consumer confidence. But he added: "With the right support from our home governments, we remain confident that the industry can continue to deliver for the Scottish and wider UK economy."
[Lead image credit: Dylan de Jonge via Unsplash]
---
Join us at SIAL Paris as exhibitor Join us at SIAL Paris as visitor