Starbucks celebrates Japan's cherry blossom season with AI
The new Sakura Frappuccino is set to take the Japanese market by storm on Wednesday as part of Starbucks' new range of cherry blossom drinks served with a slice of augmented reality.
Starbucks has introduced a new range of beautiful drinks and snacks at its Japanese outlets to mark the beginning of sakura season. It is not just the drinks that are blooming this year, with customers able to enjoy a side of augmented reality with their beverages.

Customers simply scan the QR code on their receipt and point their camera above a flat surface to reveal a Bearista bear among a burst of pink blossom. Starbucks baristas in Japan have already started serving up pink drinks and treats as spring starts to appear in parts of Asia and people marvel at the beautiful blossoms while celebrating the end of winter.
Discover the Starbucks cherry blossom range
The concept of this year's Sakura series is Sakura Hazumu which will be offered to Starbucks customers through special cherry blossom drinks, food and AR. The company is updating its AR system to create a new and unique experience following last year's success.

As in the past years, Starbucks Japan 2023 Sakura collection's first beverages will be available from February to March 14. Due to its high popularity, products tend to sell out fast in some stores, so those who want to try the cherry blossom flavoured food and drink are advised to go to their nearest Starbucks store after the release. A second edition of cherry blossom special beverages will be announced in the coming weeks. The range features a delicious limited edition Sakura flavoured Frappucino and hot drink.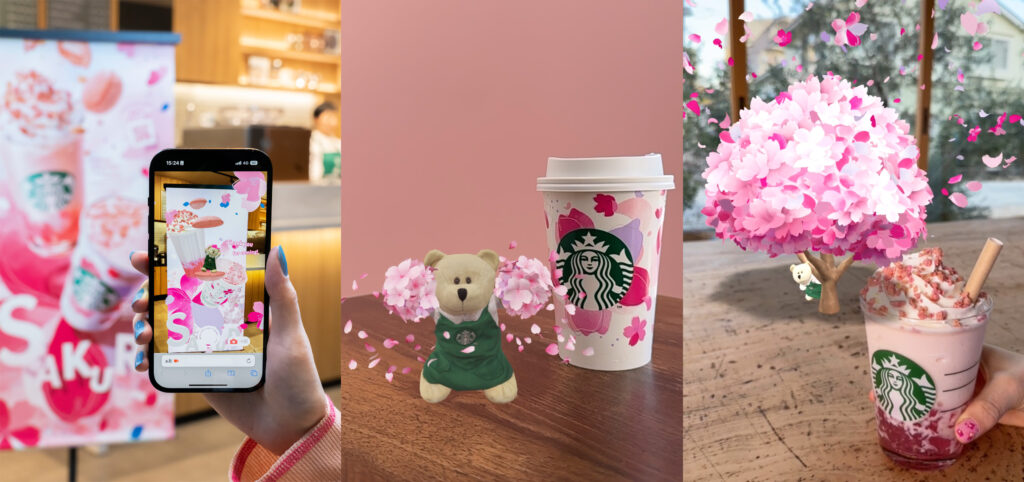 The drinks' texture is a central feature, with crispy strawberry-flavoured macaron pieces scattered on top to replicate the crisp new cherry blossom petals. While sitting at the bottom of the Frappuccino is a beautiful pink mound of sakura jelly which has been mixed with cherry blossom petals. When stirred into the body of the drink, which is made with sakura-flavoured pearl sugar and a strawberry-flavoured Frappuccino, every mouthful will "make your heart bounce" with joy.

And the pink treats do not end there, with Starbucks' Sakura Soy Latte, containing soy milk poured into a sakura strawberry sauce inside every cup, topped with sakura strawberry chocolate shavings and a dusting of pink sugar. A new range of sweet treats are also part of the collection, including a Sakura chiffon cake, sakura doughnut, sakura and matcha doughnut and a tin of sakura and matcha cookies.

A Starbucks spokesperson comments: "Sakura at Starbucks starts on Wednesday February 15. Fresh and in full bloom, a peach-like peach #SakuraShiningSakuFrappuccino / #SakuraSoyLatte is now available. Frappuccino topped with a crispy, textured strawberry flavoured macarons. Look forward to it."
Starbucks cherry blossom merchandise
Starbucks Japan releases its Cherry Blossom themed merchandise collection every spring, drawing most of the attention worldwide. The first series of the collection will be released via the online store on February 15 before hitting stores two days later. Merchandise has been designed using pink and purple tones to illustrate the beauty and fragility of cherry blossom. This incudes tumblers, mugs and other items perfect for picnicking.
---
Join us at SIAL Paris as exhibitor Join us at SIAL Paris as visitor