SELF-SERVE TECHNOLOGY OPENS NEW DOORS FOR DRINK COMMAND
Improvements in self-serve beverage technology have allowed Drink Command, claimed to be a global leader in the sector, to open new 'tap wall' locations at large sporting venues in the United Kingdom.
The US-based company's latest installation was at the end of January at Villa Park in Birmingham, the home of the Premier League football club Aston Villa. The sports ground with a capacity of over 42,000 guests has joined a number of other large venues – such as Twickenham Stadium at the end of last year (see video below) and Cheltenham Racecourse – to use automated tech to serve drinks in high volumes within short time frames to big crowds.
The 82,000 capacity Twickenham venue is the world's largest Rugby Union stadium and the self-serve installation was part of an agreement with the Compass Group, one of the UK's biggest hospitality concessionaires.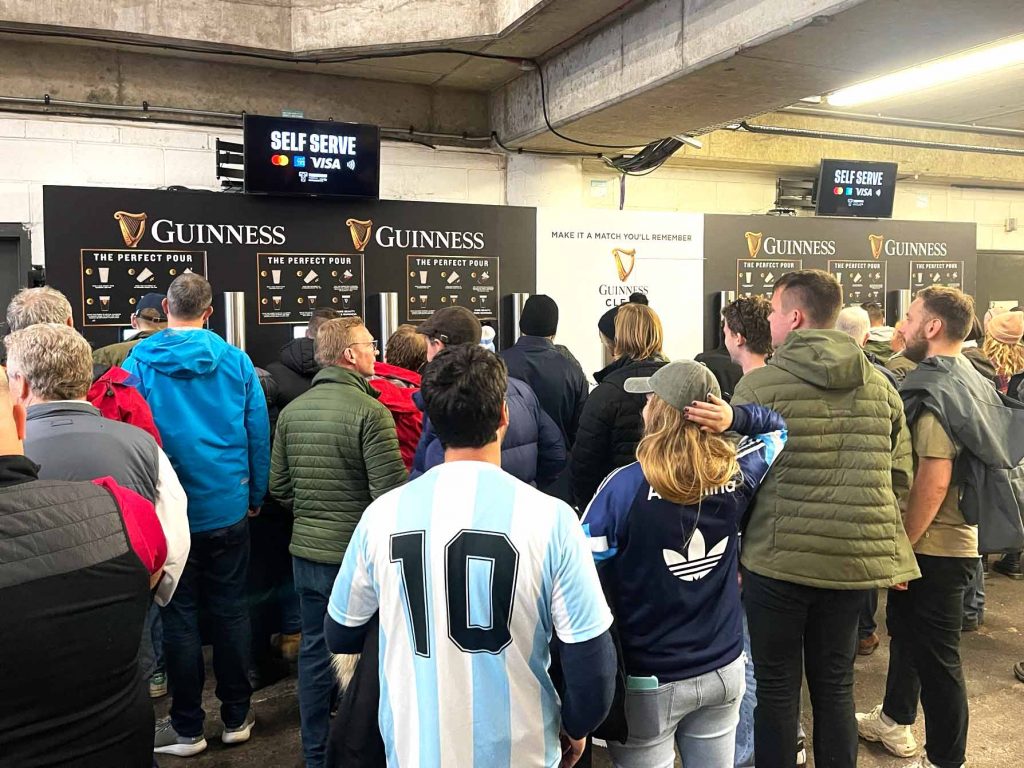 Getting straight to the pint
Delivering an efficient drinks service to large numbers of users during intervals and at half-time has always been a problem for sports and entertainment venues. But fast, reliable, and robust self-serve technology platforms are being developed for the most common drinks orders.
Peter Robinson, UK and European director of operations and sales at Drink Command said: "We are incredibly proud to be working with venues across the country. We pride ourselves on providing a unique experience for spectators who can relax and enjoy the action without the need to queue endlessly for a pint."
The company says that, thanks to touchscreen ordering and a cashless payment system, its self-serve systems cut total interaction time down to less than 30 seconds, reducing wait times for customers. This allows guests to avoid long queues and also puts them in charge of their pints when pouring a Guinness or lager for example.
Tap walls also vary in size from between 1 to 200 taps giving venues flexibility to integrate them into their spaces, small or large. They also have the benefits of reduced waste and staff costs, with some traditional bartending staff redeployed to help customers unfamiliar with the technology to order their drinks and for other tasks including age verification checks.
Drink Command also says that its system generates "much higher profits per keg than pouring" and it has a link on its website to find out what a return on investment might look like for a customer. Kegs typically need to be stored in a cold room that can be easily accessed to replace empty units. Many storage systems allow kegs to be stacked while tapped, optimising cold storage space.
Every drop counts
By eliminating waste and over-pouring through the use of ultrasonic flow metres and solenoid valves, there are incremental savings from lost liquid. In addition, credit card and contactless payment options can reduce labour costs.
Other players in the growing self-serve drinks market include the Brazilian startup Enjoy which has develops Enjoy Self-Service, an Internet of Things-based solution at beer counters. Using this model, consumers can help themselves directly from the taps, but are able to choose the exact amount of draft beer they want down to the millilitre, and only paying for what is served.
Enjoy combines an embedded circuit which controls machine lines plus a measurement module to release, close, and measure flow. This allows bars, pubs, and taprooms to add more beer taps, log usage, and improve barrel management.
Given their relatively recent arrival, tap walls can be eye-catching, creating novelty value and the temptation to try especially the big ones. Drink Command said that guests are known to challenge each other on their pint-pouring abilities and share the experience on social media.
The founders of Drink Command launched their business after experiencing the difficulty in ordering a beer easily or quickly, be it in bars, stadiums, festivals, or hotels. At almost any busy location, the bottleneck issues were the same. In 2015, they began the process of bringing a self-serve solution to the market.
Today, the company has more than 100 self-serve installations in over 35 countries, from special-event mobile kegerators to stadium tap walls. Drink Command has evolved its hardware and software technology platform to adapt to many venues and service levels. The company has approvals from several regulatory bodies across the globe including NMO (Ireland), NMI (Australia & New Zealand), and 48 of the state liquor boards in the United States.
---
Join us at SIAL Paris as exhibitor Join us at SIAL Paris as visitor