US BEEF EXPORTS SET NEW VOLUME AND VALUE RECORDS IN 2022
American beef exports saw declines between 2018 to 2020 but they have been reversed in recent years peaking in 2022 to set new records. This is according to data released by the USDA and compiled by the US Meat Export Federation (USMEF).
A sharp rise in export value sales has been seen since 2020, hitting $11.68 billion last year, up 10% from 2021. This is nearly 40% above the previous five-year average. Volume growth tapered off a little last year to reach 1.47 million metric tons (mt), up 2% from the previous high in 2021.
USMEF president and CEO Dan Halstrom commented: "2022 was a ground-breaking year for U.S. beef's international presence, with global demand stronger than I've seen in all my years in the industry."
US beef production in 2022 also set a new record, as did the proportion of it that was exported – and at higher prices. Beef exports achieved new heights in several individual markets including South Korea, China/Hong Kong, Taiwan, the Philippines, Singapore, Colombia, Guatemala and the Dominican Republic.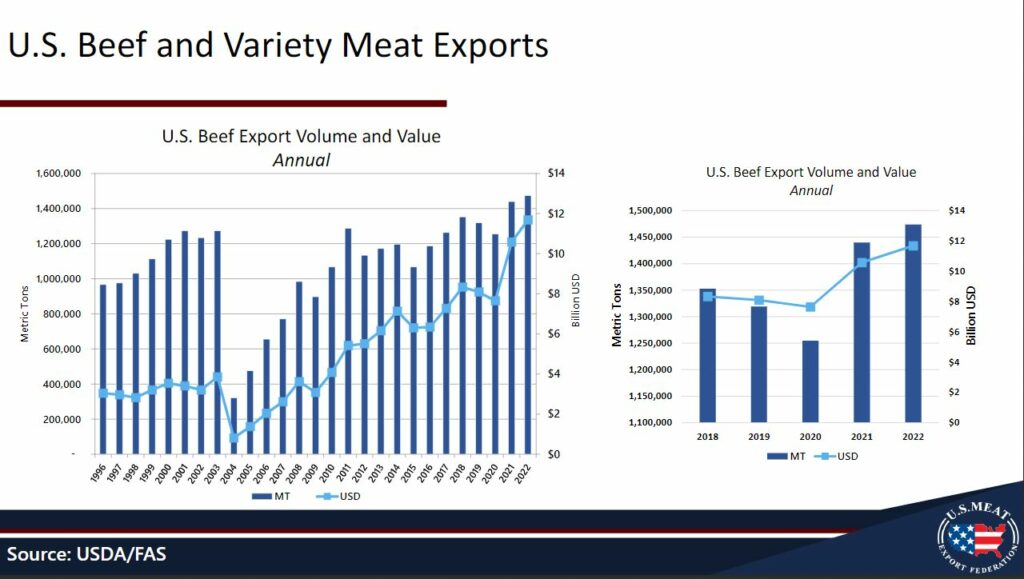 A downward trend on its way?
However, the annual strength could be masking tougher times ahead. In December, beef exports trended lower than a year ago at 112,707mt down 7%, while value fell dramatically by 21% to $782.6 million.
USMEF said: "The December decline was due in part to a sharp drop in exports to China/Hong Kong, where demand had been constrained by persistent zero-Covid policies. China lifted most Covid restrictions in early December with recent easing of Covid-related cold chain regulations and inspections."
These changes, if they were the real cause of the export decline in December, might offer a more optimistic demand-outlook for this year. Halstrom said: "Late in the year, exports certainly felt the impact of persistent headwinds in our large Asian markets, including depressed trading partner currencies and Covid-related challenges in China.
"But the long list of countries in which records were set showcases the industry's focus on diversifying export markets. While the year ahead will be challenging due to supply constraints, the exchange rate situation has improved and we still see room for growth in the foodservice sector as more regions continue their gradual rebound from Covid."
---
Join us at SIAL Paris as exhibitor Join us at SIAL Paris as visitor