LIDL AND KAUFLAND NON-RETURN PET BOTTLES NOW MADE FROM 100% RECYCLED PLASTIC
Lidl and Kaufland, both part of the privately-owned global discounter Schwarz Group, are both producing own-brand items in not-returnable bottles made from 100% recycled plastic (rPET) in their home market of Germany.
The move to 100% rPET – excluding the lid and label – began in June. Each of these new bottles is entirely made from old ones and, due to their low weight, are said to be particularly resource-efficient. According to Lidl Germany, Schwarz has achieved this step in PET recycling thanks to big investments that have resulted in "know-how built up over many years" as well as partially self-developed solutions.
Lidl and Kaufland do their bit
In 2008, Lidl took on a pioneering role in the circular economy with the development of the Saskia bottle. The company's trading division now offers around 60 types of beverages in non-returnable PET that are made from 100% recycled material. Customers can recognise the bottles by the "more responsibly packaged" logo. In its marketing campaigns, Lidl has also moved to posters made from recycled material.
Within Kaufland, around 50 types of beverages from the K-Classic own brand are made from 100% rPET. These bottles are marked with the "consciously packed" logo.
By making non-returnable bottles 100% rPET, Schwarz Group will save a total of 48,000 tons of new plastic and 79,000 tons of CO2 in 2021, based on its forecast annual quantity of production.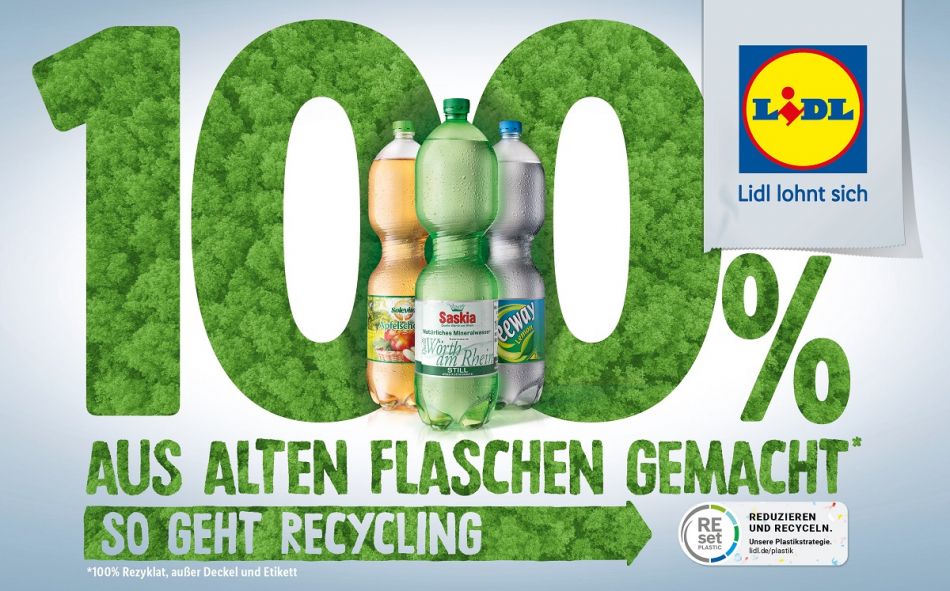 ---
Join us at SIAL Paris as exhibitor Join us at SIAL Paris as visitor