TESCO OPENS FIRST CHECKOUT-FREE STORE, 'GETGO'
Tesco has opened its first checkout-free store in central London, giving customers the opportunity to shop and pay without scanning a product or using a checkout. 
This new store trial, GetGo, offers customers the same Tesco products with a seamless shopping experience.
The rollout of this technology to Tesco Express High Holborn follows a successful trial at Tesco's colleague store in Welwyn Garden City, which has been in place since 2019. Tesco Express High Holborn has been a cashless store since it first opened in 2018.
Tesco's leading-edge technology means that customers with the Tesco.com app will be able to check-in to our store, pick up the groceries they need and walk straight out again without visiting a checkout.
A combination of cameras and weight-sensors will establish what customers have picked up and charge them for products directly through the app when they leave the store. Tesco has partnered with Trigo for the launch of this store.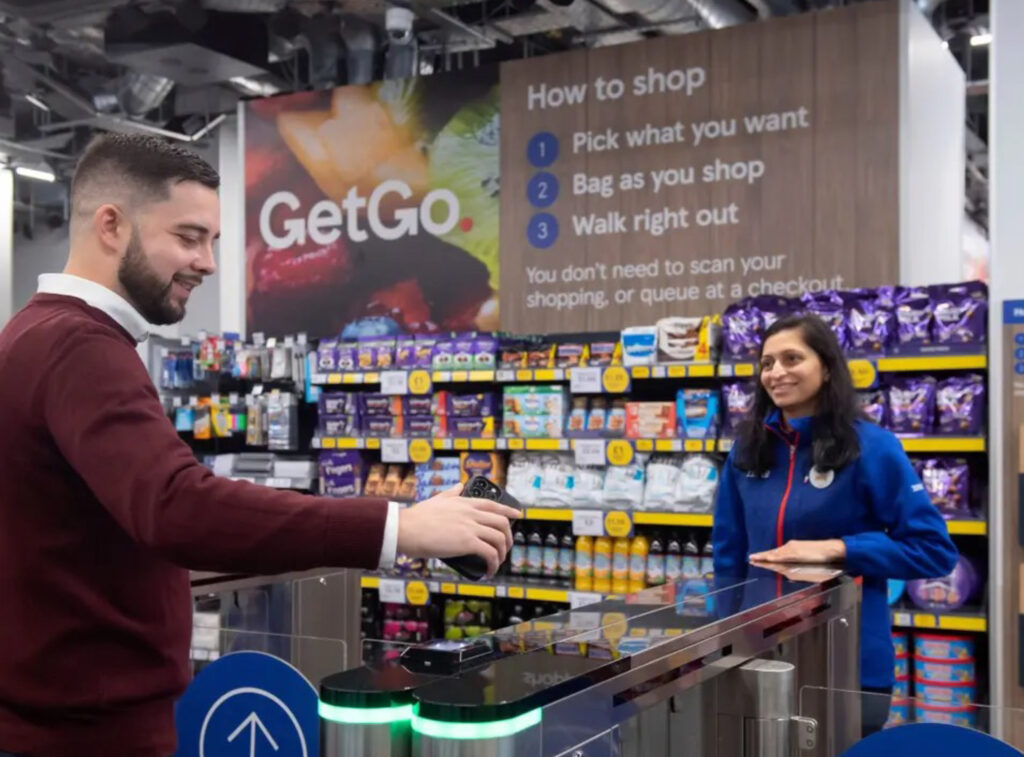 The store will be open 7am to 11pm and Tesco said that, rather than using facial recognition technology, the store's cameras track body movements instead. Visual data from customers will not be stored or saved, the retailer said.
There is a section in the store specifically for age-restricted products, with a separate exit where colleagues will manually check ID verification.
As the first public GetGo store launched by the retailer, this new technology, Tesco said, will create an even more convenient shopping experience for customers, saving time for those who want to pop in to pick up something for lunch or grab dinner on their way home.
Kevin Tindall, Managing Director, Tesco Convenience, said: "This is a really exciting moment for Tesco as we launch GetGo with customers. We are constantly looking for ways to improve the shopping experience and our latest innovation offers a seamless checkout for customers on the go, helping them to save a bit more time.
"This is currently just a one-store trial but we're looking forward to seeing how our customers respond."
Richard Lim, chief executive of retail analyst group Retail Economics, said Tesco's move was "reflective of the way the wider industry is heading".
Amazon Fresh now has six "just walk out" stores in London, having initially rolled out the technology in 2018 in the US city of Seattle, for example.
"One critical element of this for Tesco is also about gaining data and trying to elevate their proposition as much as they can for their customers," Lim said.
Tesco's loyalty programme, Clubcard, already has 6.6 million users on its app, so the retailer is "well ahead of the curve" when it comes to using information on what a customer buys, or how they shop, to personalise their experience, Lim added.
The supermarket has also benefited from a swing to online shopping during the pandemic.
According to its most recent set of results, Tesco's group revenues jumped by 5.9% to €36.1 billion for the six months to August compared with the same period last year.
How does the Tesco GetGo shop work?
Customers will need to use their Tesco.com app. If they don't have this already, they will need to download it and create an account before using this store;
Customers check in at the store entrance and shop as normal;
Cameras and technology in the store will detect which items customers put in their basket to purchase;
Customers walk out with their purchases; and
Customers will be charged through the Tesco.com app after leaving the store and will receive a receipt on their phone within a few minutes of leaving the store.
For more stories on Tesco and checkout-free retailing click here
---
Join us at SIAL Paris as exhibitor Join us at SIAL Paris as visitor