Steakholder Foods reports positive 2022 results
The deep-tech company Steakholder Foods, which specialises in producing cultivated meat, has announced its positive 2022 results.
The Israel-based food technology company develops cultivated beef, pork, chicken and seafood, which it says are "safer and more sustainable than conventional meat." Products from Steakholder Foods are made from cultivated animal cells instead of farm-raised animals.
Steakholder Foods increases investment in research and development
For one, results from the company's Q3 2022 financial report indicate a growing investment in research and development. Research and development expenses in 2022 were reported as being 38% higher than the same period in 2021, with investment in R&D reported to be approximately €2.56 million ($2.8 million) in 2022, compared to around €1.83 million ($2 million) in the same period in 2021. The company says the focus of its research and development department has been expanding cultivated meat technologies.
Among the research and development initiatives in 2022 include work done by Peace of Meat, the company's Belgian subsidiary, to establish a "stable and unique avian cell line with a clear upscaling path," with aims of commercialising the innovation in the hybrid foods market sector.
Two months later, in August 2022, Stakeholder Foods announced that it had used a porcine cell line to develop cultivated pork which has an extended shelf-life. The company went on to "successfully differentiated porcine fat cells from its induced pluripotent stem cell line," considered to be a "significant step forward" to manufacturing 3D-printed whole-cut pork products.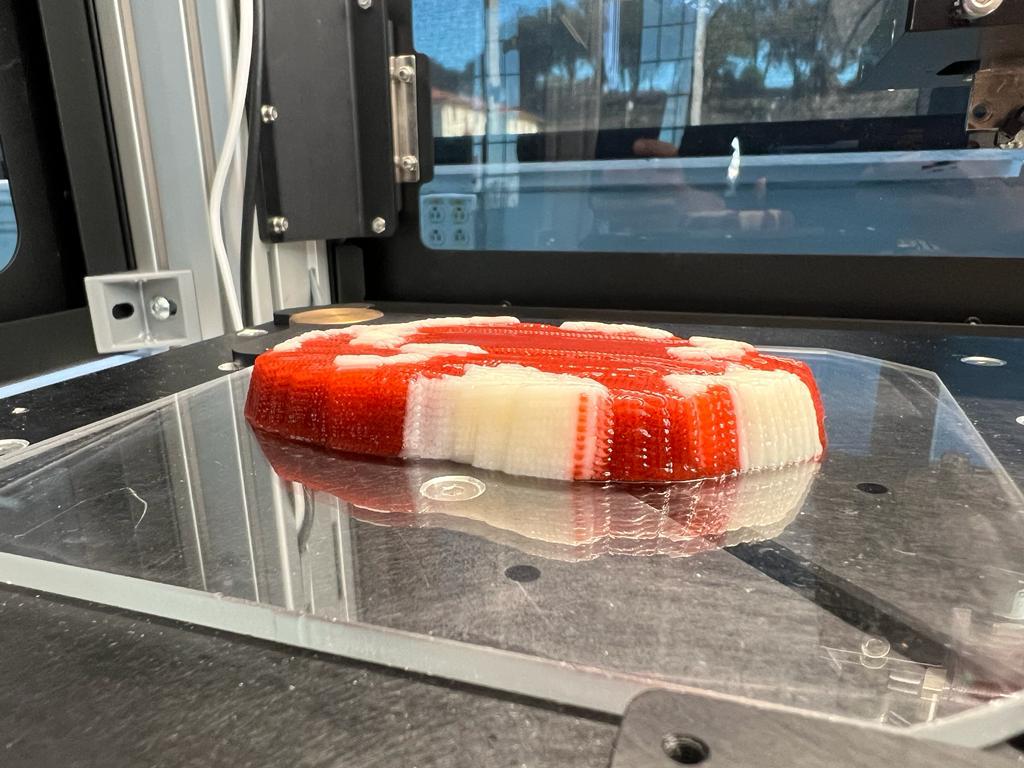 Steakholder extends patents across America and the globe
Steakholder Foods filed a provisional patent application for its technology regarding adipocytes differentiation in October 2022. The same month, the company was given the patent for "methods to apply external forces to muscle tissue that result in the development of high-quality complex structured meat. "The equivalent patent in Canada was given in November 2022, the same month that Steakholder filed a provisional patent application for the mimicking of  the texture of cooked fish, which was achieved using 3D printing technology.  

The general and administrative expenses for Steakholder Foods were lower in 2022 than at the same time in 2021. In 2022, the figure was reported to be approximately €1.19 million ($1.3 million) in 2022, and approx. €1.65 million ($1.8 million) in 2021. The decrease of spending was put down to lower insurance and share-based payment expenses. 

Following this, the company announced Omakase Beef Morsels in September 2022. Reportedly inspired by the "marbling standard" of Wagyu beef, the products were made with Steakholder Foods' 3D printing technology and are comprised of layers of muscle and fat tissue. 

"We are very pleased with the progress we have made over the past few months and are on track with our go-to-market plan. We have significantly advanced our technology, as demonstrated by our recently granted patents in key regions, and we continue to cement our position as a technological leader in the cultivated meat space," said Arik Kaufman, Steakholder Foods Chief Executive Officer & Co-Founder:

"This has also helped us add some key collaborations to our business development efforts. And finally, our recent rebranding efforts reflect our vision, direction and differentiators. We are working hard to bring the revolution to the mass market so that everyone can continue to enjoy healthy, delicious, real meat but in a more sustainable way for the planet."
The company extended its collaborative portfolio in July 2022 by signing a memorandum of understanding with Singapore-based seafood company Umami Meats. The partnership apparently opens up opportunities for both companies, with a focus on the Asian market and Singapore. Singapore is reportedly the only country where the production and distribution of cultivated meat is authorised. It has also been reported that Steakholder Foods welcomed this partnership as it means the company can contribute to marine ecosystems and wildlife preservation.
---
Join us at SIAL Paris as exhibitor Join us at SIAL Paris as visitor