NEW IWSR REPORT REVEALS TOP TRENDS SET TO DRIVE GLOBAL BEVERAGE ALCOHOL INDUSTRY IN 2022
The latest IWSR analysis shows the key drivers that will shape the landscape of the global beverage alcohol market next year.
Beverage alcohol has proven itself to be one of the most crisis-proof consumer goods categories at a time of significant disruption.
Economies have been set back by disruptions including shipment costs and delays, container shortages, packaging price increases, rising energy costs and inflation which continue to challenge the market.
Nevertheless, consumers are increasingly comfortable with returning to the on-trade, especially the millennial and Gen X cohorts.
Furthermore e-commerce has developed into a sophisticated channel, and digital engagement has become a crucial part of the customer journey.
As consumer behaviours continue to shift and guide market strategies, here are the key trends set to drive drive the beverage alcohol market landscape according to IWSR.
Substituters vs Blenders
No- and low-alcohol products are becoming more appealing to consumers as they are increasingly accepted as a lifestyle and societal norm.
Companies solely dedicated to selling alcohol-free drinks for adult occasions are also on the rise, with dedicated e-commerce sites, retailers and bars coming to market.
The majority of no/low consumers can be identified as substituters meaning those who use no- and low-products in place of full strength for certain occasions.
IWSR consumer research shows that in the UK, for example, 40% of no/low consumers are substituters, with Gen Z and millennials 46% and 41% more likely to substitute than Boomers, at 36%.
Gen Z and millennials in the UK are also more likely to be blenders where they switch between no/low and full-strength on the same occasion, at 20% and 23% respectively.
A similar trend can also be seen in other markets, such as the US.
Sustainability
Sustainable packaging solutions have been a priority in the drinks industry for many years but concerns around climate change continue to grow.
Influential figures and consumers industry-wide are increasingly looking for drinks companies to show a clear commitment to sustainable practices.
E-commerce becomes more nuanced
The value of e-commerce rose by almost 43% in 2020 across 16 key markets, up from 12% in 2019.
By 2025, it is projected to represent about 6% of all off-trade beverage alcohol volumes in these markets compared to less than 2% in 2018, according to ISWR data.
As e-commerce alcoholic-drinks sales develop, the number of retailers is increasing and the range of business models they employ is becoming more nuanced.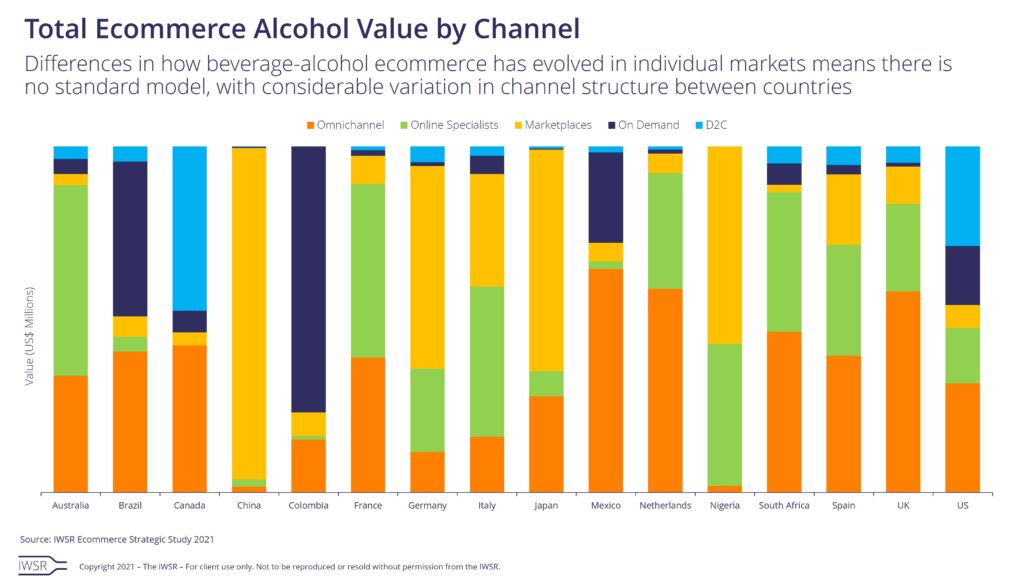 Emergence of non-traditional luxury categories
IWSR expects a bullish rebound to spirits sold at US $100 and above in line with previous growth levels from 2014 to 2019.
This is despite international status spirits suffering declines in 2020 at a higher rate than the total global spirits market.
Future category growth will be underpinned by increasing levels of wealth and new market entrants, especially in Asia and the US.
Return of the on-premise
Changes in living location, work commutes and hybrid working policies mean that consumers are spending more time at-home and in local on-premise venues.
As a result, premium consumption could shift from the on-trade to the home-premise, according to IWSR findings.
As consumers return to the on-trade, their experiences will be shaped by the last two years of premium at-home experiences.
They are therefore expected to be more conscious of higher prices and more easily deterred by poorer quality products or experiences in bars, pubs and restaurants.
IWSR anticipates brand owners to be more selective in where they support their brands in the on-premise, likely increasing focus on the top-end and most active on-trade accounts.
Early signs of premiumisation in RTD category
New RTD launches have a higher representation of premium-and-above products than volumes consumed in 2020, suggesting a trend towards premiumisation.
This will appeal to spirits and wine brand owners, as most of the value growth within the broader spirits and wine categories over the past decade has come from the premium-and-above segment.
While flavour is the primary purchase driver for consumers, alcohol base and cocktail type are also significant motivating factors, with consumers more likely to perceive spirits-based products as being of higher quality.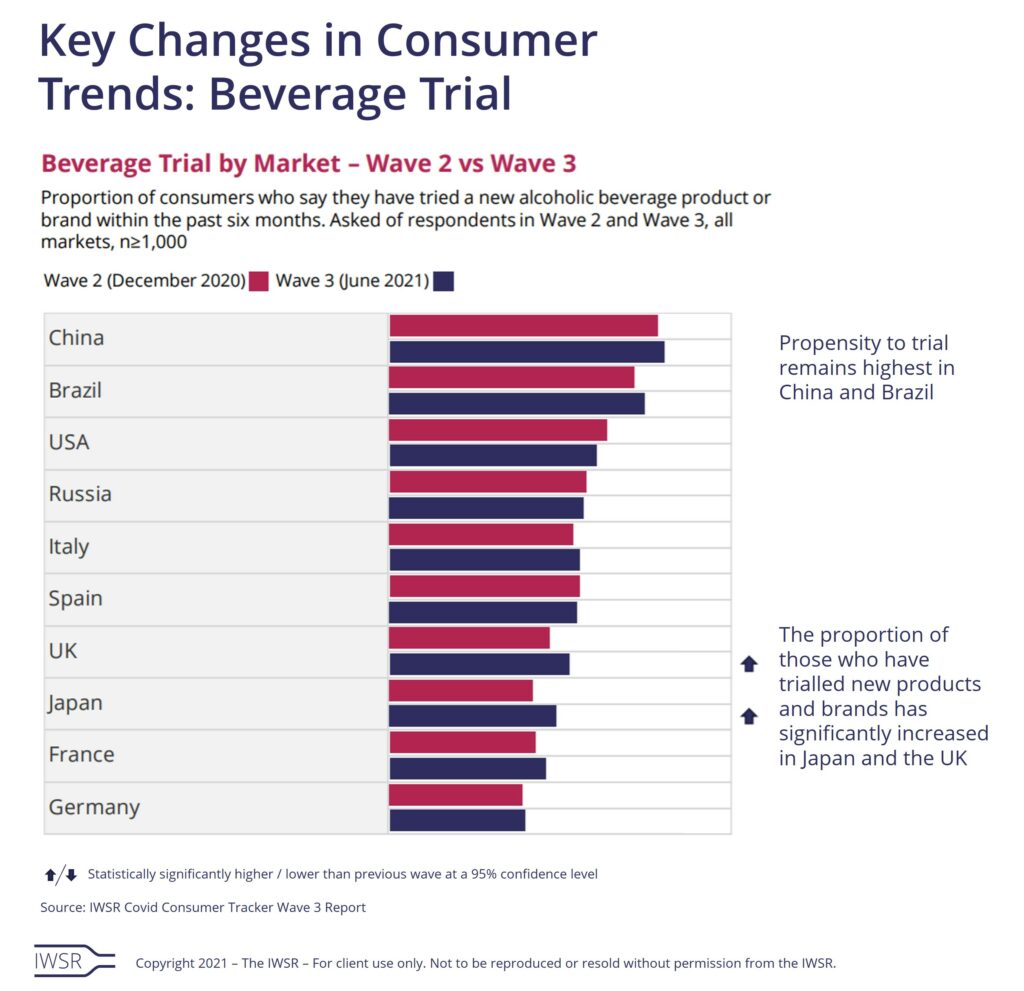 Diversification
People are switching more between beverage options or trialling completely new drinks such as craft beer, hard seltzers, wine and Japanese whisky according to IWSR research.
Drinks companies are responding by moving into previously unexplored categories to diversify their portfolios and in some cases, proactively plan for the softening or decline of existing core brands.
Instead of selling products to groups of consumers, they are selling those that fit particular consumption occasions.
External pressures
Rising packaging costs, container capacity and other supply chain issues, inflationary pressures, and environmental change will impact some suppliers significantly.
Some companies may therefore need to be more tactical and adjust some of their near-term market and brand strategies to adapt to the economic and operating environment.
Brand owners should also be conscious of false positives witnessed through 2020 and 2021 that will revert to previous historical trends, especially as international travel resumes.
For more on the global beverage alcohol market click here
---
Join us at SIAL Paris as exhibitor Join us at SIAL Paris as visitor