CRYOGENICS A POTENTIAL BOOST FOR INDIAN CONDIMENTS MAKER IN US MARKET?
As Guru Foods expands its footprint into the American market it is raising the profile of flavouring Indian curries by focusing on its tried and trusted method of cryogenics as a way of getting fresher herbs and spices into its sauce mixes.
The company was launched in 2009 in Canada by Harry 'Guru' Khanna, the Indian ex-restaurant owner who created his own commercial sauce label to give a wider audience access to authentic sauces.
Guru Foods Indian Sauces'sought-after culinary condiments utilise cryogenic spices in the mix along with extra virgin olive oil and Himalayan salt, and are additive free. Now, with the US market entry, the brand is highlighting its cryogenic USP at a time when the fresh herbs market – another key ingredient in Indian food – is also estimated to grow by $1.8 billion between 2022 and 2027, according to market researcher Technavio. That is a CAGR of 4.32% over the period.
Almost 20 ingredients
Khanna's sauce recipes, which are available in jarred form in Canada – where he used to run a restaurant and pub in Toronto in the 1980s and 1990s – contain at least 18 ingredients combined in a secret recipe and produced in a labour-intensive process. He says that what really makes the sauces stand out, though, is a trade secret that he has heavily invested in over the past decade: cryogenics.
Cryogenics may be a scientific – some might even say sci-fi – term in most contexts, but Khanna claims to have found a remarkable way to utilise this science in the production of his sauces at very low temperatures.
"I use cryogenic grinders to prepare my spices," he said. "By grinding the spices at extremely low temperatures, I can rest assured that everything from turmeric to cumin to coriander retains its nutritional value and flavours."
Cryogenic grinders operate at sub-zero temperatures. This avoids creating excessive heat from friction resulting in a spice that has retained its essential oils, flavour, quality, and general wholesomeness. While several factors lie behind the success of the condiments that Guru Foods Indian Sauces produces, Khanna believes that his cryogenic spices technique lies at their heart.

Indian food is famous for its unique flavour profiles and a strong sense of spices. While it's a classic restaurant option, it is challenging to prepare authentic Indian cuisine in a home kitchen. Khanna, who left Canada for India in order to perfect his art, said: "I've spent my life developing a reputation as a master chef in Indian curries. People say you need to spend 10,000 hours on something to master it. I spent nearly two decades perfecting a cooking sauce base for Indian curry dishes."
Authentic Indian tastes
His first objective was to perfect a way to produce a consistent sauce base that anyone could eat, even if they were gluten-free, dairy-free, or just trying to stick to a healthy diet. Cryogenics was central to that objective. "From there, I needed to preserve it and find a way to get it into people's kitchen cupboards so I decided to create the sauce myself and package it so that people could bring it home," he said.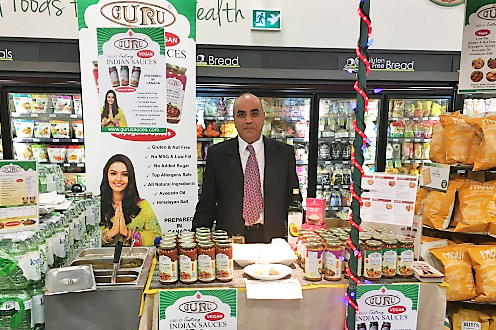 Khanna has invested hundreds of thousands of dollars into his business venture. He purchased equipment and integrated advanced technology into his sauce-making process, including the cryogenic grinders that produce spices without burning them.
The short shelf life of fresh herbs is a significant challenge for the wider condiments market and cryogenic methods may be one way to overcome the problem. Technavio's report suggests that the market-share growth of basil will be significant in the coming few years, one reason being that basil is a popular herb in Ayurvedic medicine and it is thought to help lower cholesterol and triglycerides.
More generally herbs and spices found in Indian cuisine are seeing greater consumer demand as they seek out natural, clean-labelled products in the food and beverage industry. The popularity of fresh herbs is growing as they are increasingly used as natural remedies for various ailments. The growing interest in international and fusion cuisine has also increased the popularity of fresh herbs and spices.
---
Join us at SIAL Paris as exhibitor Join us at SIAL Paris as visitor