PANERA TAKES HEALTH FOCUS TO NEXT LEVEL IN 2023 WITH FILLED FRENCH BAGUETTES
America's fast casual restaurateur Panera Bread—which claims to offer no artificial added ingredients in its products—is bringing European-style toasted baguettes to its US stores as it continues to develop a menu based on health and wellness.
Three freshly prepared, hand-made toasted baguettes will go on Panera bakery-café menus nationally from 12 January. The flavours are Green Goddess Caprese, Pepperoni Mozzarella, and Smoky Buffalo Chicken, and will build on Panera's top-selling sandwich category.
Panera Bread's chief brand and concept officer, Eduardo Luz, commented: "Following last year's extremely successful launch of Chef's Chicken Sandwich, the new toasted baguettes represent the next phase of our sandwich strategy. They take inspiration from the best cafes in Europe, with fresh and 'clean' ingredients that define Panera's food."
A gap in the market
Claes Petersson, head chef and chief food innovation officer, added: "Toasting our baguette sandwiches gives the perfect blend of crunchy crust with a pillowy-soft centre." He added that this newest menu option takes the brand's regular baguette to the next level as a sandwich which, in the US, represents a gap in the market.
Though the sandwich space is a crowded one in the US, a 'white space' opportunity was identified—for a hand-crafted product with clean, high-quality ingredients using outstanding bread. Panera claims there is no sandwich offered like this at scale in America, whereas in Europe baguette sandwiches are commonplace. That should allow the company to reach incremental customers who are watching what they eat in terms of health and wellness.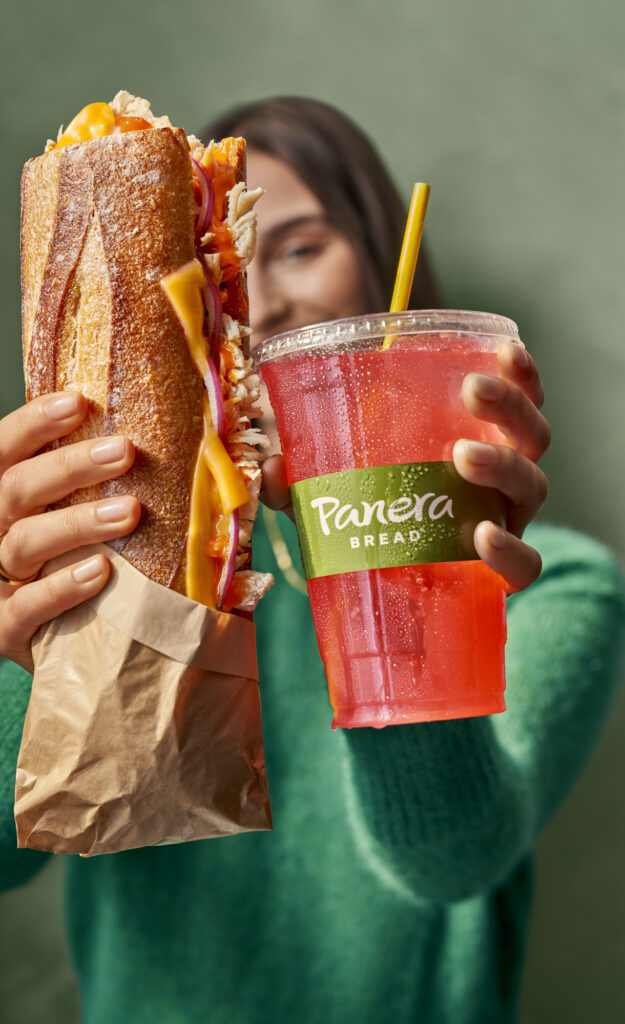 The 'good for you' element has been a core principle since Panera's founding in 1987. "Coming out of the pandemic, guests are continuing to show a preference for warm, filling, and hearty food," said the company in a statement.
Tried-and-tested formula
Toasted baguettes follow a continuing strategy at Panera: leveraging the strength of tried-and-tested menu items (like the baguette) to iterate upon the current menu and tap into new customer segments. The recent test launch of bakery shakes and the introduction of broccoli cheddar mac-and-cheese are other examples of this approach.
Panera is also moving from the suburbs into big cities with new, digitally-led retail formats with small footprints. The idea is to appeal to younger consumers, who are also more focused on healthy eating, even when it is fast food.
London-based research analyst GlobalData, recently noted: "Companies are focusing on urbanised solutions to tailor to emerging consumer behaviours. Panera, for example, has digitally-focused bakeries and coffee shops to suit the urban lifestyle."
Companies are also communicating with younger generations such as Gen Z through various strategies to build brand-consumer trust. Ramsey Baghdadi, consumer analyst at GlobalData added: "When it comes to engaging with specific consumer groups, younger generations are becoming more important for foodservice companies. It is vital for brands to use digital platforms to target younger consumer groups."
Healthy items making headway
One of these strategies, for some players, is also to widen the healthy items available to order. McDonald's has had wraps and salads on the menu for many years to counter the negative narrative of unhealthy meat burgers, while fried chicken chain KFC also has rice boxes, wraps, and salads to go, and most recently a vegan menu too.
The ethos at Panera bread is different. It has always served freshly prepared food made with "carefully selected ingredients that we are proud to serve our own families". It claims that since its founding, it uses the same sourdough starter and that the craft of baking bread fresh each day remains at the heart of the business.
According to government department, the USDA, the latest healthy eating index (HEI) conducted in 2015 gave Americans a score of 58 out of 100. This snapshot of overall diet quality indicated that the average diets of Americans do not conform to dietary recommendations. US diet quality showed a slight improvement over time from 2005-2006 through 2011-2012, but then a decrease during 2013-2014 through to 2017-2018. The latest results pre- and post-Covid will make for interesting reading.
---
Join us at SIAL Paris as exhibitor Join us at SIAL Paris as visitor