PLANT-EXTRACT MARKET TO NEARLY DOUBLE BY 2028 ACCORDING TO NEW REPORT
The market for plant-extract products is expected to grow from $29.24 billion (€29.14bn) in 2021 to $47.42 billion by 2028, with CAGR growth of 7.3%, according to the latest research by The Insight Partners.
According to another report, released by Meticulous Research in June, the market for plant-based foods is expected to reach $95.52 billion by 2029, with growth at a CAGR 12.4%, significantly more than The Insight Partner's estimate.
This growth will, the report said, be driven by consumers who are increasingly health-conscious and concerned with the food they eat. They are paying attention to ingredients used in processed food products, the report said, and are focusing on holistic and conscious consumption, preferring products with ethically sourced ingredients.
Therefore, plant-extract products are becoming increasingly popular, owing to their perceived health benefits, the report found.
Despite economic pressures, consumers are prepared to pay high prices for products free of synthetic ingredients, and they also increasingly prefer food and beverage products free of synthetic flavours, colours, and other food additives. Due to these factors, the plant extract market is expected to grow significantly in the coming years. 
According to the Meticulous Research study, the Covid-19 epidemic has highlighted the connection between public health and animal meat consumption, which has resulted in some consumers switching to a plant-based diet.
From a manufacturing and distributing point of view, the plant-extract industry has faced unprecedented demand from manufacturers as well as consumers, particularly for products such as meat alternatives and plant-based milk; hence, numerous companies in the plant-based food space have already started changing their strategies to meet the increased demand from consumers, the study said.
The pandemic also severely impacted the traditional meat processing industry around the world, so the plant-based meat substitute sector filled that void.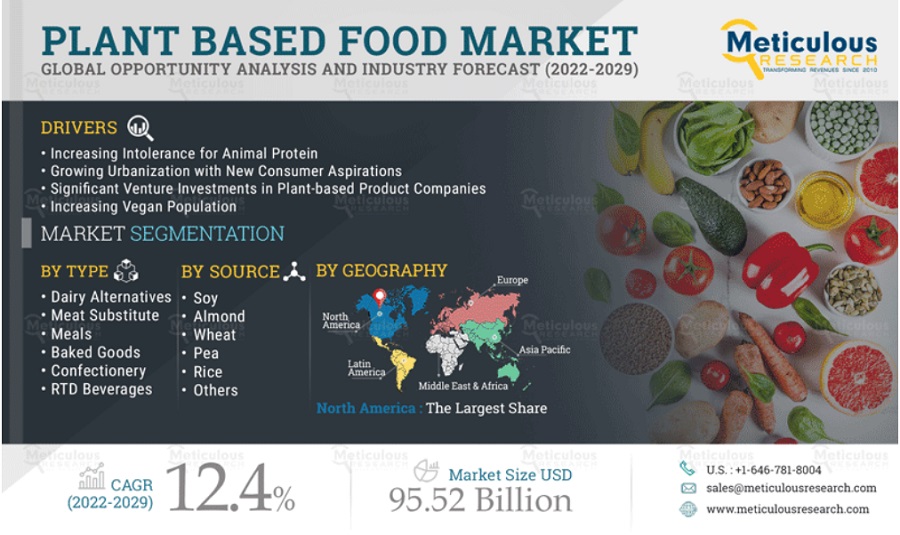 According to The Insight Partners study, the plant-extract market in South and Central America is projected to register the highest CAGR during the forecast period, where awareness regarding health and nutrition has increased significantly.
In addition, rising disposable income and improving lifestyle are among the key factors driving the growth of the plant-based food & beverages industry in the region. Moreover, the increasing demand for natural ingredients in South and Central America is attributed to the availability of a wide range of products at affordable prices, The Insight Partners said.
There are likely to be more opportunities for growth in other emerging economies including, Asia-Pacific and the Middle East and Africa. However, factors such as the comparatively higher price range of meat substitutes, significant preference for animal-based products, and consumer preference for soy and gluten-free products are expected to hinder the growth of this market to a notable extent.
For more organic and wellness news, click here.
---
Join us at SIAL Paris as exhibitor Join us at SIAL Paris as visitor