US WINE MARKET HEADWINDS AND TAILWINDS IN 2021
Silicon Valley Bank has released its detailed annual analysis of the US wine market and how it is trending after the highly-disruptive pandemic year of 2020 – and has identified areas where significant opportunities await, and also where threats may lurk.
According to Rob McMillan, executive vice president and founder of SVB's wine division, the US wine business has challenges coming into 2021. But, during an inevitable process of evolution, two areas that should prove positive are:
Improved consumer demand: As hospitality, cruise lines, travel, concerts and sports reopen – and deferred events such as weddings take place – there will be more wine being drunk leading to a bounce in overall 2021 sales.
E-commerce and digital: Investment here will be essential as a shift to these channels in 2020 was significant and will continue to offer marginal growth. SVB says online "is now the greatest opportunity for producers in 2021".
McMillan added: "When this pandemic is under control sometime in 2021, there will be a lot of pent-up demand for social closeness, which means celebratory occasions and wine, perhaps sometimes to excess even. I predict a spike in consumption as we find reasons and occasions to celebrate."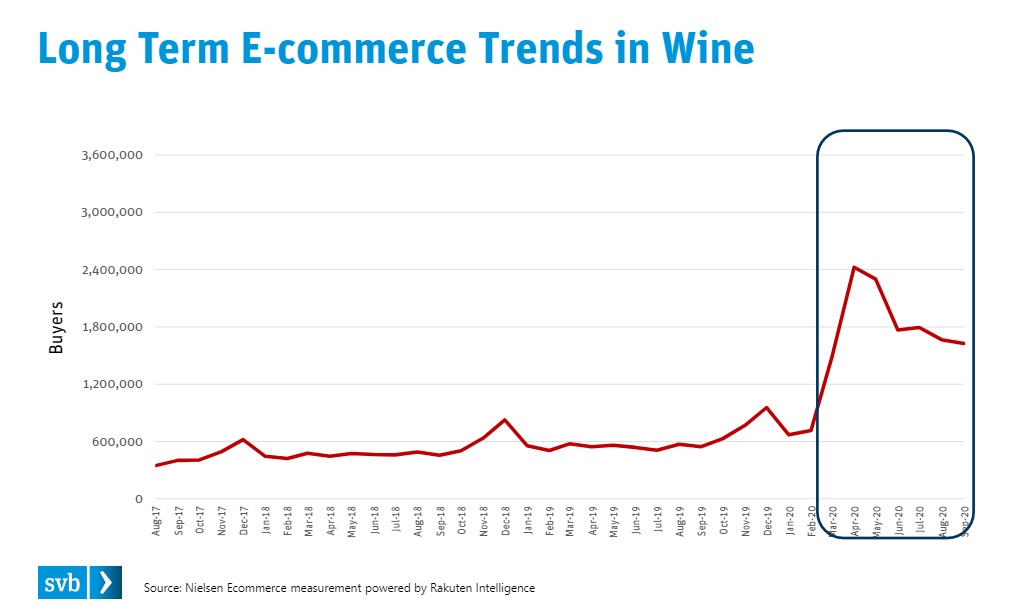 Based on expectations that the US economy will continue to recover as vaccines and therapeutics gain traction, SVB, the California bank subsidiary of SVB Financial Group, has forecast that in 2021 there will be a reversal of the Covid-induced channel shifting seen in 2020 and that:
Wine sales will gather momentum through the year
Restaurants will need new investment but that wine sales through this channel will not recover to pre-Covid levels for many years
Wineries with direct-to-consumer services will continue to focus on these for now but that retail sales will pick up by the finish of 2021
Retailers with existing online strategies will have a strong year.
A mix of tailwinds and headwinds will determine how the wine market progresses. Among the underlying 2020 trends that will have a lasting positive impact are working from home and restaurant closures. They have put wine back on the family dinner table. At the same time, consumers have adapted to online shopping and home delivery of wines.
Against those tailwinds are several headwinds, depending on which channel is more relevant to individual wine companies and suppliers. SVB believes that the channel shift to off-premise grocery will unwind as consumers find other channels to satisfy their demand as the market opens up again. "The grocery channel is therefore likely to see negative sales growth, while direct-to-consumer, online and restaurant sales will show positive growth rates," said the report.
Wine pricing issues
Also, on the winery production side, while 2020 brought supply into temporary balance in most regions, SVB believes that "there are still too many acres planted and/or insufficient growth in demand to maintain healthy grape pricing". A large harvest will therefore be an unwelcome event if demand does not rise sufficiently.
The report noted: "When 2020 totals are calculated, we are guessing that California will have crushed 3.3 million tons, which would be the smallest harvest since 2011. The Pacific Northwest harvests in both Oregon and Washington will also come in smaller than normal."
In the meantime, financial aspects of the business are also at play which could lead to consolidation and/or new entrants. High levels of liquidity in the markets looking for a return will attract new investors to wine who expect improving industry conditions and more M&A activity, which cooled somewhat during 2020.
Preliminary volume estimates from beverage alcohol advisory group bw166 put US wine market growth in 2020 at close to 5% based on 9-litre equivalent cases. The still wines segment – the biggest component by far – was up by 1.3%; bulk imports rose 9.9% and sparkling wines contracted by 2.5%.
The growing flavoured wines segment (which includes sangria, coolers and agave-based wine mostly from Canada and Mexico) soared by 82.5% largely thanks to imports. It was enough of a jump to overtake the sparkling wine segment last year.
---
Join us at SIAL Paris as exhibitor Join us at SIAL Paris as visitor