PLANT-BASED BACON WITH 50% LESS FAT HITS SHELVES COURTESY OF WORLD'S BIGGEST BEEF COMPANY JBS
The official retail launch of TrueBite™ Plant-Based Bacon was announced by the meat giant's US branch Planterra Foods through its Colorado based brand OZO.
It's plant-based bacon, which contains less fat and zero cholesterol, is now available at Sprouts Farmers Market – which operates approximately 380 stores across 23 states – across the US in three flavours, including Cracked Black Pepper, Applewood Smoke and Spicy Jalapeño. The product will be coming to more retailers soon.
Sprouts Farmers Market, the healthy grocer, headquartered in Phoenix, is one of the largest and fastest growing specialty retailers of fresh, natural and organic food in the United States.
Planterra Foods CEO Darcey Macken said: "We heard from bacon lovers that they're open to plant-based versions, but they've yet to find one that fully satisfies their craving for the savoury, flavourful taste and crispy, sizzling texture of bacon.

"Which is why we're thrilled to launch this innovative plant-based bacon product as part of our True Bite promise to delight the senses, from first sight to last bite.

"OZO Plant-Based Bacon is unlike anything else in the market and we know food lovers everywhere will enjoy it."

The three flavours of veggie bacon are produced using the company's cutting edge True Bite technology to imitate a meat like texture and taste.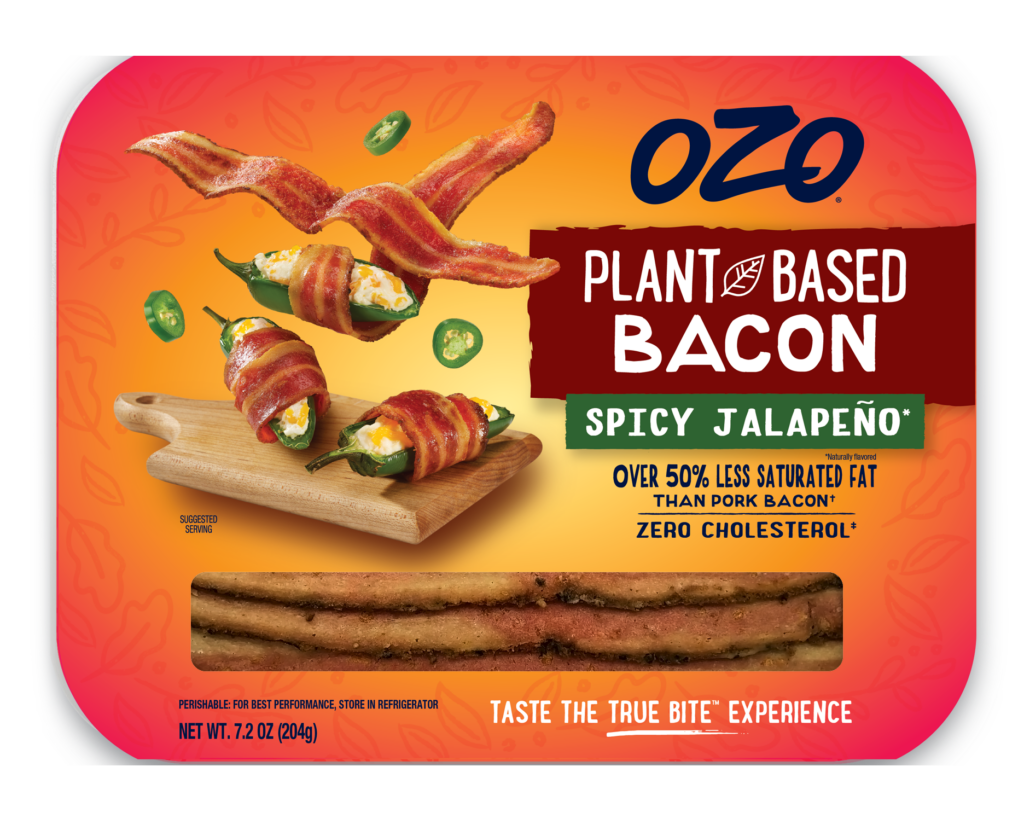 It is being marketed as a healthier alternative to its animal-derived counterpart, with more than 50% less saturated fat and zero cholesterol.
Whereas a typical rasher contains between three and four grammes of fat, OZO's plant-based pieces only has two.
Planterra Foods' OZO, has been working to develop a wide range of plant-based protein choices which are better for peoples health and the environment. 
Earlier this year, it successfully launched True Bite Chicken cutlets and shreds with four seasoning options, including Garlic & Herb Cutlet, Sea Salt & Pepper Cutlet, BBQ Shreds and Rotisserie-style Shreds.
The company says its cutlets also have the same look, texture, taste and feel as the real deal, while remaining 100% plant-based, vegan and non-GMO.
Macken said: "As time goes on, the demand for protein will only continue to increase and the world won't be able to satisfy that demand with meat-based products alone.
"With chicken being the most popular protein in the United States, it was clear we needed to create a plant-based option where people don't have to sacrifice this mealtime favourite and have a healthier and more sustainable option.
"Planterra is always aiming to provide delicious, sustainable solutions that are good for people and the planet, and our True Bite™ Chicken Cutlets and Shreds will do just that."
Plant-based foods are becoming increasingly popular as more and more people are looking to reduce their meat consumption.
The plant-based foods market could make up to 7.7% of the global protein market by 2030 and be valued at $162 billion USD, up from $29.4 billion in 2020, according to a report by Bloomberg Intelligence.
OZO finds itself in a good position to benefit from this expansion, with a wide range of plant-based protein offering including Ground (12 oz.), Mexican-Seasoned Ground (12 oz.), Original Breakfast Sausages (4 patties per package), Italian Style Meatballs (12 per package), Frozen Smokehouse Burgers, Frozen Plant-Based Breakfast Sausages and Frozen Plant-Based Chicken Nuggets.
While a number of company's have taken on the challenge of developing plant-based bacon like Nestlé's Sweet Earth, JBS is one of the few who also sells the traditional variety.
But reproducing the taste and texture of bacon has proven exceptionally difficult and whether OZO's plant-based alternative passes the test with meat lovers remains to be seen.
---
Join us at SIAL Paris as exhibitor Join us at SIAL Paris as visitor