The Basque Country, the quintessence of French gastronomic excellence
The Basque Country is one of the great gastronomic regions of France and Spain. On the French side, the reputation of the Basque Country is reflected in the iconic Espelette chilli and Bayonne ham. But also through its fruit, vegetables, cheeses, trout, chocolate, wines and beers
The French Basque country is a territory of agricultural excellence favoured by its geographical position. It is characterised by small and medium-sized farms offering a diversity of products. According to data from France's General Agricultural Survey, the Basque Country has 4,454 farms and 8,597 employees with the dominant production being dairy sheep (the main production for 52% of farms) and beef cattle (17%).
The utilised agricultural area represents 171,409 ha in total, including 43% summer pastures (73,542 ha), 41% permanent grassland (70,138 ha), 4.3% temporary grassland and 8.4% maize (RPG 2019 data).
Organic farming is increasingly important with 7,400 ha of land for 349 farms, i.e. 4.3% of the total organic UAA (mainly forage areas, and to a lesser extent arable crops, vegetables, fruit, vines and aromatic and medicinal plants) (ORAB 2020 data).
The Basque country is a culinary land. That is what the Basque Country represents, on both the French and Spanish sides. Set between the ocean and the mountains, the Basque Country boasts a wide variety of products produced with respect for tradition and traditional know-how. These products generally come from small farms committed to a quality approach supported by the award of numerous quality certifying labels.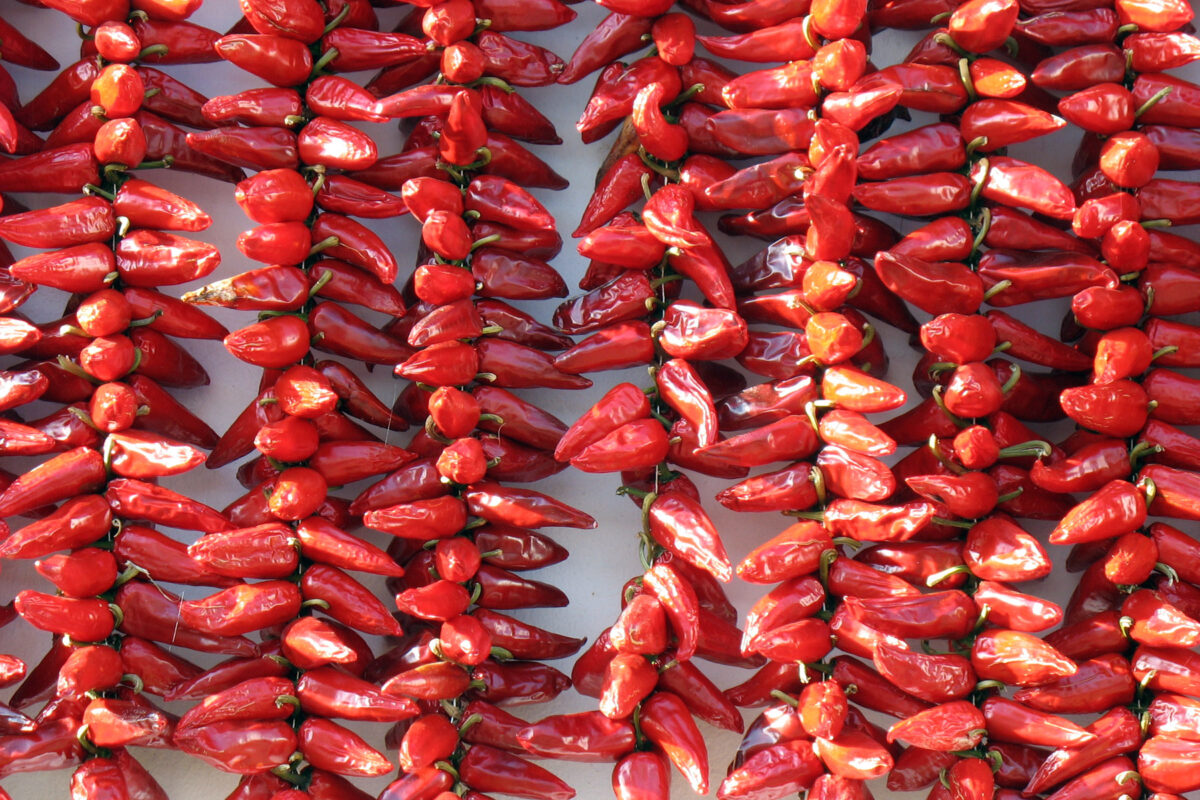 The region boasts a number of iconic local food products:
Basque ham and pork include the PGI Bayonne ham. More and more farmers are producing it using local breeds such as the Kintoa pig or the Gascon pig.
Banka trout, raised at the foot of the mountains in the village of Banca, in an old mill converted into a fish farm. The trout are reared in low densities in the ponds without any antibiotic treatment or vaccinations.
Espelette chilli pepper is the only spice with an appellation in France. The Espelette chilli union and its interpretation centre emphasise the PDO status of the product, which comes in three forms: powder, rope and fresh chilli in bulk.
Basque cheeses, the best known being Ossau-Iraty PDO ewe's milk cheese. Also worth discovering or tasting is the slightly spicy Idiazabal. It has been named a "European Culinary Heritage Product" and awarded a gold medal by the International Academy of Gastronomy. Idiazabal PDO is made in Gipuzkoa and Navarre in Spain from raw milk from Latxa and Carranzana sheep.
The Irouléguy vineyard in Basse-Navarre, in the north of the Basque Country. One of the smallest mountain vineyards in France, it covers 250 hectares of planted land and produces 60% red wine, 20% rose and 20% dry white wine. Irouléguy wine obtained its AOC in 1970 and became a PDO in 2013. By 2020, 50% of the appellation will be certified organic or in conversion.
Sagarno, the Basque "cider," is a centuries-old drink. More apple wine than cider in reality, Sagarno is characterised by its lack of sugar, high acidity and light sparkle. It therefore does not qualify for the French appellation of "cider."
Finally, there's Basque chocolate. Although there are no cocoa plantations, Bayonne was one of the first places in France to work with chocolate, with the arrival of Spanish and Portuguese Jews in the town around 1670. Bayonne developed in particular around the manufacture of chocolate drinks, which were exported all over Europe. Today, many chocolate makers in the Basque Country continue this tradition. And not just in Bayonne!
---
Join us at SIAL Paris as exhibitor Join us at SIAL Paris as visitor