First pan-African campaign from Captain Morgan launches in 2 Markets
Captain Morgan Rum, a Diageo brand, has launched its first pan-African advertising campaign called Spice On Africa, which is promoting a new pack design that follows the global launch of the brand's Spice On campaign last year.
The African market delivered 5% organic growth for Diageo in FY23 (ending June), slightly below the London-based company's 6.5% growth overall. Total sales reached £17.1 billion (€20 billion) of which Africa's contribution was around £170 million, or 10%.
The new high tempo television commercial for Captain Morgan (shown below) is set against an upbeat track from Nigerian Afrobeats singer/songwriter Yemi Alade called Baddie and is voiced by award-winning comedian Mpho Popps in South Africa, and music artist Barak Jacuzzi in Kenya. Alade is a cultural force across Africa. She has a string of MTV Africa awards under her belt, and has been bringing the dynamism of African music to the international stage.
The ad supports Captain Morgan's debut of a vibrant new pack design in Africa, putting the quality, flavour and spice of the liquid to the fore. The new pack also includes a refreshed version of the brand's famous Captain icon which is still recognisable but noew allowing the liquid to shine through.
Kenya and South Africa first
Initially launching in Kenya and South Africa, before being rolled out to Nigeria later this year – and then markets across Africa – the digital-first campaign will encompass a 45-second TV commercial and social and digital edits. It will also appear in out-of-home channels (essentially billboards and poster sites), and both on-trade and off-trade retail channels.
Samori Gambrah, global brand director at Captain Morgan, said: "Spice On Africa is the first pan-African campaign we've seen at Captain Morgan and highlights our commitment to growing the brand in the region. Spice is what makes Captain Morgan delicious, but it's also an attitude. This campaign is all about celebrating those who bring their unique 'spice' to the party."
The ad celebrates a group of friends who bring their individuality to the table. It opens by following the protagonist as she moves through a series of different settings on her way to a DJ set. She conveys her own 'spice' at each scene with various twists on how to enjoy Captain Morgan shown along the way.
From cocktail concoctions ranging from a watermelon punchbowl to a BBQ pineapple and lemonade, she inspires her crew to get creative, culminating in someone dunking a chicken wing into their rum and coke.
Cross-continent cues
The breakthrough TV ad is also pan-African in its artistic pool. It features talent from Kenya, Nigeria, and South Africa and was created by the RPM agency which worked with director Kyle Lewis and South African production company EGG Films in Cape Town.
Lesibane Mohale, a senior creative at RPM, commented: "With the cast coming from Nigeria, Kenya, and South Africa, this production was a melting pot of diverse talent and unique cultures coming together. We wanted this campaign to connect with our audience by showcasing the warmth, vibrancy and spirit that can be found across this incredible continent."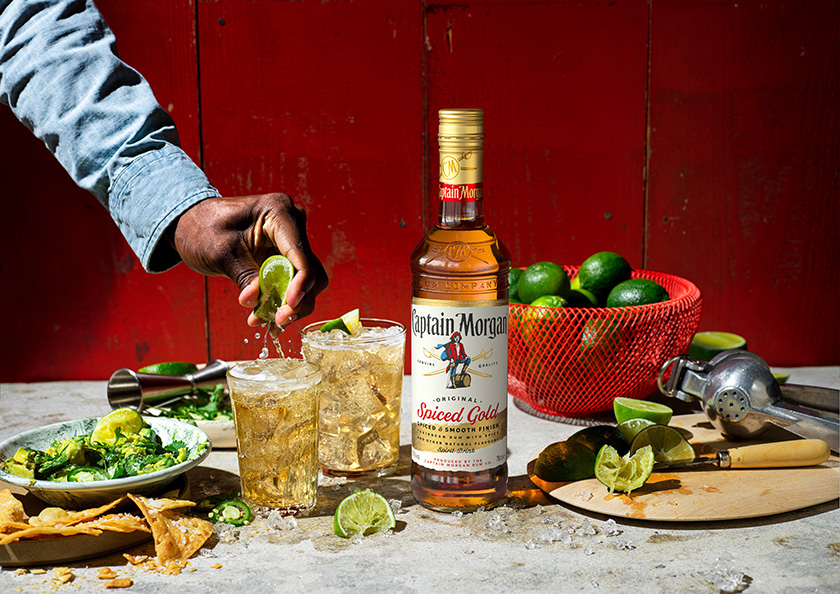 It is hoped that the ad will help sales of Captain Morgan's new pack which is now rolling out across Africa. It was designed by the creative agency Bulletproof to give the brand a fresher and more dynamic design. Jo Smith, global design lead for Captain Morgan, said: "We wanted to put taste and flavour at the forefront."
Earlier this year, Diageo also slightly changed the recipe for Captain Morgan Original Spiced in the North American market, by highlighting the use of vanilla from Madagascar.
Spirits opportunity in Africa
In the African market, while organic sales grew by 5% on the continent, spirits net sales grew 8%, driven by growth in international spirits particularly Johnnie Walker Black Label, and Orijin. It is hoped that Captain Morgan will not deliver some stronger gains as well. In South Africa, growth was primarily driven by tequila and rum, which offset declines in vodka and gin in FY23. Super-premium-plus brands grew strongly at 38%.
Captain Morgan is one of Diageo's six 'global giant' brands, sitting alongside Johnnie Walker Whisky, Guinness, Smirnoff Vodka, Baileys, and Tanqueray Gin.
[Lead image credit: Captain Morgan]
---
Join us at SIAL Paris as exhibitor Join us at SIAL Paris as visitor