ALCOHOL SEES STRONG BREXIT BOUNCE FROM DUTY-FREE FERRY SALES
Duty-free alcohol sales to and from the UK are picking up as more consumers travel to and from the European Union thanks to markets tentatively opening up after Covid. While the pandemic is far from over, travel is increasing, helped by high vaccination rates and easing of restrictions – and alcohol sales across the English Channel could be among the biggest winners.
This year, with the UK having formally left the EU, ferry companies, in particular, have geared up for the re-introduction of duty-free alcohol between the UK and the EU's 27 states.
Swedish ferry company Stena Line has already reported surging alcohol duty-free sales on routes between the UK and the EU in the first quarter of the year, while DFDS has just launched a big new vessel between the UK and France that boasts one of the largest spirits offers on the English Channel (see image above).
Generous alcohol allowances
The developments follow the British government announcement in January of new, and quite generous, duty-free quotas for a range of products, led by alcoholic beverages. The inbound personal allowances essentially enable someone to bring three crates of beer, two cases of still wine, and one case of sparkling wine into the UK without paying duties. In volume terms, that equates to as much as:
18 litres of still wine, plus
four litres of spirits or 9 litres of sparkling wine, fortified wine or any alcoholic beverage less than 22% ABV.
Ferries used to do a roaring trade in duty-free sales on cross-Channel and Irish Sea routes before intra-EU duty-free was banned in 1999 between the bloc's 15 member states at the time. The concept of the 'booze-cruise' vanished overnight, but post-Brexit and post-Covid there are high hopes for stronger alcohol sales, and a new growth channel for alcoholic beverages.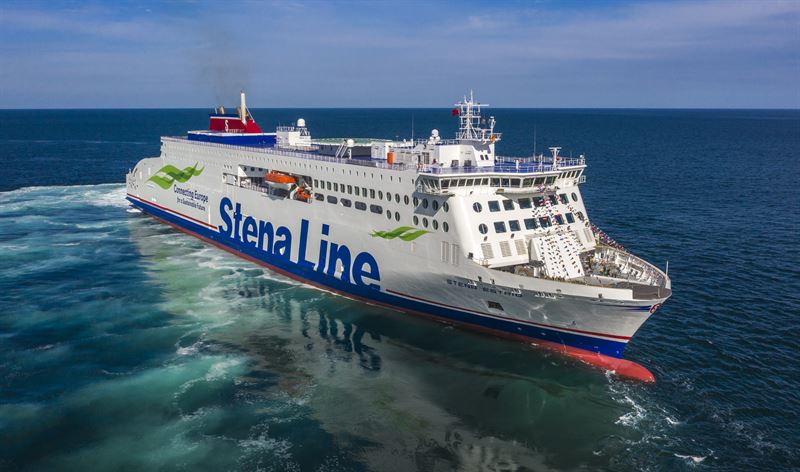 Early results indicate this is already happening. Stena Line said that onboard demand across categories had "exceeded expectations" and that first quarter sales per person rose by 80% versus the same period in 2020. Some of the brands most in demand were Absolut Vodka, Jameson Whiskey, and Amber Leaf tobacco.
Stena Line's head of onboard sales and services, Stephen Bryden, commented: "We have invested heavily in our shops and the response has outstripped our expectations. The ferry sector has suffered more than many others as we have remained fully operational 24/7 during pandemic, despite having lower passenger levels, so the boost from duty-free is a welcome side-effect of Brexit."
In the first quarter of 2021 – while Covid-19 was rampant – sales volumes on Stena's UK to Mainland Europe routes were 34% higher compared to the same period last year, while on Irish Sea routes they were up by more than 50%. Sales of alcoholic drinks were the highest, with popular brands leading the way. For example, sales of Jameson on Irish routes in the first quarter outstripped the whole of 2020, indicating the key role that popular alcohol brands will play during the remainder of the year.
News ships and more focus on high-end alcohol
Three new ships for the Irish Sea market – Stena Edda, Stena Embla and Stena Estrid – came into service since the pandemic started and all of them offer at least 135 square metres of 'outlet shopping' onboard.
Meanwhile, DFDS ferry Côte D'Opale entered service on the cross-Channel route of Dover to Calais in August with a huge shopping space of more than 1,000 square metres, 20% of which is dedicated to spirits, and much of it high-end.
DFDS on-board commercial director Steve Newbery told SIAL: "Spirits are very big for us, with high sales already. It is our second best performing category, despite having 50% fewer passengers than in 2020. We feel spirits will be a top performer for us and that duty-free savings of up to 50% versus the UK High Street will enable our customers to trade up to premium brands."
---
Join us at SIAL Paris as exhibitor Join us at SIAL Paris as visitor