HENNESSY OPENS NEW CONCEPT IN SINGAPORE'S AIRPORT AS TRAFFIC TOPS 32 MILLION
LVMH-owned Hennessy Cognac has opened its latest shop-in-shop concept at Singapore Changi Airport in partnership with Lotte Duty Free and the airport landlord Changi Airport Group just when passenger traffic is reviving. Annual passengers hit 32.2 million last year, up almost 1,000% from the year before.
The opening was also in time for the Chinese New Year celebration which, this year, took on a new meaning as outbound Chinese travellers were able to cross their borders for the first time since the Covid pandemic. The cognac brand's luxury products will undoubtedly get their share of the revenge spending expected from these keen shoppers.
The space in terminal one is a playground for Hennessy fans. Visitors have the option of exclusive, complimentary daily tastings – served neat or on ice – of VS, VSOP, James Hennessy, and XO lines at peak hours. The idea is to leverage store traffic to drive sales.
Laurent Boidevezi, president of Moet Hennessy Asia Pacific travel retail and private sales, said: "The shop-in-shop at Singapore Changi aims to recruit a new generation of travellers to the brand by blending its craftsmanship and heritage with the spirit of travel."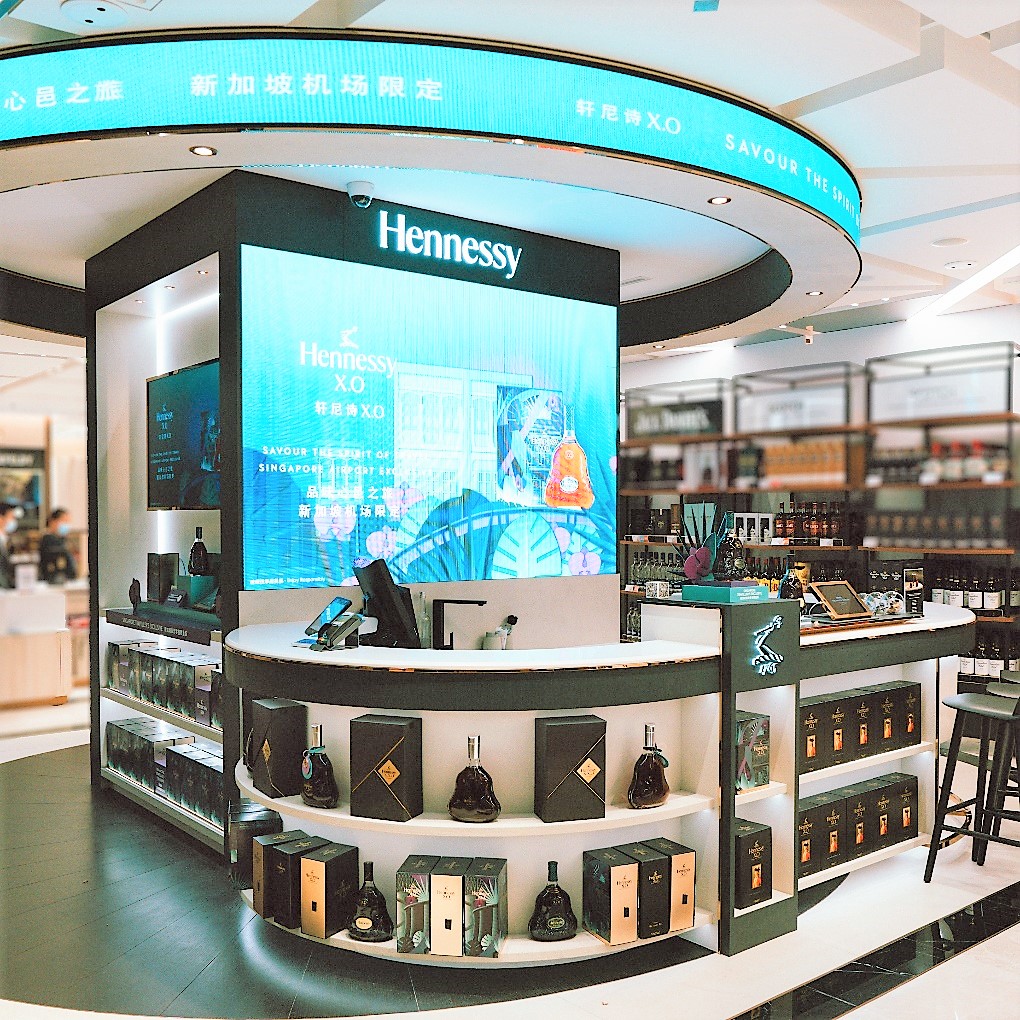 Celebrating Singapore
The latest edition of the Hennessy X.O. The Spirit of Travel collection pays tribute to five beloved holiday destinations of the Chinese: Paris, Hainan, Macau, Hong Kong, and now, Singapore. The Singapore edition celebrates the first shipments of Hennessy to Singapore in 1893 and the vibrancy of the city today. Major tourism sights are featured on the limited-edition packaging.
Travellers buying XXO bottles can also customise the neck of the decanters with Singapore-themed elements and an engraving of the island state's iconic Merlion. The full suite of colourful accessories can be turned into luggage tags stamped with the 1893 date.
The new airport shop-in-shop also offers a number of rarities. For cognac connoisseurs and collectors, they can buy Hennessy Paradis and Richard Hennessy – two of the brand's most sought-after and rarest expressions – another reason that cognac fans will make a beeline for the store.
---
Join us at SIAL Paris as exhibitor Join us at SIAL Paris as visitor