WILL EUROPEAN WINES & SPIRITS BE BOOSTED BY MOËT HENNESSY AND CAMPARI GROUP E-COMMERCE TIE-UP?
The wines and spirits division of France's LVMH Moët Hennessy Louis Vuitton and Italy-based global spirits group Campari are forming a 50:50 joint venture to create a pan-European e-commerce pure player that they hope will drive up sales in the growing wine and spirits segment.
Through Tannico – an online retailer of wines with a share claimed to be around 30% of this segment – both companies say their joint venture "aims at building a premium pan-European e-commerce player for the benefit of all wine and spirits brands and their European consumers".
There are several elements to the deal:
Tannico, which owns a majority stake in France's Ventealapropriete.com – an e-commerce platform for the sale of premium wines and spirits, will take control of the French business
The combined operation will be led by serial entrepreneur and digital native Marco Magnocavallo, the current CEO of Tannico, who retains a key minority shareholding in the company he founded
Campari, which has a 49% stake in Tannico, will be transferring this to the joint venture
Half of of the joint venture's equity capital held by Campari will be sold to Moët Hennessy for €25.6 million.
"With the joint backing of Moët Hennessy and Campari, Tannico will have the firepower to consolidate the fragmented European e-commerce sector and offer a qualitative, sizeable and integrated route-to-market option catering to the needs of all its wines and spirits suppliers," said an upbeat Marco Magnocavallo, the CEO of Tannico who founded the company in 2012.
E-commerce businesses with complementary models
Part of the value of the deal lies in what Moët Hennessy and Campari say are Tannico's and Ventealapropriete.com's complementary business models, territories and technology, marketing, and logistics capabilities. In 2020, the sites generated combined pro-forma sales of over €70 million.
Tannico has a catalogue of over 15,000 labels from 2,500 wineries and the world's largest selection of Italian wines. Some 90% of its business is B2C (business-to-consumer), a channel that many retail players want to open up. Tannico's e-commerce platform offers a variety of services from a personal sommelier and dedicated content for connoisseurs and enthusiasts, to wine courses and video tutorials. In the B2B arena, Tannico also offers services to wineries professionals in the hospitality industry.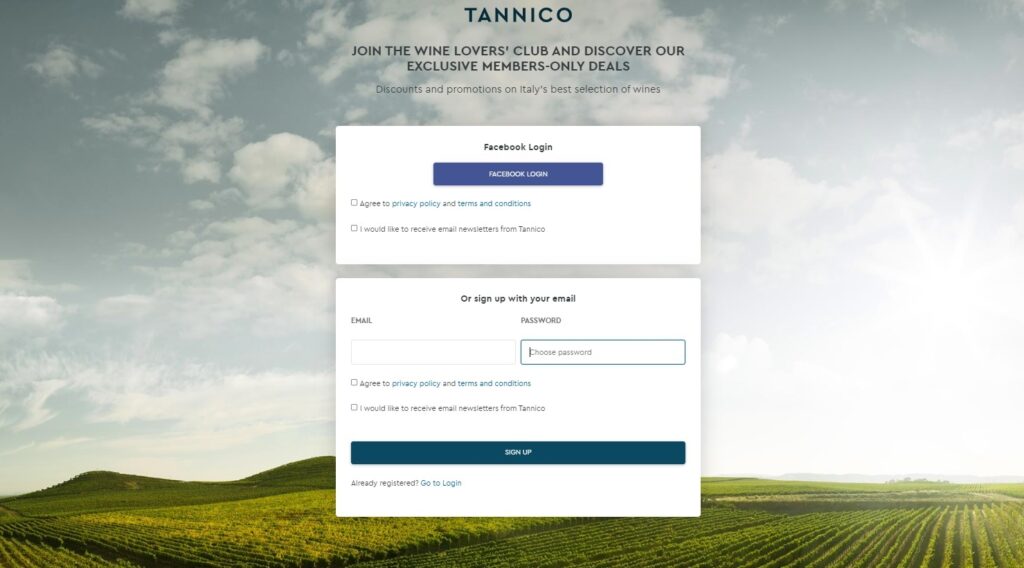 Ventealapropriete.com offers high-quality wines and spirits products online. All the wines sold on the site are tasted and selected by a committee composed of one of the world's best sommeliers Olivier Poussier; Christian Martray, the head sommelier of luxury resort Albert 1er in Chamonix; and the site's joint managing director Alaric de Portal.
However, Ventealapropriete.com is only a French language site at the moment and Tannico offers no access to content or information unless users sign up or use their Facebook log-in. Neither joint venture partners addressed these aspects in relation to any scale up, or whether the two sites might be merged or continue to be independent.
Premium pan-European e-commerce gambit
The company CEOs kept things vague. President and CEO of Moët Hennessy Philippe Schaus (top picture, right), said: "This partnership to create a premium pan-European wines and spirits e-commerce player represents a significant step in our global development strategy. While e-commerce was already a growing channel for wines and spirits, the global pandemic has triggered a significant acceleration."
Bob Kunze-Concewitz, the CEO of Campari Group (top picture, left), added: "After the completion of Tannico's first transformational step with the acquisition of Ventealapropriete.com – thanks to this agreement – the new partnership aims to further strengthen its footprint and expertise in the online retailing of spirits and wines."
What the two drinks giants bring is weight. Moët Hennessy consists of 25 maisons, some that are centuries old, with a high-end positioning that straddles everything from winemaking and whisky to hospitality and brick-and-clicks retail management. Brands include Ardbeg, Clos19, Cloudy Bay, Dom Pérignon, Glenmorangie, Hennessy, Krug, Mercier, Moët & Chandon, Ruinart, Veuve Clicquot.
Meanwhile Campari Group, founded in 1860 and headquartered in Milan, has a portfolio of over 50 premium and super-premium brands including Aperol, Campari, Grand Marnier, Wild Turkey and Appleton Estate. The group is the sixth-largest player worldwide in the premium spirits industry and trades in over 190 markets with leading positions in Europe and the Americas. It has its own distribution network in 22 countries.
The deal to create the joint venture is expected to be finalised after the completion of all the customary regulatory requirements, but no date was provided.
---
Join us at SIAL Paris as exhibitor Join us at SIAL Paris as visitor