M&A DEAL VOLUME IN UK FOOD AND BEVERAGE SECTOR DROPS 29%, BUT VALUE IN FREE FALL
The latest mergers and acquisitions (M&A) report covering the UK food and beverage (F&B) sector shows a 29% drop in deal volume from May to August when compared with the same months in the prior year.

Analysis from London-based independent corporate finance house Oghma Partners for the period showed that there were 22 deals with a corresponding overall estimated deal value of approximately £270 million compared to £3.9 billion in the prior year period, a decline of more than 90%. This continued a trend set in the first four months of 2022 from January to April.
Oghma Partners – which provides acquisition, divestment, fundraising and strategy advice to European consumer-focused companies and investors – believes that the decline in activity is related to a number of factors. Firstly, business uncertainty due to a very difficult trading environment with many food and beverage companies having to put through sharp price increases with more to follow in the coming months.
According to the UK's Office of National Statistics, the Consumer Prices Index including owner occupiers' housing costs (CPIH) rose by 8.6% in the 12 months to August 2022, down marginally from 8.8% in July. The ONS said that the food and non-alcoholic beverages sectors were among those that were the largest upward contributors to the annual CPIH inflation rise in August 2022.
Lower valuations and more risk averse
Secondly when it comes to debt availability and cost, it appears that liquidity is getting tighter with banks less willing to lend while the cost of debt is rising as governments seek to fight inflation and also fund expansionary fiscal budgets. Thirdly, there is a changing appetite for risk – seen in public markets via rising bond yields, a falling bond market and lower debt availability. This has resulted in reduced appetite for deals from sellers due to lower valuations.

Partner at Oghma Partners, Mark Lynch, said: "Year-to-date August 2022 we estimate that the number of F&B deals in the UK totalled 50 in the period versus 62 in the prior year, an overall decline of 20% by volume, a fall that accelerated in the second tertial (ie May to August).
"The more dramatic story is the year-to-date deal value decline of 90% equalling that in the first tertial. The fall in activity is similar to that seen in 2020 when the full impact of Covid on deal activity was noted. However, in that year there was a strong recovery in the final four months of the year as Covid challenges had been faced and corporate activity got back closer to normal.
Lynch added: "Particularly absent in the first eight months of the current year have been any sizeable transactions. In 2021, for example, there were six deals with values ranging from £200 million to £2 billion with the average deal size of this group at £1.1 billion. Profitability is under pressure and the outlook is uncertain, putting off buyers and sellers alike."
"A sign of things to come…"
Further highlights from the M&A report include the following: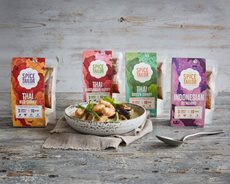 Around 60% of deals had an estimated value of £20 million or less which is a continuation of what was seen in the first tertial
Overseas buyers accounted for 36.4% of deal volume which is in line with the five-year average of 33%. Notable deals included Solina's acquisition of Zafron Foods and Lotus Bakeries acquisition of Peter's Yard as both companies continued to solidify their positions in the UK market.
Activity from financial buyers dropped off significantly only accounting for 9.1% of total deal volume for the period
Grocery/confectionery was the most active category for the period with the most notable deal being Premier Foods acquiring The Spice Tailor marking Premier's first acquisition since 2016.
On the financial buyers drop, Oghma noted: "This could be a sign of things to come as we are witnessing rising interest rates around the world which will impact on private equity companies' ability to raise debt to fund acquisitions."
Despite this Endless LLP completed its acquisition of KTC Edibles, the Wednesbury-based edible oils supplier which was probably the largest deal in the UK F&B space during the period analysed.
---
Join us at SIAL Paris as exhibitor Join us at SIAL Paris as visitor