RiceUP! Debuts zero sugar brown rice bars! for chocolate lovers who want a 'guilt free snack'
NuHealth is expanding its "better for you" chocolate flavoured brown rice bar portfolio with the launch of its first ever RiceUP! Zer0 Sugar range.
"RiceUp! consumers seek variety, so we're constantly innovating to deliver more added value to our delicious flavours," explains Nikolay Kolev, CEO. "By adding the Zer0 Sugar line to our portfolio of brown rice bars, we will be able to surprise and delight our fans by offering something 'even better' for them."
RiceUP! Zer0 Sugar Brown Rice Bars are presented as a diet-friendly, gluten-free snack with low glycaemic index, intended for all the chocolate lovers and sweet cravers who want to snack "guilt-free" without giving up on taste. Designed to be eaten on the go, RiceUP! Zer0 Sugar Brown Rice Bars weigh 18g each. The new line comes in five delicious flavours:
Dark Chocolate, Milk Chocolate, Orange & Dark Chocolate, Banana & Dark Chocolate, Coconut & Milk Chocolate.
The rice bars are a new generation of snacks that contain 'wholesome ingredients' such as:
ProViotic, containing probiotic bacteria that helps promote gastric health and immunity. All ingredients in ProViotic are based on organic plants with no artificial additives or flavourings
Magnesium, for improved physical performance
A high dietary fibre content which helps with digestion and is filling, reducing the likelihood of excessive food intake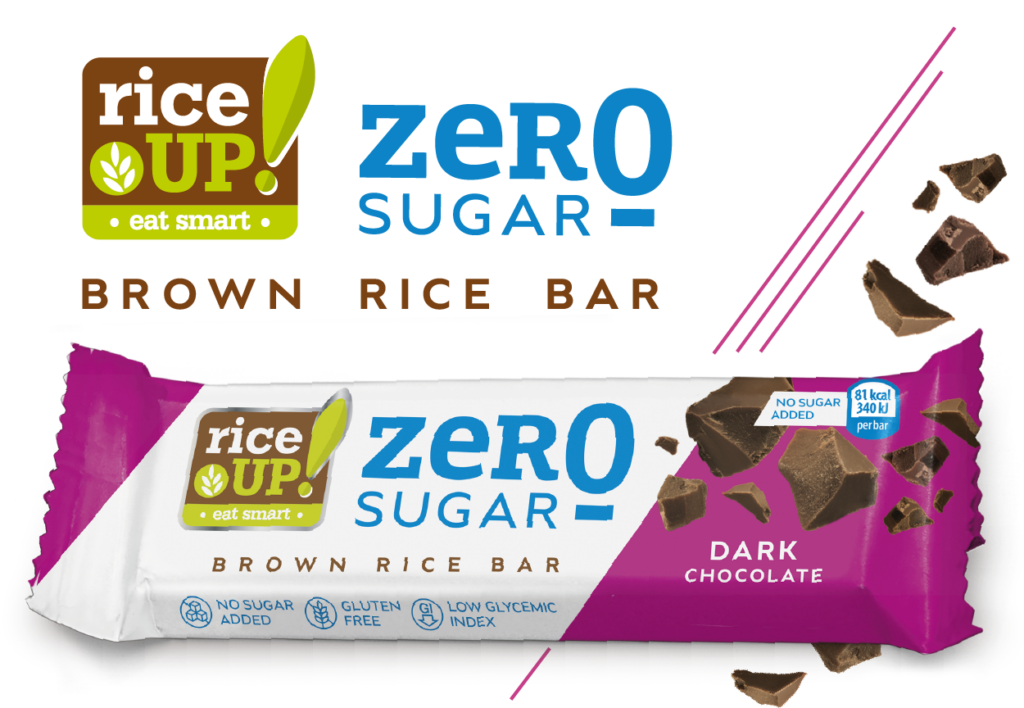 The Zer0 Sugar Brown Rice Bars are part of a wider product portfolio under the brand RiceUP! which includes Brown Rice Chips, Brown Rice Cakes and Brown Rice Rolls. All products are popped, not fried.

NuHealth is a European producer, founded by professionals with 20+ years experience and know-how in the production and marketing of FMCG brands around the globe. They offer an extensive line of snacks made from wholegrain brown rice to meet the growing consumer needs of a healthy and balanced diet. These include rice cakes, rice rolls, rice chips and rice cakes with chocolates.

The company's manufacturing involves minimal processing and the bars, which are made from popped wholegrain brown rice, are also gluten-free, GMO-free, preservative-free, palm oil-free and vegetarian. There is no added monosodium glutamate (MSG).

It also leverages an innovative ingredient known as ProViotic, which contains probiotic bacteria that help to promote gastric health and immunity. The bacteria, a type of Lactobacillus bulgaricus, are extracted from the snowdrop flower and grown in organic vegetable juice.

The second most important innovation is added magnesium in its most easily digestible form, because it is the key element for balancing the body's nervous and muscular systems.

"We pride ourselves in selecting only the best raw materials that promote wellbeing," Kolev adds. "Our facilities and manufacturing process maintain and strictly implement internationally recognised standards for quality such as IFS, HALAL, Kosher."

The company uses brown rice which contains manganese and is a good source of selenium, phosphorus, copper, magnesium, and niacin (vitamin B3). It also does not contain gluten which is typical of almost all other cereals and can potentially cause allergies.

Using brown rice is a strategic move as the process only removes the outermost layer, the hull of the rice kernel, and is the least damaging to its nutritional value.

RiceUp! will be presenting its wide range of products at SIAL Paris, the biggest one-stop shop event for the food industry, which will be taking place between the 15th and 19th of October at Paris Nord Villepinte.
---
Join us at SIAL Paris as exhibitor Join us at SIAL Paris as visitor