READY-TO-DRINK ALCOHOL GAINS GROUND AS BIG PLAYERS INVEST
The convenience and variety of ready-to-drink alcoholic beverages has seen the market gather momentum in recent years, with growth forecasted at 41% between 2019 and 2024 (source: IWSR).
The market analyst puts retail sales of RTD in the US at over $7.8 billion (€6.45bn) in 2019, making it the fastest-growing category across the alcoholic beverage market. IWSR says that growth there was 20% between 2016 and 2019.
Diageo – one of the world's biggest wine and spirits companies – has wasted little time in jumping into this space. In mid-April, it acquired Loyal 9 Cocktails, a spirits-based RTD brand from Sons of Liberty Spirits Company. This was on the back of the March acquisition of Far West Spirits, the Texas-based maker of the 4% abv Lone River Ranch Water – an agave and lime-based hard seltzer.
These craft players are among several that have emerged with RTD offers that have proved very attractive to drinkers. CEO of Sons of Liberty Spirits Company, Mike Reppucci says: "We created Loyal 9 to introduce something even better for our consumers. The brand uses great quality ingredients without compromise. It's been a fantastic adventure to create and lead Loyal 9's development to this stage."
RTDs have evolved from sweet alco-pops targeted at younger age groups into much more refined and nuanced products whose flavour complexity has brought them a wider following.
In Loyal 9's case, the vodka-based RTD canned cocktails were launched in 2018 in Rhode Island, USA and have become popular across New England. The brand image – a combination of full-flavour lemonade and 'Americana,' – has a light-hearted look and feel, but is also strong at 9% abv, more than double that of Lone River for example. As well as lemonade, the range includes mixed berry lemonade and watermelon lemonade.
A busy market with increasing innovation
Other players experimenting in the RTD cocktails and seltzer market include Crook & Marker, described as an organic supergrain alcohol; The Craft Brew Alliance, which has a partnership with Anheuser-Busch; Fishers Island whose flagship dual-spirit Spiked Lemonade (9% abv) is the foundation for other expressions such as Fishers Island Spiked Tea, Fishers Island Pink Flamingo, Fishers Island Fizz, and Fishers Island Spirit Pops; and UK-based Strykk from Elegantly Spirited.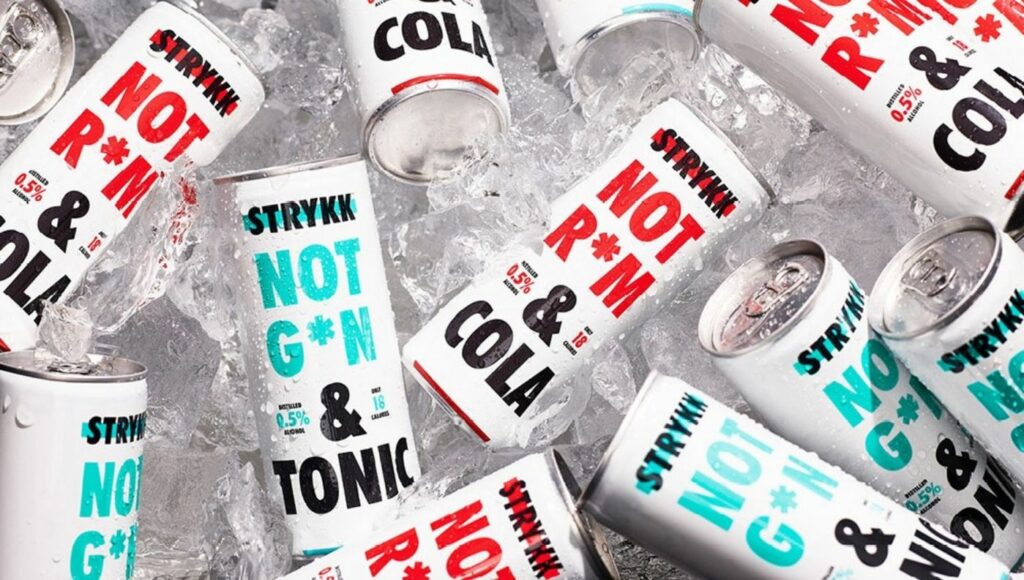 Strykk is blurring the market somewhat in that it is a no-alcohol brand that is now extending from straight rum and gin bottled lines into canned cocktail RTDs: Strykk Not G*N & Tonic, and Strykk Not R*M & Cola.
With the pandemic taking hold in 2020, resulting in the closure of bars and restaurant and other on-trade businesses, RTDs have gained even more momentum in global markets, particularly the US and UK, as consumers enjoyed cocktails at home. Demand for a range of alcoholic drinks in convenient formats for casual and at-home occasions is likely to carry on even as lockdowns end and the on-trade opens up, which is one reason major players will continue snapping up smaller RTD start-ups.
Commenting on the Loyal 9 acquisition, Diageo North America president Debra Crew, said: "Loyal 9 hits an RTD sweet spot: it merges American consumers' growing appreciation for better quality ingredients with the full flavour lemonade they love – and a classic Americana feel. We have a clear strategy to build and diversify our RTD offerings across price points and consumer segments."
That offering was expanded recently within several of Diageo's existing brands to develop spirits-based RTDs. These include the recently-launched Crown Royal RTD cocktails, Tanqueray crafted gin cocktails, and Ketel One Botanical Vodka Spritz.
---
Join us at SIAL Paris as exhibitor Join us at SIAL Paris as visitor