FOOD PROCESSING AND HANDLING EQUIPMENT MARKET TO REACH $175 BILLION BY 2026

The food processing and handling equipment market is projected to grow at a compound annual growth rate (CAGR) of 6% in the coming years to reach $175.1 billion by 2026 from 2021's $130.6 billion.
According to a research report from MarketsandMarkets the growth will be led by rising demand for prepared food products globally; changes in consumer lifestyles; as well as a transformative leap in technological capabilities, plus increasing investment opportunities in the food processing industry.
The study covers the three segments of food processing, food service, and food packaging across the meat and poultry, bakery and confectionery, alcohol, non-alcohol and dairy industries. Among them, the food packaging equipment segment is projected to grow at the highest CAGR during the forecast period as consumers look for more attractive packaging, especially in premium products.
Baked goods make biggest gains in food processing
Within the food sectors, bakery and confectionery are projected to account for the largest share in the food processing and handling equipment market during the forecast period. This is due to short product shelf lives and competing consumer preferences for product freshness and also their keeping abilities.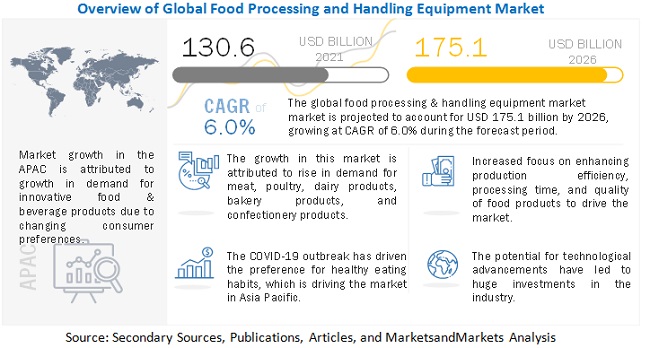 Meanwhile, increasing demand for locally made bread and bakery products is propelling orders for bread-producing equipment. Core equipment such as coating systems for confectionery processing also has considerable scope for growth says the report.
Asia Pacific drives automation and digitalization
Asia Pacific will account for the largest market share during the forecast period. The food packaging industry in the region is highly inclined toward automation, digitalization, and sustainable innovations. This is driven by the exponential growth of online retail and consumer interest in environmental issues.
Asia Pacific's Millennial population outnumbers the Baby Boomer generation, and they are demanding more responsive e-commerce business models and are more attuned to issues like sustainability and the environment.
---
Join us at SIAL Paris as exhibitor Join us at SIAL Paris as visitor