FUTURE MEAT DEVELOPS ITS FIRST CULTIVATED LAMB, A WORLD FIRST?
Future Meat Technologies has recently developed a revolutionary new alternative meat. The Israel-based cultivated food manufacturer is revered for its innovative technology used to produce meat, and it is thought this new invention will be a bold stimulus for the alternative meat industry.
It is thought that the introduction of an alternative lamb product would be popular with markets around the world. The European Union is recognised as the largest consumer of lamb in the world, while lamb remains a primary meat source for countries in the Middle East, Northern Africa, and certain regions in Asia.
Scientific breakthrough leads to "world's first" cultivated lamb
Future Meat's development of alternative cultivated lamb started in 2019. Fibroblast cells taken from the Awassi sheep breed were used to create two ovine cell lines. This breakthrough means that Future Meat can produce alternative lamb on a large scale, widening the company's ambition to produce more animal meats through sustainable methods.
"In passing this milestone, Future Meat reinforces its position as a leader and pioneer in the cultivated meat industry and shows again the limitless potential of how innovation can drive sustainable solutions", said Nicole Johnson-Hoffman, CEO of Future Meat. "The key learnings will be leveraged as we work to produce other meats, including beef and pork, increasing Future Meat's market offerings for consumers".
"Since lamb has a uniquely distinct flavour, it is very clear if a cultivated substitute is on or off the mark", said Michael Lenahan, general manager of Future Meat. "The reason Future Meat's cultivated lamb is indistinguishable from conventional lamb is because it is, first and foremost, real meat. It sizzles, sears and tastes just like people expect—it's amazing".
Future Meat is preparing to enter the US market. This means a shift of focus for the company, moving to scale up production of cultivated meats like lamb and chicken. Production of said products is expected to take place at a new production facility which is due to break ground in 2022.
Company continues operations after largest ever investment in cultivated meat
With this new breakthrough, as well as momentum building ahead of the opening of a US-based production facility, Future Meat is moving fast after receiving substantial investment. The company raised approximately €346 million in a Series B investment round, regarded to be the largest ever investment in the cultivated meat industry.
ADM, recognised as an influential player in human and animal nutrition, contributed through its ADM Ventures investment arm. There was also participation from Menora Mivtachim, an insurance fund, as well as Tyson Ventures (the venture capital arm of Tyson Food).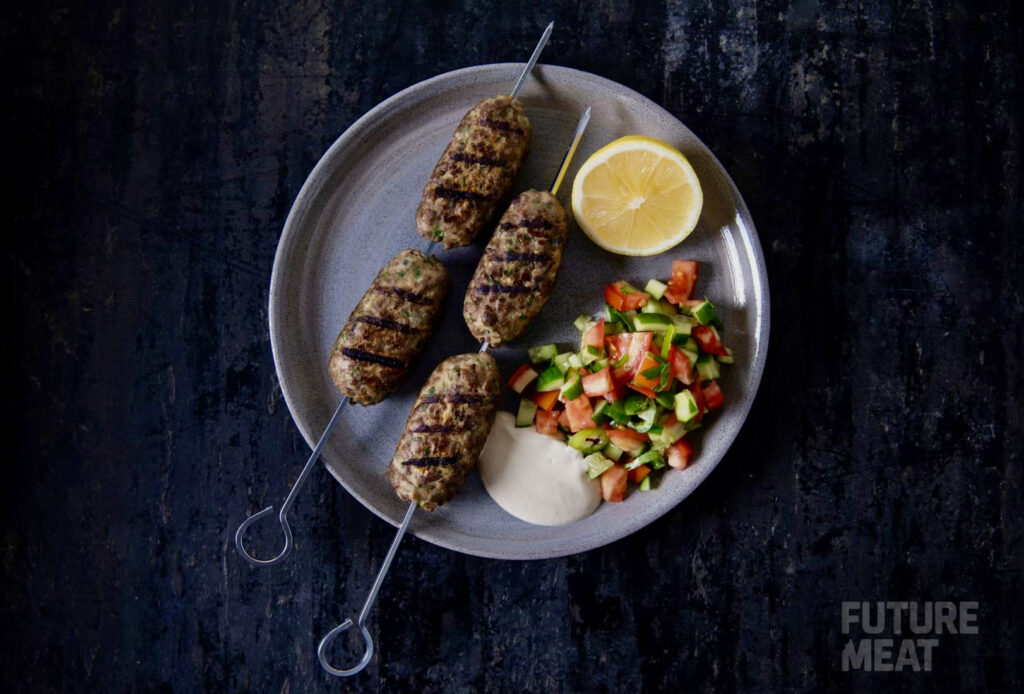 Cultivated meat industry makes its presence known in the US
News of Future Meat's plans to open a production facility in the US follows the strategy led by manufacturer Good Meat, a company that made headlines after it announced plans to build the world's largest bioreactors to produce cultivated meat, also due to open in 2022.
As reported by SIAL, said bioreactors would be able to produce 13,000 tonnes of "no-kill" chicken and beef on an annual basis. The meat itself is made from cells that are extracted from cell banks or eggs.
Good Meat announced that it would build 10 new bioreactors that the company claims are larger in size than existing bioreactors. The project is made possible thanks to an agreement that was made with ABEC, a bioprocess equipment manufacturer.
Good Meat aims to have its production facility operational by late 2024. The site would produce 11,800 tonnes of cultivated meat every year by 2026. The company aims to produce 13,700 tonnes by 2030.
"Cultivated meat matters because it will enable us to eat meat without all the harm, without bulldozing forests, without the need to slaughter an animal, without the need to use antibiotics, without accelerating zoonotic diseases", said Josh Tetrick, CEO of Eat Just, the parent company of Good Meat.
---
Join us at SIAL Paris as exhibitor Join us at SIAL Paris as visitor