KROGER USES MORE THAN 1,000 BOTS TO EXPAND DELIVERY SERVICES IN DALLAS
Kroger, America's largest grocery retailer, has officially opened its newest customer fulfilment centre (CFC) today in Dallas, Texas, leveraging advanced robotics technology from UK grocery e-commerce player, Ocado Group.

In 2018, the two companies announced a collaboration to establish a delivery network that combined artificial intelligence and automation, bringing first-of-its-kind technology to America.
"Kroger and Ocado Group are building something truly unique in the American grocery landscape," said Luke Jensen, CEO of Ocado Solutions. "Our expanding fulfilment network is reaching more and more customers, bringing the benefits of cutting-edge innovation to communities nationwide. Today's event marks the start of a service in Dallas that will bring a whole new standard of grocery experience to homes across Texas and beyond."
The delivery network relies on highly automated CFCs. At the hub sites, more than 1,000 bots move around giant 3D grids, orchestrated by proprietary control systems. The grid, known as The Hive, contains totes with products and ready-to-deliver customer orders.
A process governed by algorithms
As orders near delivery times, bots retrieve products from The Hive and present them at pick stations for items to be sorted for delivery, a process governed by algorithms that ensure items are intelligently packed. For example, fragile items are placed on top, bags are evenly weighted and each order is optimised to fit into the lowest number of bags to reduce plastic use.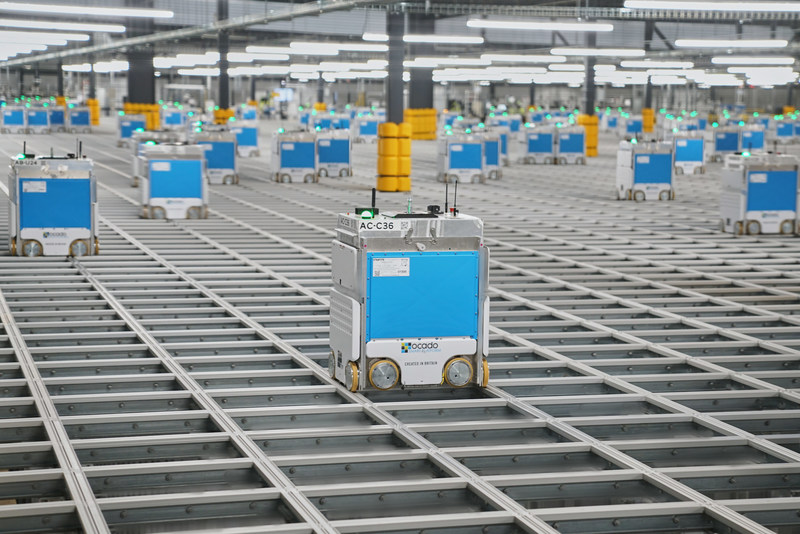 As well as the technological efficiency, a key aspect of the expansion is the ability to deliver "the freshest food and quality ingredients to your own doorstep – when you want it, how you want it" said Kroger's vice president and head of e-commerce Bill Bennett.
He added: "Customers can use Kroger.com or the Kroger app to check the weekly circular, select personalised digital coupons, search products by dietary preference and ultimately place their delivery order, saving time and money."
Loyalty programme
Local shoppers also have access to the newly launched Boost by Kroger annual membership programme. For either $59 or $99 per year, Boost provides customers with benefits such as unlimited free delivery on orders of $35 or more, plus 'fuel points' depending on the value of each shop.
The 32,500 square metre CFC has brought more than 500 new jobs to Dallas and surrounding communities. The hub will also work in collaboration with facilities located in Austin, San Antonio and Oklahoma City. Each one will enable Kroger Delivery to expand its services to more customers. Kroger currently operates six CFCs in the US with at least seven more in the pipeline.
---
Join us at SIAL Paris as exhibitor Join us at SIAL Paris as visitor