Briannas Celebrates national salad month in May with new products
May is National Salad Month and Briannas Fine Salad Dressing is celebrating with seven new items including a new line of sugar free dressings and seasoned croutons
Briannas produces over 25 flavours of premium salad dressing including home style, organic, avocado oil and sugar free lines. All of Briannas' dressings are produced in small batches using high quality ingredients to create consistently great taste in every bottle.
Now the company is launching seven new flavours in line with national salad month in May. It hopes the new flavours include something for everyone ahead of the summer season.
"National Salad Month is a great way to kick off the summer and enjoy all of the fresh produce and fruit in season! When you want a great tasting salad dressing or a trusted shortcut in the kitchen, Briannas has something for everyone!" said Jenny Van Dorf, Director of Marketing and Communications.
The new condiments include:
Home Style Garlic Vinaigrette, a sweet and savoury blend of garlic, oil and cracked black pepper that adds bold flavour to fresh greens or pasta salads.
Sugar Free Rich Poppy Seed Dressing is a creamy, sweet twist on their top-selling dressing, made with fresh onions, poppy seeds, and no-calorie sweeteners.
Sugar Free Blush Wine Vinaigrette is a marriage of tangy red wine vinegar and calorie-free sweetener with only 60 calories per serving. It's a delicious match for spinach and strawberries.
Avocado Oil Caesar is made with heart-healthy avocado oil, balsamic vinegar, garlic and cracked black pepper. Pair this rich, dairy-free dressing with crisp romaine lettuce and grilled chicken.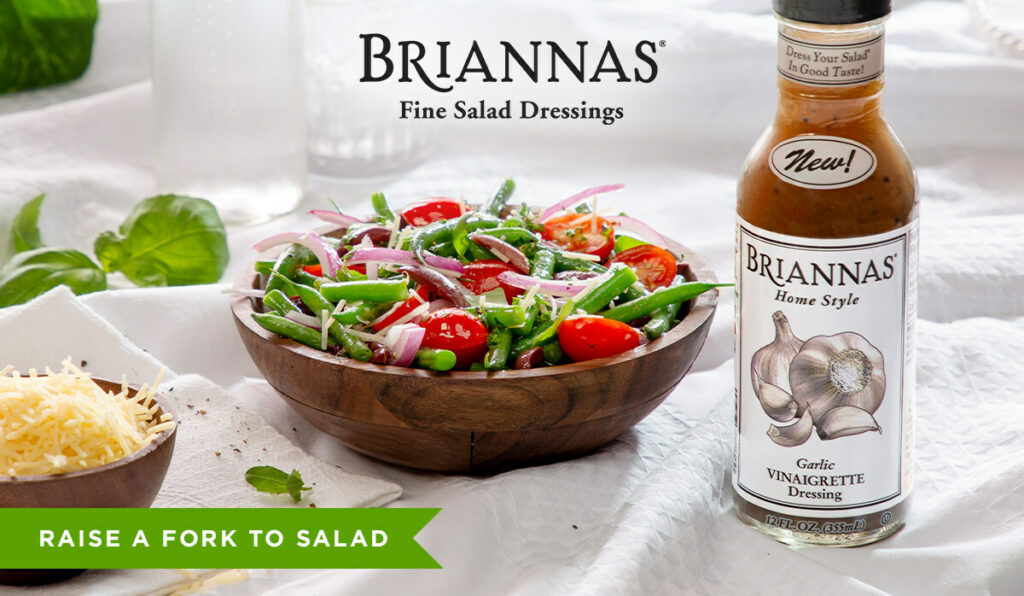 Coming soon, Briannas will also be launching its new Seasoned Croutons, available in three bold flavours including Honey Mustard, Sweet Onion, and Parmesan and Fine Herbs.
The Fine Salad Dressings are now available for purchase in most major retailers. Recipe inspiration is also available via the company's website along with its online shop and store locator.
Briannas has served retailers and distributors throughout the US and the world for more than 40 years – since 1982. Produced in Brenham, Texas, the gourmet dressings are popular among consumers who value great tasting food made in small batches with premium ingredients. Briannas produces 14 home style flavors, 5 organic dressings, 4 with avocado oil, and two sugar free. None of the dressings contain high-fructose corn syrup or trans fats, 23 are gluten-free, 18 are certified Kosher and five, GMO-free.
Briannas' delectable dressings have won numerous first place awards for their spectacular taste and have been featured in Real Simple, Southern Living, Food & Wine, Women's Health and more.
---
Join us at SIAL Paris as exhibitor Join us at SIAL Paris as visitor