MARS BOLSTER FROZEN OFFERING WITH NEW DESSERT LAUNCHES
Coming soon to a freezer near you are three delicious new desserts by Mars which combine confectionary favourites with delicious ice cream.
Mars is off to a sweet start in 2023 with the addition of three new innovations to the company's ever growing ice-cream portfolio. Ice cream fans are sure to delight in the new frozen fusions which feature popular brands including M&M's, Dove and Twix.
First on the menu is the new M&M's Cookies and Cream Ice Cream Cookie Sandwich followed by Dove Mini Sticks and Twix Cookie Dough Ice Cream. SIAL newsroom reveals the irresistible flavours of each frozen wonder after the company launches the new range worldwide.
Each of the new products brings an irresistible mix of flavour profiles set to satisfy every taste and inspire moments of everyday happiness. Whether you are craving dark chocolate with almonds, cookie dough, or cookies and cream flavours, the new announcement from Mars ensures there's something for everyone to enjoy.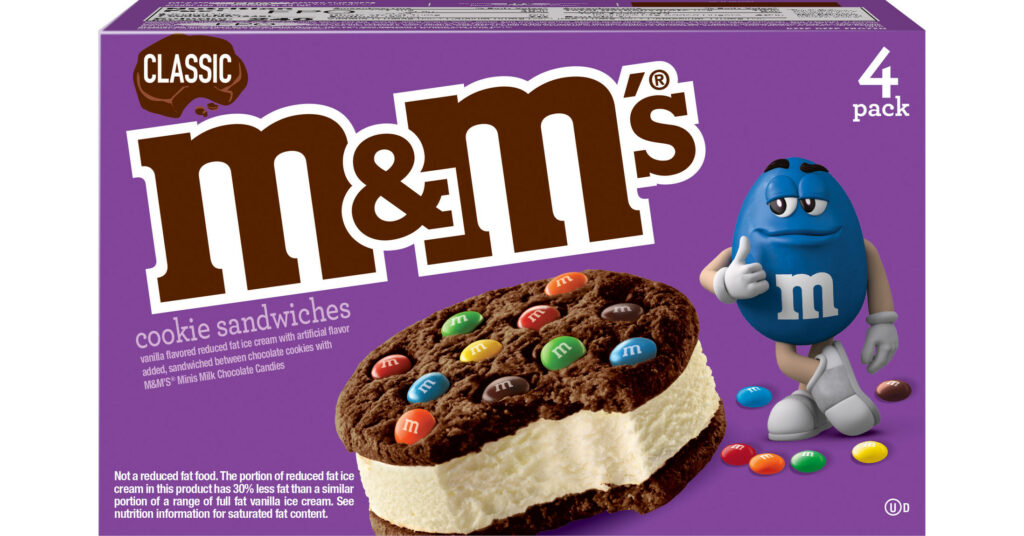 M&M's Cookies and Cream Ice Cream Cookie Sandwiches: M&M'S Cookies and Cream Ice Cream Cookie Sandwiches offer a multi-texture experience. The combination of M&M'S chocolate candies, baked chocolate cookies, cookie pieces, and creamy rich ice cream in one place offers a fun treat that is often only found in ice cream parlours, ensuring M&M'S is bringing the ice cream shop experience straight to your home. M&M'S Cookies and Cream Ice Cream Cookie Sandwiches are available in singles and in packs of four.
DOVE Mini Sticks Vanilla Ice Cream with Dark Chocolate and Almonds: The first of its kind, a premium dark chocolate and almond combination on a bar. DOVE Ice Cream's new offering is a perfectly portioned, mini-ice cream bar meant to satisfy any sweet craving. The product is available in packs of six.
Twix Cookie Dough Ice Cream: Pulling inspiration from the recently released Twix Cookie Dough bars, TWIX Ice Cream introduced TWIX Cookie Dough Ice Cream, a delicious combination of soft cookie dough bites, real chopped TWIX bars, creamy vanilla ice cream, and a caramel swirl in every bite. The product is available in pints.
M&M's Cookies and Cream Ice Cream Cookie Sandwiches, Dove Mini Sticks and Twix Cookie Dough Ice Cream have begun to hit shelves now, with nationwide availability in March. More information about each of the products can be found online via each of the brands' websites.
Mars ice cream marketing director Jayesh Shah comments: "Mars is excited to kick off the New Year by announcing three new, delicious ice cream products. We know that introducing new varieties and flavours of ice cream to fans can bring more moments of happiness, joy and togetherness, which is why we have paired our delicious Mars Ice Cream with some of our most iconic brands in the Mars portfolio like Dove, M&M's and Twix. Our new offerings promise consumers a delicious at-home ice cream experience that can be enjoyed all year long."
Other tasty updates in the world of frozen confectionary comes from the top selling US gelato brand Talenti. Its delicious ice cream and gelato is now available in Mini Bars on a stick. "Enjoy the same jar flavours you know and love on a stick, with the same smooth and creamy texture and rich flavours," the company commented last week following its latest product launch.
---
Join us at SIAL Paris as exhibitor Join us at SIAL Paris as visitor