World's first Meatable tasting could change the face of the industry. Here's how…
Industry-leading food tech company Meatable held its first-ever cultivated meat tasting in Singapore with future commercial partners and the Singapore Economic Development Board
Meatable received approval from the Singapore Food Agency (SFA) for the first tasting, an important step towards receiving regulatory approval for the sale of its cultivated meat. With this, the innovative Dutch food tech company is on track to launch into the Singaporean market in 2024, followed by the US.
Food distributors and grocers say cultivated meat such as Meatable's proposed products could be "the future of meat… to help our earth, to help our future generations."
Meatable is on a mission to deliver cultivated meat at scale and has reached a major milestone in its history by holding its first-ever tasting in Singapore, after meeting the SFA's stringent safety requirements. In the last few months, Meatable has worked with the SFA to ensure it fulfilled all these criteria to get the green light for its first-ever tasting.
Following this, a select group of retail partners and the Singaporean Economic Development Board (EDB) were invited to try the company's cultivated meat product, a cultivated pork sausage, featuring the pronounced pork flavour, bite, and texture that is found in traditional meat. These partners will help Meatable to develop, optimise and launch its products in restaurants and supermarkets, with the plan to have them on sale in 2024.
The future of meat?
Andre Huber, Executive Director at Huber's Butchery – Singapore's premier butcher, said Meatable's product could be the future of meat.
He said: "I think cultivated meat is probably the future of meat. We had conventional, traditional meat for centuries and thankfully now we found a new way to produce meat. To help our earth, to help our future generations.
"I've tried Meatable's sausage and I like where it stands. It has that nice meaty texture and it clearly has that meat flavor which plant-based proteins are lacking."
Karen Tay, Managing Director at Classic Fine Foods Singapore, a leading global distributor of fine food across Asia, the Middle East and the UK, echoed this sentiment.
She commented: "My vision for cultivated meat is that it will become a mainstream option. Some existing processes and practices are not sustainable for the world that we live in. The Meatable sausage I tasted today was very delicious. I wouldn't have known if you didn't tell me it was cultivated meat."
Tom Gray, Commercial Director at Little Farms – Singapore's freshest grocery, was also impressed by the tasting sample.
"The taste and texture were great. It was a very satisfying and a very interesting experience all around," he added.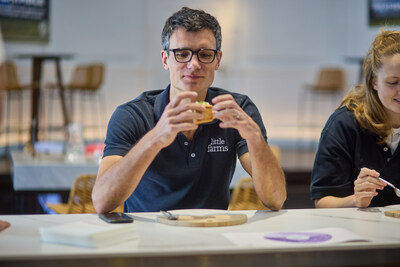 The first of many tastings to educate the world
As the first country to approve cultivated meat in 2020, Singapore has quickly become one of the most forward-thinking regulatory environments in the world for cultivated meat. Its 30 by 30 strategy means the country is working to build up its agri-food industry's capability and capacity to produce 30% of its nutritional needs locally and sustainably by 2030.
This also makes Singapore the perfect launch country for Meatable's first products, followed later by the US. The tasting follows previous investments Meatable has made in Singapore's growing innovative food ecosystem, including a partnership with Esco Aster, the first and only commercially licensed cultivated meat manufacturer, and a collaboration with plant-based butcher Love Handle.
The recent tasting took place at Country Foods' Experiential Centre at The Arts House, where Meatable and Love Handle are building their Future of Food Innovation Centre together in downtown Singapore.
In the coming months, Meatable will organise more tastings in Singapore and internationally, to educate future partners and consumers as well as gain learnings as a company on how to best develop and provide cultivated meat at scale.
Krijn de Nood, co-founder and CEO of Meatable, said: "We were delighted to receive the exemption from the SFA to deliver our first tasting in Singapore. This marks a significant milestone for Meatable.
"First of all, it allows our partners to taste and experience our delicious products and secondly for us as a company, this is an important step towards regulatory approval for sales in Singapore. This is all part of our mission to satisfy the world's appetite for meat without harming people, animals, or the planet."
---
Join us at SIAL Paris as exhibitor Join us at SIAL Paris as visitor