NISSIN FOODS REVEALS 2022 INTERIM RESULTS
Japanese brand Nissin Foods has released its latest sales figures from April to June 2022 which showed an increase in instant noodle sales across the board.
The promising results are largely due to high demand for the product while sales were also boosted thanks to marketing campaigns, rebranding and new product launches.
Sales for chilled and frozen products also rose due to extremely hot weather during the quarterly period. While bag-type noodles appeared to be less in demand.
SIAL newsroom breaks down the results by product:
Nissin food products
Nissin achieved year-on-year growth in sales for its food products due to an increase in demand of cup-type noodles. The Sekai No Cup Noodle series became a hot topic and contributed greatly to sales, with its new commercial message starting in April 2022. In addition, the Cup Noodle Karamen, featuring a rich and tasty hot soup and roasted chilli pepper, continued to perform strongly. This was also the case for the Saikyo Donbei noodle product which hit shelves in March 2022 with a focus on "everything is the main role."
Meanwhile sales decreased year-on-year for in bag-type noodles due to a temporary fall in sales volume which was mainly caused by the price revision in June 2022. However, the Nissin Kore Zettai Umaiyatsu! range continued to perform well with a rise in profit year-on-year thanks to sales increase effect. This comes despite the price increase of raw materials.
It means revenue was up 2.6% at 47.79 million JPY, equivalent to $348,672, with a core operating profit of 7.68 JPY, equivalent to $56,000. Operating profit was 7.14 million JPY, or 52,100 USD, up 10% in this reportable segment.
MYOJO foods
Featuring the thickest noodles in Myojo Foods history, the revamp launch of Myojo Bubuka Aburasoba Bachibuto helped drive a year-on-year increase in the sale of cup-type noodles.
Furthermore, the new Myojo Koize! Ippeichan Big brand helped boost sales. The sale of bag-type noodles also fell year-on-year for Myojo Foods due to a temporary drop in sales which was mostly caused by the June 2022 price revision. However, sales of the Myojo Okinawasoba increased after it was released throughout Japan as a limited edition in order to support the reconstruction of Shurijo Castle.
Project also decreased year-on-year, mainly due to the rise in raw material and energy costs.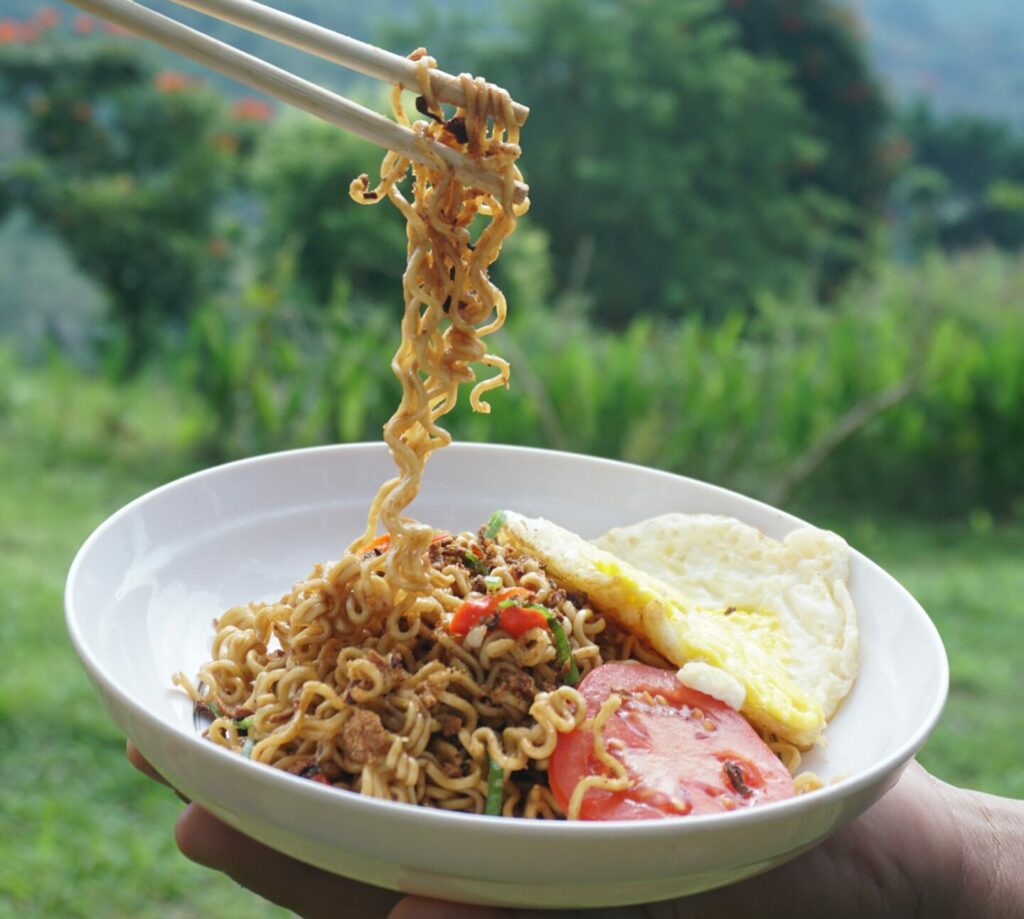 Chilled and frozen foods and beverages
Sales of chilled noodles rose due to continuous extremely hot weather during the three month period. However, the figures fell year-on-year due to sales volume decline caused by changes in the market environment and a price revision of March 2022.
Profit also fell year-on-year due to lower sales volumes and more advertising costs.
In the frozen foods business, sales increased year-on-year due to steady performance of the Reito Nissin Honmen series in ramen products and the Reito Nissin Spa Oh Premium pasta range.
Meanwhile in the beverage business, the Pilkul 400 performed well. The launch of new value-added products such as the Hiza Active also helped to boost sales.
Nissin confectionery
In the confectionery business, Nissin's Coconut Sable series performed steadily while sales and profit increased for its BonChi products. This came from strong sales of mainstay products such as the Bonchi Age and Peanut Age. It was also good news for the sales and profit of Koike-Ya which rose partly thanks to price revisions introduced this year.
The Americas
The US has improved the profitability of existing Nissin products as well as working to promote new premium products creating new demand.
Sales strategies in each country have been steadily implemented with price revisions that consider inflation and rising raw material prices among other factors.
Brazil saw continued strong performance of mainstay products such as the Nissin Lamen and the Cup Noodles which contributed to sales increase with proactive sales and marketing measures working together.
In the US, premium products with cleared differential advantages performed well while the demand for instant noodles remained high. As a result, sales as a whole reportable segment increased year-on-year.
Profit also rose year-on-year partly thanks to a higher level of premium product sales.
China
The market for high value-added products is expanding in mainland China. Nissin Foods has taken steps to expand its geographical sales areas and strengthen its Cup NOODLES brand. It has also achieved a higher level of sales after a revamp in June last 2021.
Revenue increased year-on-year due to a higher sales level of products such as Cup Noodles in mainland China and Hong Kong, even after new price revisions. Profit also increased year-on-year thanks to effective price revisions and more sales offsetting rising costs.
---
Join us at SIAL Paris as exhibitor Join us at SIAL Paris as visitor