Olive Market: Share, Challenges, and Upcoming Trends
Technavio's Market Research Report Highlights Market Share and Key Factors Influencing Growth
Technavio, a leading market research company, has released its latest report titled "Global Olive Market 2023-2027." The report provides valuable insights into the olive market, including market share, major challenges, and upcoming trends. The growing demand from the food industry is a key driver for the olive market, with different varieties of olives and olive oil catering to various preferences and requirements. However, the market is expected to decelerate at a CAGR of 3.7% during the forecast period, leading to a decline in market size by 911.64 thousand tons.
Europe is projected to contribute significantly to the growth of the global market, accounting for 44% during the forecast period. Technavio's analysts have thoroughly explained the regional trends and drivers that will shape the market in Europe and other regions.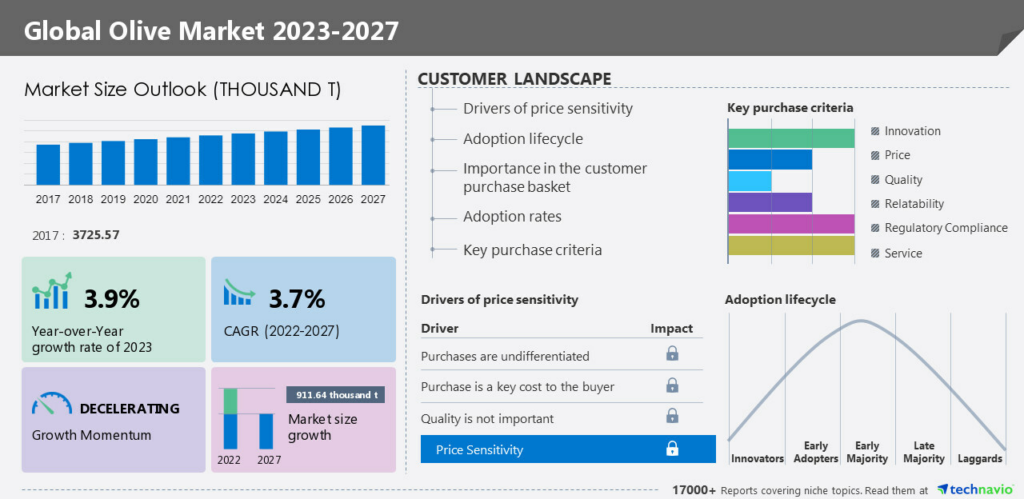 Challenges faced in the olive market include a lack of awareness among farmers regarding market trends and demand characteristics, improper packaging, poor marketing performance, and a lack of coordination between farmers and mills. External challenges include competition in export markets, lack of confidence in the quality of domestic consumer goods, and climate change affecting rainfall patterns. These factors may hamper the expansion of the global olive market in the coming years.
To overcome these challenges, several trends have been identified:
Expansion of olive production out of Mediterranean nations: In the past, Mediterranean countries dominated olive production. However, countries like the USA, Australia, Chile, China, and India have entered the market, aiming to replace imports with domestically produced goods and expand their export market share.
Mechanization and dense groves: The adoption of mechanization techniques and the establishment of dense groves contribute to higher efficiency and productivity in olive production.
Higher percentage of extra virgin production: There is a growing trend towards producing a higher percentage of extra virgin olive oil, which is highly valued in the market due to its superior quality and health benefits.
The report also highlights the consumer base in the premium product category and the importance of new product launches for vendors to establish long-term relationships with end-users and consumers.
The comprehensive report includes a detailed analysis of the top 15 vendors operating in the olive market, such as 2Brothers Company, Adamakis Olives, Cargill Inc., Deoleo SA, Gallo, and more. It provides competitive intelligence, benchmarking, entry support, customer profiling, M&A analysis, and go-to-market strategy support.
In conclusion, the global olive market faces challenges but embraces upcoming trends to sustain growth. With the demand from the food industry and the expansion of olive production in new regions, the market continues to evolve and offer opportunities for vendors and consumers alike.
---
Join us at SIAL Paris as exhibitor Join us at SIAL Paris as visitor