Will Covid create good growth conditions for organic businesses?
Evidence is mounting that some local independent retailers are turning out to be the winners during the pandemic. With lockdowns forcing many people around the world to stay home, or close to home, local retail has seen a revival that could be a springboard to the future.
With independent organic and wellness start-ups often opting for neighbourhood locations due to their cheaper rentals relative to footprints – and to be more involved in community life – the sector could thrive post-pandemic.
A new report from PwC and the Local Data Company puts net retail closures in the UK, at just under 10,000 in 2020 – their highest ever. However, looking at closures by town type, there has been a clear advantage to being located in villages or commuter towns where declines were -4.1% and -5.1% versus -7.7% for city centres.
In the US, according to the Organic Trade Association (OTA) sales crossed the $55 billion line in 2019, up 5.6%. And in the spring of 2020, OTA saw demand "exploding" with organic produce sales up more than 20%. A May 2020 online survey from the organisation revealed that over 90% of more than 3,000 respondents indicated that in the current environment "organic is more important than ever".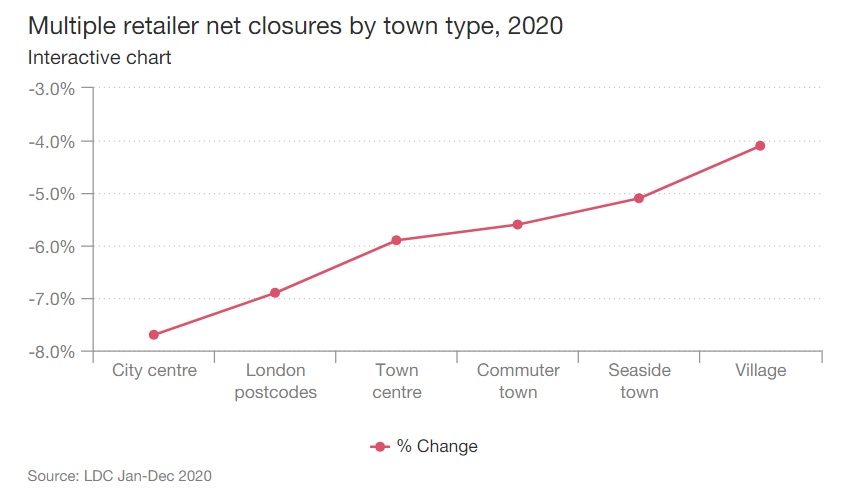 At the same time as independents potentially start to thrive in smaller neighbourhood settings, and organic demand soars, another survey from management consultancy McKinsey indicates that among the 10 biggest trends that will shape the grocery business in the coming years, 'Health and Organic' lies in sixth place.
The firm's January State of Grocery consumer survey – conducted across Europe with EuroCommerce – points to 30% of consumers intending to spend more on healthy eating in 2021.
The management consultancy notes in the report that all 10 trends are being shaped by three key shifts:
value is king again thanks to downtrading
lifestyle agendas are driving demand through a focus on health, sustainability, and convenience.
"These shifts emerged as consistent patterns across most European markets," the company says. "Low-income consumer segments trend more toward downtrading, while high-income segments trend more toward online and lifestyle-driven products. But all the shifts are emerging to some extent across income groups."
Organic Garage builds out partner program in Canada
In practical terms, organic and wellness players can make the most of this confluence or promising portents by teaming up.
In Canada for example, Organic Garage, one of the country's leading independent organic grocers, is growing its retailer-supplier network through an expanding partner programme and just added plant-based bakery, Tori's Bakeshop – Toronto's first vegan cafe in 2012 – to its roster last week.
Called Hand-Picked Partner, the programme is a way of ensuring that select businesses in the organic and wellness segment can sell ready-made and specialised foods to Organic Garage customers through small-footprint, on-site kiosks in the retailer's current estate of four stores.
Tori's Bakeshop products will roll out across all of them after what Organic Garage describes as "overwhelming customer demand" during a weekend-only trial run. Founder, Tori Vaccher, says that the roll-out – limited to three days per week from Fridays to Sundays – gives her brand exposure to the public in the Greater Toronto Area and beyond.
Organic Garage is actively looking at further opportunities with "recognised vendors" to further build out the HandPicked Partner programme and enhance the in-store shopping experience for customers. CEO Matt Lurie says: "Unique offerings such as those from Tori's Bakeshop help to differentiate us from our competition."
The organic and natural products targeted are:
Speciality Meats
Speciality Cheeses
Specialty Breads
Prepared Foods
Plants & Flowers
Organic Garage, headquartered in Toronto, was founded in 2005 by a fourth-generation grocer and says that it will continue to expand its retail footprint within the Greater Toronto Area.
---
Join us at SIAL Paris as exhibitor Join us at SIAL Paris as visitor