UK ORGANIC ONLINE AND BOX SCHEMES SAW SOLID GROWTH OF 13% IN 2021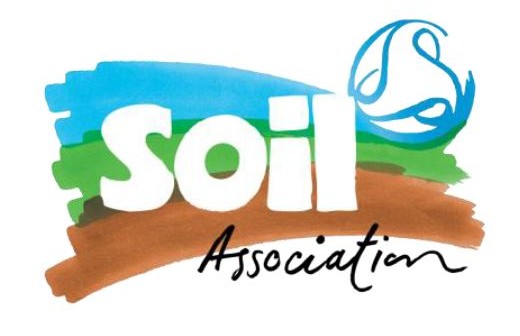 The concept of buying organic produce online and through box schemes for easier meal preparation took off in the UK at the onset of the Covid pandemic in 2020, triggered by surging interest in healthier food. But even in 2021, as the pandemic abated, the sector remained resilient, seeing double-digit growth of UK organic products.
According to The Soil Association, the largest UK organic certification body, online purchases of organic produce have continued to show "phenomenal growth". Including box schemes, total sales increased by 13% last year, on top of an exceptional 2020 when sales rocketed by over 36%. It means that versus the pre-pandemic year of 2019 when sales were £363 million, growth in the sector has soared by a massive 54%, outperforming all other channels including supermarkets and independent retailers.
As SIAL has previously reported, the total UK organic market broke through the £3 billion barrier last year, recording growth of 5.2%, having enjoyed a decade of positive momentum.
A habit that has stuck
The fast sales pace of organic online and box schemes last year gives the sector hope that even after the pandemic subsides, this new shopping format will have become a habit and will stick. Already more than a dozen businesses have sprung up in the box scheme market including Riverford Organic Farmers and Share Fresh.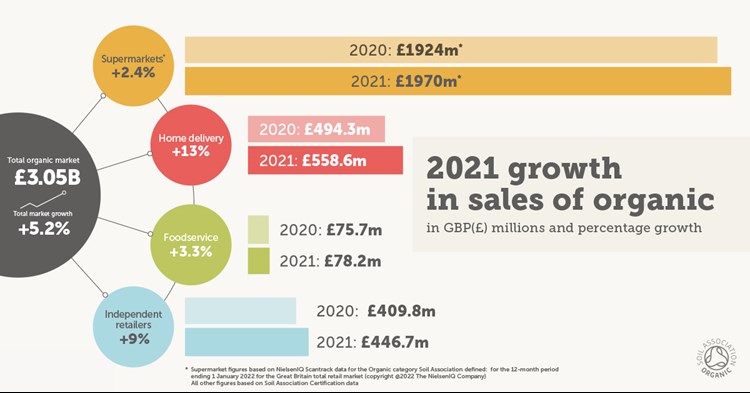 Hannah Shipton, managing director of one of the country's best-known organic delivery services, Abel & Cole, commented: "2021 proved to be a strong year, with customers sticking with us, and joining as lockdown eased, reflecting the exceptional growth of the organic market. With increasing consumer awareness of the need to shop sustainably, we expect to see this interest grow, and we plan to widen the range of our organic products."
While box schemes are growing, it is online where the volume growth is likely to come from. Major retailers and supermarket groups saw their online food sales jump over the past couple of years. From an organic perspective, this has been good because offering more organic lines has been a way for retailers to give consumers more choice.
The Soil Association said: "Online is attributed with attracting more customers to organic and to its strong growth. Amazon is now the largest online retailer of organic in the UK with over 8,5000 Soil Association Certification products."
UK organic produce supported by supermarkets
The bulk of UK organic sales still go through supermarkets but their growth slowed to 2.4% last year (source: NielsenIQ Scantrack data for the 12-months ending 1 January 2022), after a huge increase in 2020. Nevertheless, organic food and drink sales in supermarkets (including home delivery are now worth £1.97 billion annually.
Waitrose & Partners, Sainsbury and Tesco still dominate multiple retailer sales of organic, with a 65% share of the market. In the supermarket shopping basket, the top four organic categories contribute 74% of total sales. These are dairy (with almost £500 million in sales up 0.7% on 2020); produce (£438 million, up 1.8%); ambient grocery (£315 million, down 6.2%), and meat, fish and poultry (£202 million, up 5.5%).
Organic continues to see more focus from physical and online supermarket chains like Sainsbury, Ocado, Tesco, Waitrose, and Marks & Spencer. "They also gave greater prominence and marketing support to organic categories and products across stores and online across the year," noted The Soil Association.
Independent retailers had a rougher ride during the pandemic partly because consumers preferred to shop in larger, more spacious stores and also because independents in city-centre locations saw traffic fall as more people worked from home. However, the sector is coming back into growth and organic sales in the sector saw an increase in sales of 9% in 2021. 
A small but important area is organic beauty, well-being and textiles. Sales of certified organic and natural beauty products grew 15% to nearly £138 million in 2021 and sales of certified organic textiles alone grew by 39% to £68 million. The Soil Association said: "Demand is outstripping supply of certified organic cotton, as more brands and retailers commit to sourcing it as part of their sustainability strategies."
---
Join us at SIAL Paris as exhibitor Join us at SIAL Paris as visitor