BUBBLe iT! adds sparkle to the water industry with improved environmental performance
Start-up company BUBBLe iT! is shaking up the drinks industry with its novel way of cutting down on the need to purchase heavy glass bottles of mineral water
The French firm has introduced a powder that offers consumers a simple way to turn still water into sparkling without generating plastic or glass waste.
BUBBLE iT! is already available in hundreds of French retail outlets and the innovative product has had a warm reception from consumers.
There was also great interest among attendees at the most recent edition of SIAL Paris, where BUBBLE iT! was the focus of a presentation by the company's co-founder, Antoine Gillain.
"This little pack is the same as six bottles of sparkling water," Mr Gillain said while lifting out of his jacket pocket a modestly sized box.
"The principle is very easy. To make your sparkling water, you just need to pour still water into a bottle and you add our two small pouches of powder. In less than a minute you have your sparkling water."
He said it took four years of research and development to create the product as it is today, with much of this time spent on ensuring that the taste was right.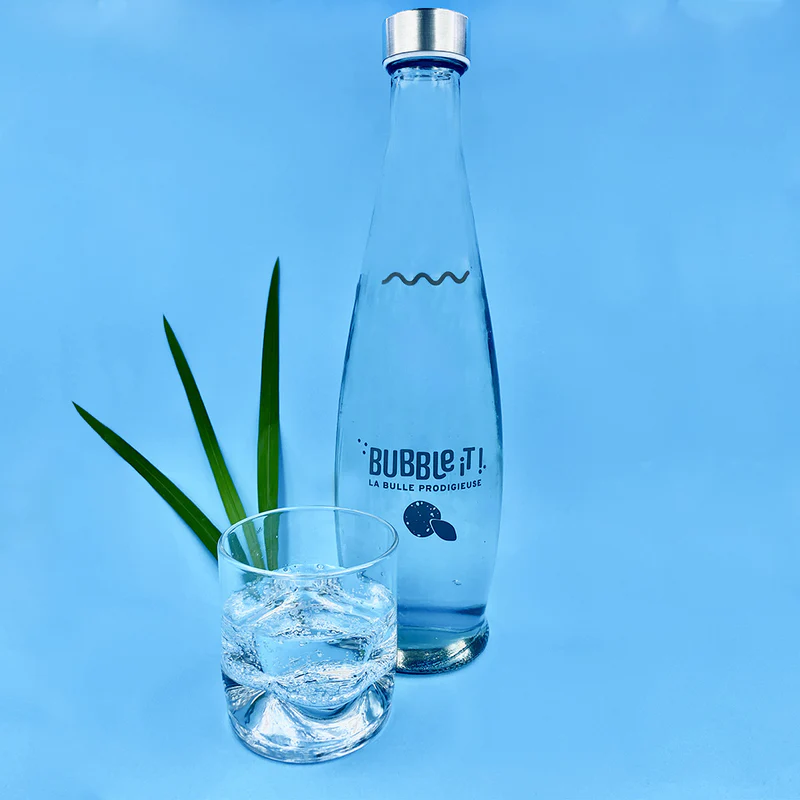 Special bottles are available to buy.
"Now we are getting recognition because the product is fine," Mr Gillain added. "[We are also receiving] recognition from the media … We also have business recognition."
BUBBLE iT! is already available in around 2,000 stores in France, with Monoprix and Carrefour among the well-known chains that are stocking the product.
Two sachets of powder are added to plain water and shortly afterwards it becomes sparkling water that is safe to drink with no chemical residues.
A package weighing less than 100g is enough to produce six bottles of sparkling water. Any bottles can be used, although BUBBLE iT! does have its own glass bottles that customers can buy.
Various flavours can be purchased and added to the sparkling water, including lemon and apple.
The sparkling water produced does not contain sodium but is a source of potassium, which is known to have health benefits.
A key selling point of BUBBLE iT! is that adding it to still water has a lower environmental footprint than buying bottles of sparkling water, which may have to be transported hundreds of kilometres.
Mr Gillain said that the product was also preferable in terms of environmental impact than machines that create sparkling water, such as SodaStream.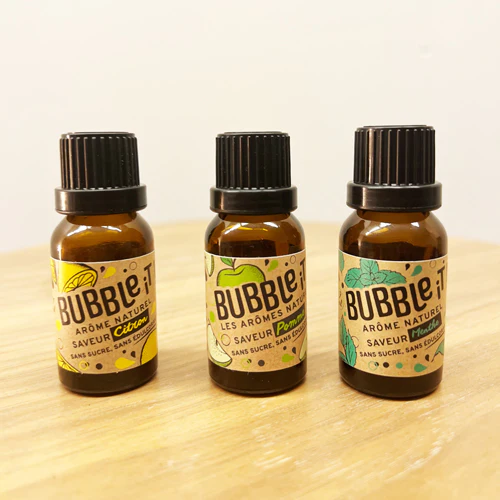 Various flavours can be added to the sparkling water.
This improved environmental performance is said to be because such devices have a significant impact, in terms of materials and energy, when they are manufactured.
The formula for BUBBLE iT! is patented and it has "a little secret" that is said to be difficult to imitate, giving the company a unique position. Mr Gillain has indicated that it expects other firms to bring out powders that have a similar effect.
The company plans to continues its research and development as it would like to make the product not only the greenest and most practical way to generate sparkling water, but also the cheapest on the market. To achieve this business plan, Mr Gillain said late last year that the company was looking to raise at least €2m.
Sparkling water was found in a 2019 European Union survey to be preferred by 38% of consumers, so there are substantial opportunities for companies such as BUBBLE iT! that want to tap into this market.
According to a report by Grand View Research, the sparkling mineral water market – measured in terms of sales of bottles, a market that BUBBLE iT! is looking to take custom from – was worth $29.71 billion in 2020 and is growing between 2021 and 2028 at a compound annual growth rate of 12.6%.
---
Join us at SIAL Paris as exhibitor Join us at SIAL Paris as visitor