NEW STUDY REVEALS THAT MEAT CONSUMPTION 'MAY HAVE PEAKED' IN SOME COUNTRIES
A recent study to come out of Australia, published by open source online scientific journal, MDPI, has revealed that peak meat consumption may have been reached in some countries, but is still on the rise in the developing world.
The research, which evaluated data from 2000 to 2019, was carried out by academics at the School of Population Health, Curtin University, Curtin University Sustainable Policy (CUSP) Institute, and the Centre for Advanced Food Engineering (CAFE), analysed data from countries to see which are increasing and which are decreasing their consumption of meat.
The report found that although meat consumption appears to have peaked in countries with a higher GDP, meat consumption is increasing in many of the emerging economy nations.
Meat production has been associated with environmental degradation, yet at the same time many countries are increasing their consumption, because of increasing affordablility for emerging middle classes.
Drivers behind the decline in consumption in some areas and increase in others included growing prosperity, but also disease outbreaks, natural disasters, and consumer preferences, which are also changing global meat consumption.
The study focused on 35 countries monitored by the Food and Agriculture Organization and the Organisation for Economic Co-operation and Development, and also looked at the relationship between Gross Domestic Product (GDP) and meat consumption.
Those countries found to be reaching peak consumption of some meats included New Zealand, Canada, and Switzerland.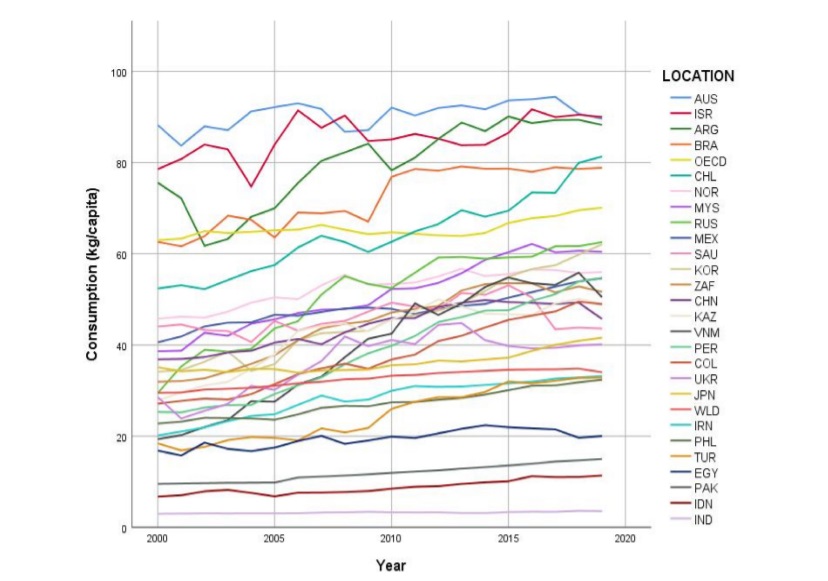 Poultry consumption increased over time in most countries, the research found, while beef and mutton/lamb consumption decreased in many.
Using cluster analysis, the researchers divided countries into two clusters: one in which increases in GDP per capita matched increases in meat consumption; and a second one of nine countries, for which there was no association between per capita change in GDP and meat consumption. There was evidence of a tipping point around USD 40,000 of GDP per capita, after which increases in economic well-being do not lead to increased meat consumption.
The study found that global beef consumption between 2000 and 2019 dropped by 3.9% from 22.8% to 18.9%.
Consumption of beef only increased in Ethiopia, Israel, Saudi Arabia, Turkey and Vietnam. There was no change in consumption in the recorded years in China, Indonesia, Pakistan, and the UK, the study found.
In most of the countries studied (26 of 35), total meat consumption per capita increased significantly over time, with the most substantial increases observed in Russia, Vietnam and Peru.
According to the study, in South American countries with relatively high meat consumption in 2000, annual increases by over 1 kg per capita were observed. Countries mentioned in the study include Brazil, Argentina, Chile, and Colombia.
Per capita pork consumption increased slightly in China and substantially in Vietnam. In total, 19 countries experienced increased pork consumption per capita, while in seven countries consumption decreased.
In countries with decreasing trends in pork consumption per capita, the change was small in magnitude, except in Canada where a substantial decrease was recorded from 22.6 kg/capita in 2000 to 16.3 kg/capita in 2019.
The contribution of pork to world total meat consumption was lower in 2019 than in 2000 (32.6% vs. 38.6%). In Vietnam and China, pork contributed two thirds of total meat consumption per capita in 2000, but by 2019 its contribution was only half of total meat consumption. This decrease in pork consumption was likely a consequence of limited supply due to swine flu.
The study found that poultry consumption more than doubled in 13 countries between the recorded years (per capita). Nearly all countries studied (30 of 35) increased consumption between 2000 and 2019. World poultry consumption per capita was 14.8 kg in 2019, compared with 9.8 kg in 2000.
For more stories on meat consumption, click here
---
Join us at SIAL Paris as exhibitor Join us at SIAL Paris as visitor