HOW A COUPLE HOPE THEIR LIFTED BEER WITH 10G OF PEA PROTEIN WILL APPEAL TO EXERCISE ENTHUSIASTS
A husband-and-wife team have launched Lifted, a no-alcohol beer with additional pea protein, aimed at exercise enthusiasts and regular drinkers.
Lifted, a canned lager, is the first of several products set to be offered by Tony and Rebecca Robinson, who are based in Birmingham in central England.
The idea behind Lifted is to enable athletes and other sports enthusiasts to enjoy a post-exercise beer without undoing the benefits of their physical activity.
"It very much came about because of the lifestyle we lead," said Rebecca. "We found ourselves at the end of a workout or a hike, or on a Friday night, feeling we had done a lot of good in terms of working out or exercising, and were faced with the choice of do we ruin all that progress with a beer or have a creamy protein shake.
"Sometimes you don't want either of those things, you want a combination of the two. So it made us think that we want this, and there must be other people who want this too.
"We did our research on the alcohol-free drinks market in the UK and the nutrition market. We believe it's a huge trend – functional beverages and protein and nutrition are going to be increasingly important.
"We looked around and we were really surprised no one was doing it yet. That was the reason we started."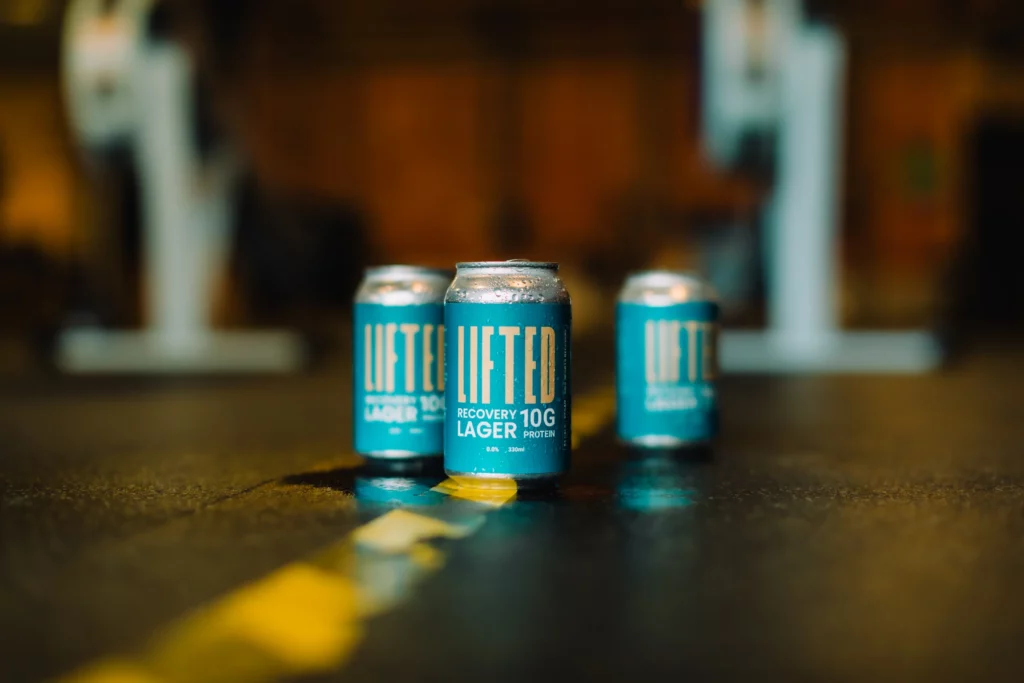 Sold in 330ml cans and labelled as "Lifted Recovery Lager", Lifted contains 10g of pea protein and is targeted at the alcohol-free beer market as well as the sport nutrition sector.
Tony said that adding protein to a regular beer what not have worked so well, as the functional benefits do not tally well with alcohol's potential health effects.
Lifted went on sale with a soft launch in mid-November after being developed in partnership with a brewer who specialises in alcohol-free beers.
After several tweaks, a product that was exactly what the couple was looking for was settled upon. They then found a contract brewer, also in Birmingham, who carries out production. Tony said that the added protein did not affect the beer's taste.
"We sent out an email to our first 100 customers and only four people came back and said you could taste protein, so a very high percentage said you couldn't," he said.
"We don't actually think you can, because the bitterness of the pea actually works quite well in beer. There is a tweak we want to make to our recipe going forward, which we think will make it taste even better."
The current Lifted beer, in slightly altered form, will be the couple's craft beer, while this year they are planning to launch a session lager, an IPA and a pale ale, bringing their total number of products to four.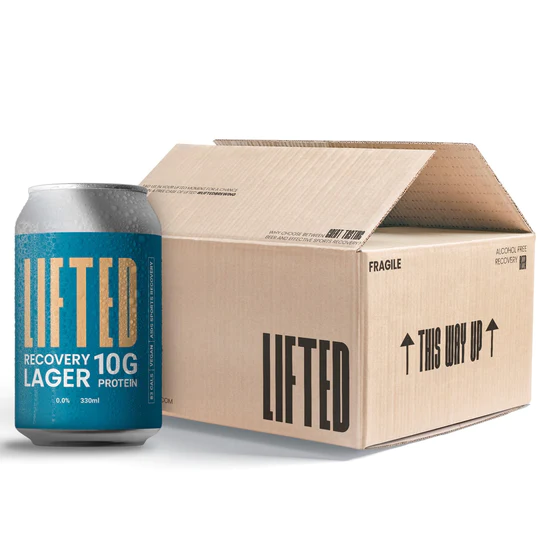 "After this first initial brew, we have confidence that the market is there, because people are buying our product," Tony said.
"There's barriers to break down and to actually be selling this product and doing quite nicely is a really good start and gives us confidence."
Lifted is available online, while distribution through retailers nationally is set to expand. The couple are also hoping to sell overseas.
"We do see a good export potential for the product in the future, because other countries are seeing similar trends to us, and we believe there's a similar need in other countries," Rebecca said.
There could be further products developed later on. For example, Rebecca said that some customers had suggested a cider, which is one among a number of ideas that could come to fruition.
Setting the company up has, Rebecca said, been "really exciting" for the couple, who juggle work commitments with looking after their one-year-old son.
"We're able to go on this journey as a family and one of the benefits of our product is these no-hangover mornings at the weekend," she said.
"You need that when you've got a one-year-old. You need to take care of your nutrition and body a bit more. For us it's given even more purpose to the journey that we're on.
"When you're creating a product that you really, really believe in and you really see how it can positively impact other people's lives, and it's a product that you want to consume yourself, it makes it really exciting."
---
Join us at SIAL Paris as exhibitor Join us at SIAL Paris as visitor