CAMPARI'S ASIA PACIFIC GROWTH SLIPS BELOW 20% DUE TO COVID, BUT APEROL SHINES
Italy's Campari Group has started 2022 with generally strong global growth of 29.4% versus the same period in 2021, but the Asia Pacific and America's regions stood out for their under-performance, with lifts of just over 18% and 15% respectively.

Campari – home to premium spirits brands like Aperol, Campari, SKYY (vodka), Grand Marnier, Wild Turkey (bourbon) and Appleton Estate (rum) – saw revenue reach €535 million in the three months to March but admitted that China was "flattish" due to a number of snap lockdowns. These resulted from new Covid cases in the country; the worst outbreak since the start of the pandemic in Wuhan in early 2020, and still with no clear end in sight.
Meanwhile in the Americas, the low growth rate was due to an overall tough comparison base with Q1 2021 in the US (where growth was just 6.6% this time around), but no real market obstructions being seen. The US market accounts for 27% of Campari Group's total sales and is in a good position to develop further this year.
Other regions had rapid gains as they opened up post-pandemic: Southern Europe, Middle East and Africa recorded 61% growth led by a sharp uptick in Italy; while Northern, Central and Eastern Europe rose 33%, driven by Germany at 42%. Following the war in Ukraine, Campari said it had reduced "to the minimum necessary" its business in Russia.
Campari Group's Aperol retains momentum
On the plus side, Aperol – the company's biggest label – has continued to grow at pace, with a 72% jump in Q1. The brand took an 18% share of all Campari Group's sales in the period (up from a 14% share in Q1 2021), ahead of the company's namesake line which trails at 12% (see chart below).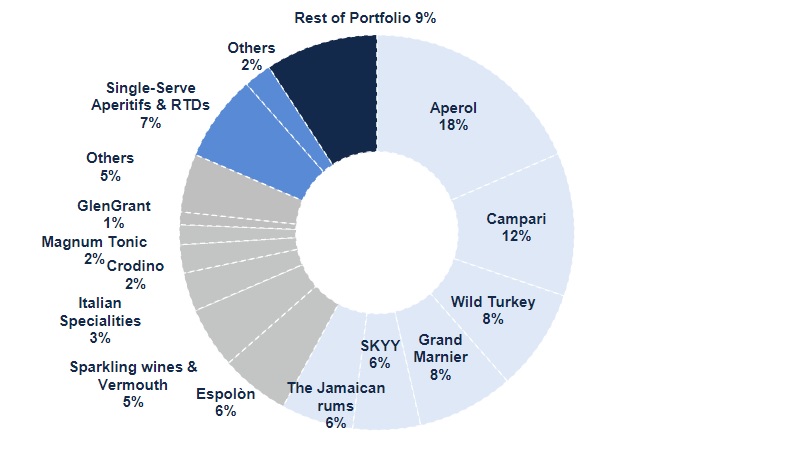 Aperol's strength was driven by the core Italian market which doubled its sales year-on-year, followed by gains in France (80%), Germany (79%) and the United States (51%), plus increases in "all other European markets" according to Campari. The performance was helped by renewed marketing activations as the on-trade channel reopened in many western markets in the past months.
In addition, "at-home" consumption – which people got used to during the Covid crisis – was sustained which, together with bar reopenings, has given a double boost to several drinks groups such as bigger rivals like Diageo, Brown Forman, and Pernod Ricard, as SIAL recently reported.
Campari Group CEO, Bob Kunze-Concewitz, said in a statement: "Overall we had a very solid start to the year with continuing underlying momentum and strong on-premise recovery in Europe." He admitted, however, that the comparison base was "easy" given that Q1 2021 saw widespread lockdowns in many markets.
Inflation and price rises
In an era of rising raw material costs, Campari Group will be increasing prices to consumers. Kunze-Concewitz said: "We will leverage adequate price increases to mitigate the expected intensification of the inflationary pressure on input costs.
"Looking at the remainder of 2022, we remain confident about continued strong business momentum across our key brands and markets. Meanwhile, the overall performance will reflect the effects of a gradual normalisation of shipments due to phasing, different comparison bases throughout the rest of the year, and the conflict in Ukraine. Volatility and uncertainty remain due to the ongoing pandemic and geopolitical tensions."
For comparison, growth for Pernod Ricard from January to March 2022 was 20%, generating sales of €2.45 billion, while LVMH's spirits division only saw organic sales rise by 2% to €1.64 billion. This was driven by the luxury group's Champagne and wines business (up 14%), offsetting huge declines in cognac where Hennessy was down by 18% thanks to supply and logistic constraints, in the US in particular, and Covid restrictions in China, where Hennessy is a prized brand.
The world's biggest premium spirits group, Diageo, will not release data for the first three months of this year until its full-year results come out in 28 July.
---
Join us at SIAL Paris as exhibitor Join us at SIAL Paris as visitor