ZEPTO RAISES $100M IN NEW FUNDING ROUND DOUBLING ITS VALUATION TO $570M
Zepto, the Indian instant grocery delivery start-up, has raised $100 million (€88m) in a funding round led by a Silicone Valley Y Combinator Continuity Fund, taking its valuation to $570 million (€503m), and more than doubling its worth from $225m (€198m) – all within five months of starting its service.
According to Zepto's co-founder and chief executive Aadit Palicha, its newest funding comes 45 days after it raised $60m (€53m) capital.
Investments also came from new and existing backers including Glade Brook Capital Partners, Nexus Venture Partners, Breyer Capital and Silicon Valley investor Lachy Groom.
Online grocery delivery is growing rapidly in India – a retail market worth $1 trillion where grocery purchases account for the bulk of retail spending.
Zepto is one of a number of start-ups operating in the country, with competition coming from SoftBank Group Corp.-backed Blinkit, Google-backed Dunzo and Naspers Ltd.-backed Swiggy, as well as the likes of Amazon.com Inc. and Walmart Inc.-backed Flipkart.
According to reports, food delivery platform Swiggy has earmarked $700 million to scale up its ultra-fast commerce platform Instamart. BlinkIt, on the other hand, is in talks to raise $500 million from rival food delivery app Zomato. Both companies have said that they are clocking about a million orders a week.
Zepto is growing quickly and its core unit economics are strong, according to the company. Co-founder and chief technology officer, Kaivalya Vohra added that delivering groceries within 10 minutes is "game changing", and that the new capital will allow the Mumbai-based start-up to grow its team and expand to more cities.
The firm operates from 100 so-called dark stores, or micro-warehouses, within high-demand neighbourhoods and uses technology to perform tasks such as deciding store locations, placement of products and mapping out delivery routes to avoid traffic congestion, Zepto said. It now delivers more than 2,500 items including fresh produce, cooking essentials, snacks and beverages, personal care items and home cleaning products.
The founders bring "Doordash-like" execution to the quick commerce model, said Anu Hariharan, a partner at Y Combinator's Continuity Fund. And, according to the start-up, it is adding 100,000 new customers every week.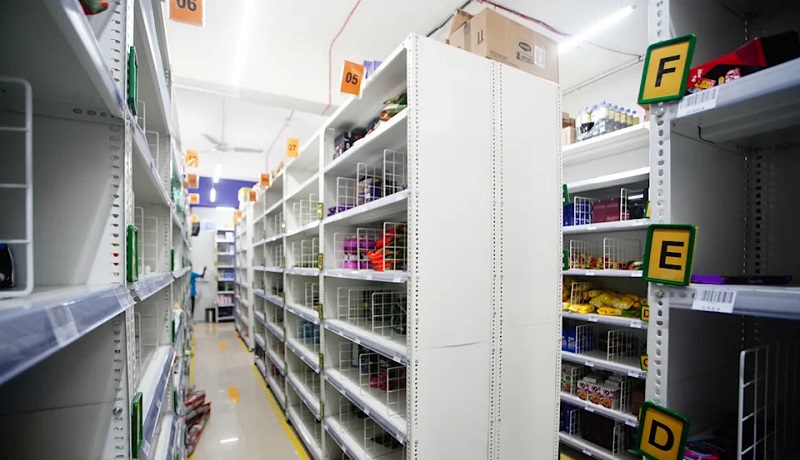 "We are growing 200% month-on-month. Since the last round, we have grown 10-fold in terms of volume. We are planning to increase our volume by 10x in the next 2-3 months," Palicha said.
The start-up will use the fresh infusion of capital to expand coverage, build out different categories and strengthen its back-end technology. It also plans to go up to 1,000-2,000 employees from its existing 400. The bulk of its employees are in its operations team.
Palicha commented that the start-up aims to hit $1 billion in annualised sales over the next 4-6 quarters. Even as Zepto has lowered discounts, he said that the transaction numbers haven't been affected.
Anu Hariharan, partner of Silicon Valley investor Y Combinator, commented: "We are excited to double down and lead this round in Zepto (YC W21). Since Aadit and Kaivalya went through Y Combinator, we have observed that they're exceptional founders who bring relentless focus and "DoorDash-like" execution to the quick commerce model and are now adding 100,000 new installs every week, 60% of them women."
About Zepto
Zepto – a word derived from Latin meaning one sextillion, or a minuscule unit of time – was started by Aadit Palicha and his childhood friend Kaivalya Vohra, both 19, who quit the coveted computer science program at Stanford University to return to India and get started in the rapidly growing quick commerce sector. The start-up, which promises to deliver grocery and daily essentials in 10 minutes, started in Mumbai in April this year.
The company runs over 100 dark stores in major metros including Bengaluru, Delhi, Gurugram, Chennai, Hyderabad and Pune, with Kolkata soon to follow. The company, which had kept delivery free in most markets so far, has slowly started charging up to 25 rupees per order, Palicha said. It plans to ramp up its marketing spend by three times to acquire new users.
For more news on rapid delivery start-ups, click here.
---
Join us at SIAL Paris as exhibitor Join us at SIAL Paris as visitor