PRICE PARITY KEY TO BOOM IN PLANT-BASED MEAT ALTERNATIVE MARKET
Plant-based meat price parity has become a target for big players in the industry.
A new study from Global management consultant firm, Kearney, has shone a spotlight on the potential of the plant-based meat industry. The report claims that the success of the plant-based meat industry is based on three principles: taste, mentality and price. Kearney identifies price as the most important step to making plant-based meat widely mainstream. Analysis indicates that for every 1% decrease in price for plant-based meat products, leads to a 3% increase in market share. 

"Plant-based meat price parity", therefore, has become a target for those looking to make plant-based options more widely available and accessible. For large organisations, reaching plant-based meat price parity is not a distant dream. Scaling costs and brand loyalty has meant that demand is high enough to decrease the price of plant-based options.
Research outlines the potential of plant-based meat
The Covid-19 pandemic motivated many consumers around the world to buy healthier foods. Thus, plant-based foods have majorly increased in popularity, especially in early 2021. That said, research has indicated that sales have not maintained the heights of pandemic purchasing. Critics have claimed that the "bubble has burst", and that plant-based meats are a "growth sector no more". 

However, research and data from Kearney and SPINS indicates that this is not the case. Despite sales in vegan meats stagnating as of late, US plant sector growth is up by 6.2%. The valuation of this is around €6.6 billion ($7.4 billion). Also, it was found that 57% of the households in America purchased plant-based meats in 2021. Kearney notes that the remaining 43% can be tapped into through adjusting price, with perceived "high costs" preventing consumers from purchasing these products. 
Plant-based meat price parity
According to Kearney, companies that produce plant-based meat products are aware that pricing is a barrier for potential consumers. Furthermore, certain companies have put strategies in place to lower their pricing. 

One company, Impossible Foods, decided to lower its recommended prices by 20% in 2021. As well as this, the company decided to lower its prices for foodservice partners by 15%, in 2020 and 2021. Impossible Foods stated that these decisions were made because of increased sales, scaled production and cost-effective manufacturing. 

The company has previously made headlines by announcing an ambitious plan to replace animal meat in American supermarkets by 2035. This might not be as unrealistic as first thought. A report from Blue Horizon Corporation and Boston Consulting Group forecasts meat price parity by 2023, and that 11% of all protein eaters in 2035 will be consuming plant-based products instead of animal meat.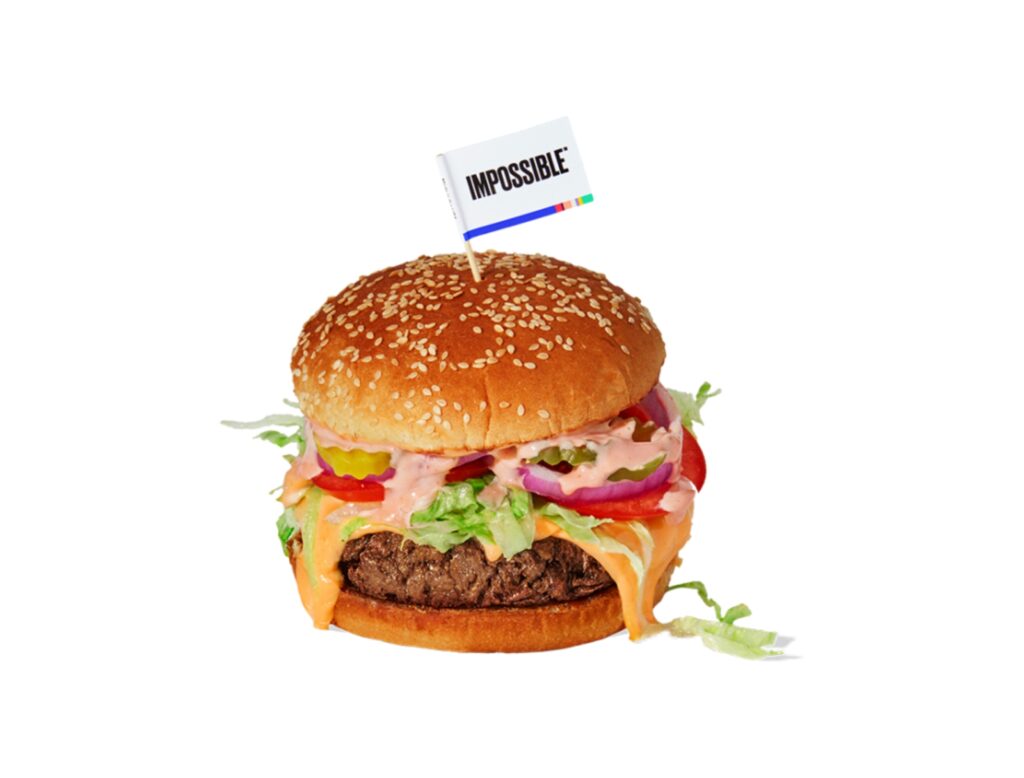 Beyond Meat, another big player in the plant-based meat industry, has also joined the pursuit of price parity. The company has claimed that it aims to reach price parity with at least one plant-based product by 2024. CEO Ethan Brown stated that new manufacturing processes and advances with research and development has meant the company could lower production costs.

Kearney has claimed that by reducing costs, major companies in the industry could see an increase in market share, at the expense of conventional animal protein products. Specifically, the firm has predicted that plant-based hamburgers could take a 10% share from beef. It also has been claimed that 22% of the market share for conventional meat could be taken by vegan products.

Conventional meat prices are reportedly increasing due to factors including inflation and supply shortages. This could further influence consumers into choosing plant-based options. A study from Ingredient Communications found that consumers were willing to accept meat prices doubling (50.6%), before they stopped buying it.
---
Join us at SIAL Paris as exhibitor Join us at SIAL Paris as visitor