HOW MAJOR BRANDS ARE INNOVATING WITH SUSTAINABLE PACKAGING
Some of the biggest players in the consumer packaged goods industry are innovating with regards to sustainable packaging for their products.
Reducing single-use plastics is considered to be crucial in lowering the amount of plastic waste on Earth. Single-use plastic is regarded as one of the most negatively-impactful types of packaging, leading to waste accumulation on land and in oceans.
A number of major brands have made serious efforts to innovate with regards to their packaging, with the intention being to reduce the use of plastics, and even replacing plastics with materials that are less negatively-impactful to the environment.
There are many drivers for sustainable packaging innovation, including rising consumer demand and pressure from environmentalist investors and groups.
Danone and POM Wonderful innovate with sustainable packaging
One of the more recent packaging-related stories relates to POM Wonderful, regarded as one of the most dominant producers of fresh pomegranates and pomegranate juice in the United States. In May 2022, the company announced a transition to 100% recycled plastic bottles. The company also said it would shift more than 90% of its electricity needs to renewable energy.
All of POM Wonderful's 16 oz. bottles of 100% Pomegranate Juice, Pomegranate Blueberry 100% Juice, and Pomegranate Cherry 100% Juice-will now be bottled in 100% recycled plastic bottles.
Danone also made headlines, after it was revealed the food company is working on developing sustainable packaging with carbon recycling specialist LanzaTech. The brands are looking to produce sustainable polyethylene terephthalate bottles made from captured carbon. The technology reportedly turns carbon emissions from steel mills or waste biomass into Monoethylene Glycol through fermentation. In simple terms, this is a more sustainable method of producing Monoethylene Glycol, an improved alternative to single-use plastic.
Coca-Cola innovate with new caps to combat litter
Another interesting innovation from a major industry player came from Coca-Cola, which hit the headlines when it debuted its new attached caps on plastic bottles in the UK.
"As part of Coca-Cola's journey towards a World Without Waste, we are transitioning to a new packaging system in Great Britain and other European markets," a representative for the brand said.
"The new packaging ensures the cap remains attached to the bottle – making it easier than ever for consumers to recycle the whole package, ensuring that no cap gets left behind."
The caps debuted on selected 1.5 litre bottles in the UK, with more sizes expected throughout 2022. The new innovation means a customer can enjoy a bottle of Coca-Cola while the lid remains attached to the bottle, which stops the cap from being removed and discarded. The new caps, as well as the bottles, are reportedly 100% recyclable.
Coca-Cola announced its World Without Waste programme in 2018, aiming to "reduce [the] global use of virgin plastic by 20% (the cumulative equivalent of 3 million metric tons) by 2025." The company has also committed to using at least 50% recycled material in packaging by the year 2030.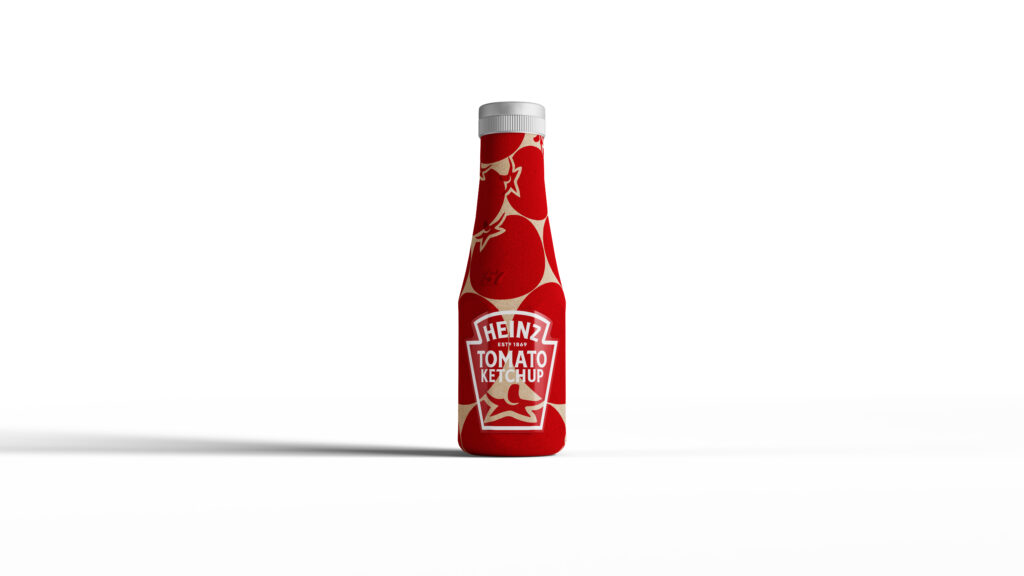 Kraft Heinz experiment with paper-based ketchup bottle
One of the more intriguing sustainable packaging innovations comes from Kraft Heinz, which revealed it was partnering with Pulpex to test paper-based ketchup packaging. The renewable and recyclable bottle is made from 100% sustainably-sourced wood pulp.
Heinz is considered to be a giant in the world of consumer packaged goods, and is the first sauce brand to experiment with Pulpex's sustainable paper bottle packaging.
"The scope for paper-based packaging is huge, and when global household names like Heinz embrace this type of innovative technology, it's good news for everyone — consumers and the planet", said Pulpex CEO Scott Winston.
---
Join us at SIAL Paris as exhibitor Join us at SIAL Paris as visitor