Oreo and Ritz ultimate sweet and salty creation is instant hit selling out within minutes
Oreo and Ritz joined forces to create a special edition combo cookie which sold out online within minutes.

The creative food mashup could not have been a greater hit among consumers keen to get their hands on the snack featuring a Ritz cracker with peanut flavoured creme joined to a layer of original Oreo vanilla creme and an Oreo cookie.

Mondelez International, which owns the two brands, debuted the collaboration for a limited time from May 26 with its own Instagram filter accessible via a QR code hidden on each packet.

Sydney Kranzmann, senior brand manager at Oreo, said: "At Oreo, we are constantly exploring playful ways to excite our fans, from innovative limited-edition flavors to unexpected collaborations.

"This Ritz x Oreo product marks our first product collaboration with our friends at Ritz and we can't wait to hear what Oreo superfans think about this new take on the classic combination of chocolate and peanut butter."

Customers were able to order one free pack of the limited edition treats online via oreo.com/ritz with a shipping cost of just $3.95.
Alexis Yap, senior brand manager at Ritz, said the brand has been exploring innovative partnerships and experiences "to spark excitement" around its iconic, buttery cracker.
"We couldn't resist the opportunity to collaborate with our friends at Oreo on a snack that's part salty cracker, part chocolate cookie and entirely delicious," Yap added.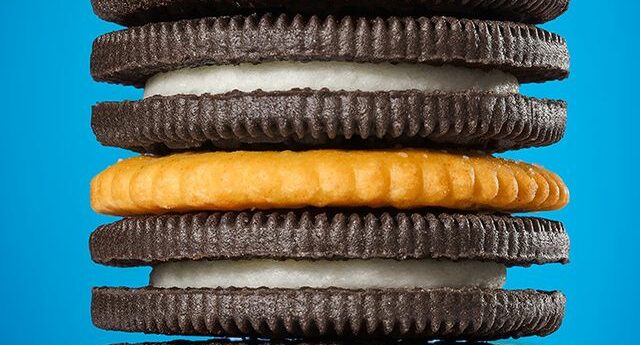 Oreo and Ritz under Mondelez International
Mondelēz International also owns many major food brands including Oreo and Ritz as well as Chips Ahoy, Triscuit, Milka, Cadbury and more.

The food giant recently reported its figures for the first quarter of 2022 which saw strong top-line results driven by higher pricing and strong volume growth.
Chairman and CEO Dirk Van de Put said: "Our chocolate and biscuit businesses continue to power our virtuous cycle of attractive revenue growth, strong profitability and robust cash flow.

"Demand remains strong across both developed and emerging markets, with all our regions posting growth.

"We expect elevated levels of input cost inflation to continue through the remainder of the year, and we will continue to take necessary actions to offset this dynamic, including a broader revenue growth management agenda, ongoing cost discipline, and further simplification within our business."

Mr Van de Put said that the company remains confident in its strategy and ability to create long-term value while recognising the need to stay agile to navigate the "dynamic economic and geopolitical environment."
"We are also excited about our recently announced agreement to acquire Ricolino that will step-change our presence in the priority market of Mexico," he added.

This adds to the company's portfolio of some of the country's most beloved chocolate and candy brands while broadening its distribution footprint with more than 2,100 direct store delivery routes reaching 440,000 traditional trade outlets.
First Quarter 2022 Highlights
Mondelez International saw its net revenues increase by 7.3% largely thanks to its Organic Net Revenue growth of 8.6%.

Diluted EPS was recorded as $0.61, down 10.3%. Meanwhile cash from operating activities was recorded at $1.1 billion, up $0.2 billion from the previous year. Free cash flow was $1.0 billion, up $0.3 billion and return of capital to shareholders was $1.2 billion.

The size of the firm's Mexico business doubled with the announced agreement to acquire Ricolino, Mexico's leading confectionery company with iconic brands and strong distribution capabilities.

Mariano Lozano was appointed to the role of EVP and company president for Latin America.
---
Join us at SIAL Paris as exhibitor Join us at SIAL Paris as visitor