FOOD PRICES ROSE 12.6% IN MARCH REACHING NEW ALL-TIME HIGH, SAYS UNITED NATIONS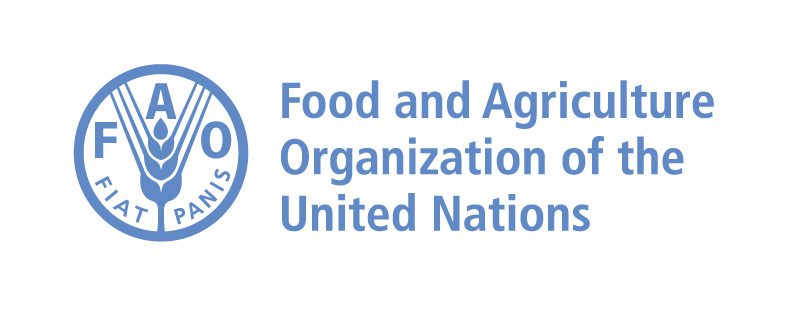 Despite the war between Russia and Ukraine sending wheat and other commodity food prices – as well as fertilisers – soaring by 12.6% in the past month, the United Nations (UN) says that the worst impacts can be contained.
Food prices are now at an all-time high (see graph below), and last Friday in Rome, the UN's Food and Agriculture Organisation (FAO) director-general, Dongyu Qu, warned that the war will impact consumers across the world and could also put the next set of global harvests at risk. But he added that "a global food crisis of the scale seen in 2008 can still be averted".
The FAO was convened to discuss the consequences of the war in Ukraine on global food security. Among the main themes was the importance of keeping global supply chains functioning.
Food prices affected by cereals and vegetable oils
The 12.6% rise in the Food Price Index is chiefly due to the price of cereals and vegetable oils surging; they are two of the five food groups that make up the index, the others being meat, dairy and sugar, all of which have seen more modest rises.
Even before the war in Ukraine, international food prices had reached an all-time high. This was mostly due to market conditions, but also high prices of energy, fertilisers and agricultural services. In February 2022, the FAO index reached a new historical record, 21% above its level a year earlier, and 2.2% higher than its previous peak in February 2011.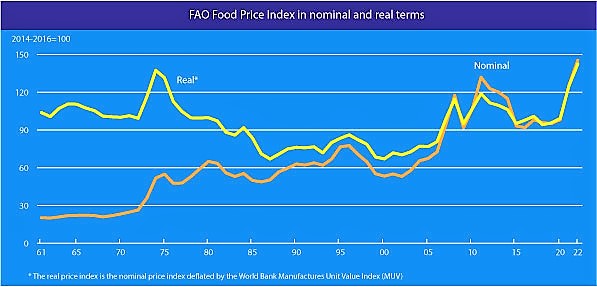 "Prices for staple foodstuffs such as wheat and vegetable oils have been imposing extraordinary costs on global consumers, particularly the poorest," said Qu. Coupled with energy price hikes, which were already being felt last year "the purchasing power of vulnerable consumers and countries has further decreased" noted Qu.
Meanwhile, today's high fertiliser prices could lead to lower usage next season and possibly beyond "with the real prospect of a drop in food productivity" leading to even higher food prices, according to the FAO.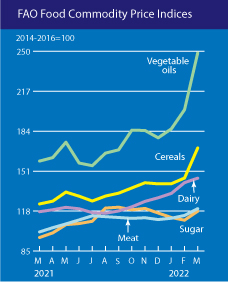 Supply disruptions from Russia and Ukraine
Russia and Ukraine together account for nearly 30% of global wheat exports and about 80% of global sunflower exports. Russia is also the largest exporter of fertilisers while Ukraine is fourth largest maize exporter.
Nearly 50 countries depend on the Russia and Ukraine for at least 30% of their wheat import needs. Supply disruptions from these two countries are therefore affecting global agri-food systems, but they can be contained to avoid a global food crisis on the scale of 2008.
"The major difference from 2008 is that today we are facing the big risk that our planting season for next year will be drastically affected whereas in 2008 the shock was due to a drought and did not put at risk the next planting season," Qu said, adding: "We must not shut down our global trade system, and exports should not be restricted or taxed."
Key proposals from the FAO to prevent a new food prices crisis include:
Fast implementation of detailed soil maps, supporting the most vulnerable countries to use fertilisers efficiently
Efficient and well-targeted social protection plans
Improvement of biosecurity measures in Ukraine's neighbouring countries to minimise the spread of African Swine Fever and other animal diseases
Strengthened market transparency and policy dialogue to minimise disruptions, ensure continued functioning, and the smooth flow of trade in food and agricultural products.
Responses are needed now
While the FAO has reinforced its team on the ground and published crucial data since the outbreak of the Ukrainian war, the numbers point to a worsening trend in food security, especially in areas with ongoing fighting and high numbers of displaced people.
The UN says that about 20% of households lack cash to meet their basic food needs, with destocking of small farm animals, and in some cases large ruminants. In terms of agricultural production, data indicate limited availability of critical agricultural inputs, including seeds, fertilisers, pesticides, equipment, fuel, and livestock supplies, arising from a combination of logistic and financial issues.
The FAO has updated its Rapid Response Plan for May-December 2022, with a funding request of $115 million. The first months of the plan, started in March, were for urgent assistance of up to 240,000 of the most vulnerable rural men and women (over 100,000 households), including internally displaced people affected by the war. So far, more than 3.6 million people had been forced to abandon their homes and flee across borders to safety while millions more are internally displaced.
The plan sets out key emergency agricultural interventions and immediate cash transfers to help sustain lives and agricultural livelihoods amid an escalating nationwide crisis. Depending on the local conditions, vulnerable households may receive cash, agricultural inputs or cash plus agricultural inputs.
---
Join us at SIAL Paris as exhibitor Join us at SIAL Paris as visitor