INNOVATION IN CHICAGO'S $9.4 BILLION FOOD INDUSTRY HIGHLIGHTED IN NEW REPORT
Does Chicago dominate food innovation and commoditisation in the US? According to a new report from the research centre of World Business Chicago (WBC) the city can make the claim based on the scale and enormous growth of the sector.
Chicago – home to Kraft Heinz – has been a key hub for food and beverage manufacturing since the 19th century and it is now seeing an acceleration in innovation due to pandemic-related shifts: from global supply chain and demand, to venture capital investment.
According the new report released on Tuesday, the food sector and the city's food innovation ecosystem together represent one of the fastest growing businesses in the metropolis. WBC – which is the city's economic development agency – said: "The industry is seeing more venture capital investment than in Boston and Seattle, spurred by a clustering of food companies, from major corporates to early-stage and start-ups."
A fivefold increase in venture capital
Among the report's key takeaways are that:
Chicago's traditional food and beverage manufacturing industry is the largest in the US, generating $9.4 billion in annual in output, and employing over 65,000 people.
There are over 2,800 locally headquartered food innovation related companies
In 2021, Chicago's food innovation companies raised $723 million in venture capital, a fivefold increase from 2019
Investments in Chicago's food innovation companies with active patents are at an all-time high, while investments in similar companies in other top tech ecosystems have declined
In 2021, there were 21% more investors involved in Chicago's food innovation deals than in 2020 with a quarter of investors locally based.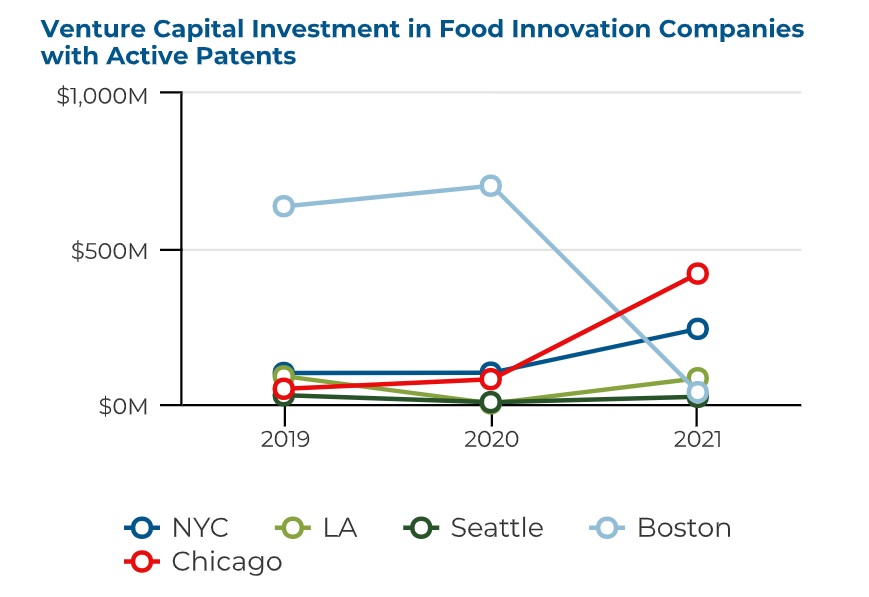 "When the team reviewed the data and trends, it was clear to us that Chicago's dominance is deeply rooted but also a result of consistent innovation; not something you typically see in stalwart, legacy industries," said WBC's vice president for research, Robin Ficke.
WBC timed the release of its report with the Chicago Venture Summit, Future of Food held on 25-26 May when over 500 startups, venture capital and private equity investors, plus others in food and beverage verticals, gathered in the city from around the world.
---
Join us at SIAL Paris as exhibitor Join us at SIAL Paris as visitor