Thailand's halal exports ready to surge as country wins global recognition
A predominantly Buddhist country, Thailand's halal export industry is one of the largest in the world.
Thailand's halal food exports were worth almost US $6 billion in 2021 to 2022, with the country now targeting a 3% increase in 2023. In 2021, the country ranked 15th among the world's leading halal food exporters.
Rice, sugar, canned seafood, processed fruits and vegetable products, non-alcohol beverages, organic and functional foods are among top halal food exports from Thailand.
One of the key challenges for Thailand's halal industry is bolstering consumer confidence in its products. To address this, the Central Islamic Council of Thailand (CICOT) has been promoting the use of international halal standards and certification procedures, with the support of the Halal Standard Institute of Thailand (HSIT).
"Our approach to maintaining the standards of Thailand's halal products is based on the principles of 'religious confirmation and scientific support'," said Profesor Pakorn Priyakorn, Director of HSIT.
The CICOT has worked with various halal certification bodies such as the Standards and Metrology Institute for Islamic Countries to get international accreditation for Thailand's halal certificate.
Additionally, the Halal Science Center of Chulalongkorn University has helped to ensure top halal quality by using science-based methods and advanced technologies to detect haram ingredients in its inspection and certification processes. These ingredients are forbidden by Islamic law.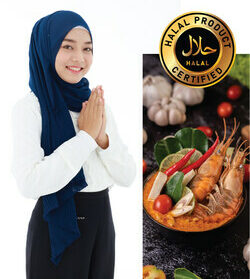 As of April 2023, more than 160,000 products, 33,000 brands, and 14,000 companies have received halal certification in Thailand.
"Our halal certification process is globally recognised.  We have the highest number of halal-certified products in the world," Prof Priyakorn added.
The term "halal" refers to food and other products that adhere to Islamic dietary laws. The global halal market is currently worth over US$2 trillion and is expected to reach US$3 trillion by 2026. This rapid growth is driven by an increase in the global Muslim population and a heightened awareness and appreciation of halal products among non-Muslim consumers.
The world's Muslim population is projected to reach 2.2 billion by 2030, comprising a huge market for halal food and products. Counterintuitively, the major producers and exporters of halal food are non-Muslim countries, including  Brazil, India, USA, Russia and China.
Thailand's Tao Kae Noi-brand seaweed snack, which is already exported to more than 37 countries, is seeking new markets after recently being granted halal certification.
Tao Kae Noi is not unique in going halal. Major Thai food-processing conglomerates such as CP Group and Betagro have likewise made significant investments in halal food production processes and overseas marketing. These strategic investments are in tune with the global trend among companies to tap into the growing halal market and capture Islamic consumers.
Besides food, Thailand's halal industry covers a wide range of other products and services, including cosmetics, fashion, pharmaceuticals, and tourism. Halal tourism is a rapidly growing market, with Muslim consumers looking for travel experiences that cater to their religious and cultural requirements. Thailand was ranked among the top five most popular travel destinations for non-Muslim countries in the 2022 Global Muslim Travel Index.
To reinforce its reputation as a hub for halal manufacturing, Thailand is dedicating a special halal market section in its showroom at the upcoming THAIFEX, one of Asia's biggest food and beverage industry events to be held in May 2023. The event will showcase trending and innovative halal products and services.
With a robust support system in place and an established reputation for certified-halal quality products, Thailand's halal industry is poised for a bright future.
The global halal food market size reached US $ 2,221.3 Billion in 2022, according to  ResearchAndMarkets.com. Looking forward, the publisher expects the market to reach US $ 4,177.3 Billion by 2028, exhibiting a CAGR of 11.1% during 2022 to 2028.
---
---
Join us at SIAL Paris as exhibitor Join us at SIAL Paris as visitor